The Death of the Social Media Manager? ~ Social Media World Forum Europe 2014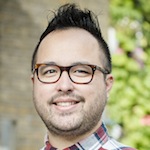 As a business solution, social media has evolved, moving well beyond the marketing department. In the last year, 13 times as many jobs involve the use of social media in some way but growth in positions with the title "social media manager" slowed to 50%. Behind this decline is a sea change in the way that social media itself is used within organisations.
HootSuite's Rylan Holey, Partners Manager in EMEA, will be exploring this symbolic "death of the social media manager" at Social Media World Forum Europe 2014.
Dates: March 31 – April 1, 2014
Venue:  The Brewery, 52 Chiswell Street, London EC1Y 4SD
Register for the event using discount code HOOT25, and receive 25% off.
The #SMWF Europe is an important social & digital marketing conference, delivering top-level strategic advice and insight around how to engage customers, manage brand perceptions, empower employees and open new un-tapped audiences through diverse social media channels.
Holey's talk, taking place at 2:10 PM on Tuesday, April 1st, will explain:
How, as a social specialist, to ensure your unique specialism continues to be valued within your organisation

The skills needed to manage change within your business and win over the non-believers

How to review what social issues really matter to your CEO
HootSuite's Merinda Peppard, Director of Marketing EMEA, will also be taking part in a social business panel on "Making best use of technology" with representatives of Omnicom Group, Nokia and Vodafone. The panel will take place at 12:00 PM on March 31st.
Gain digital marketing insight that will help your business succeed. Register for SMWF Europe 2014 today.