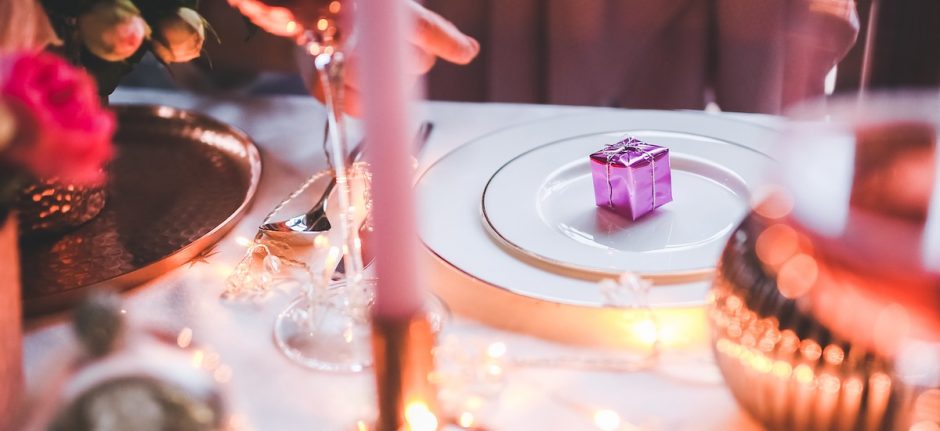 11 Social Media Accounts to Help You Find the Perfect Gift
While it seems as if we packed away our Halloween costumes just yesterday, the rotten jack-o-lantern on my patio tells me that the winter holidays are just around the corner. As it's customary with many of these December holidays to show appreciation to those around you with a gift, it's probably time to dust off the ol' credit card and start shopping.
While previously you would rely on your ability to remember that obscure scented candle your girlfriend mentioned that one time, social media can help make this painful process of finding the perfect gift as effortless as possible. Before you make that familiar mad dash to the mall on December 24th, check out the following social media accounts for gift ideas "yule" be proud to give.
Pinterest presents
Before getting into the list of social media accounts we recommend following for gift ideas, it's important to highlight the importance of Pinterest alone as a platform that is ideal for present purchasing this holiday season. Pinterest is a host to gift guides for every occasion and recipient, among them including:
Along with the numerous gift guides available on Pinterest, gifting ideas can be found through a little bit of your best detective work and creeping skills. If you know that your friend or loved one has an active Pinterest account, go and take a look at their most recent Pins. With this, you'll be able to find out what sorts of styles and items they are wanting, and go from there. We've all had those moments of "I have no idea what to get them! I don't know what they like!" and I can say from personal experience that this approach to Pinterest stalking is extremely helpful in these situations. If you can see outfit ideas, books, interests, art, or any other pinned items on your gift receiver's Pinterest boards, you'll have a much better idea of what kinds of things they might like, rather than taking a shot in the dark approach which can be ever-so-stressful.
In addition to following personal Pinners, many brands have active Pinterest accounts with boards dedicated specifically to gift-giving. Countless companies have created gift guides that link directly to the products featured, making your holiday shopping that much easier. Some of the top Pinterest accounts for gift guides include:
With over 75 million unique visitors to the site per month, Popsugar is the "industry leader in digital commerce platforms, connecting consumers to 12 million style-centric products." With over 100 editors, Popsugar is a top authority on new, innovative, or just plain good products, and their gift guides reflect this. With their Pinterest board titled "Gift Guides," Popsugar offers the over 66,000 who follow the board over 2,500 gift giving lists and suggestions.
As one of the top online shopping destinations in North America, Amazon's Pinterest account organizes their available products by theme and occasion. As we get closer to the holidays, Amazon is releasing specific gift-giving boards, such as their 2015 Holiday Toy List and their Electronics Gift Guide. Even taking a look at their other boards such as "For the Kitchen," "Health and Fitness," and "Amazon Style for Men," should help give you some gifting inspiration for those on your list.
As a design focused lifestyle blog, Scouted's associated Pinterest account has over 231,000 like-minded followers. While everything they share is unfailingly desirable, their 'Gift Guide' board is truly a treat. With their small business and artist focus, the items on Scouted's gift guide are unlike any you'll see on any other lists this time of year.
With a focus on technology, science, art, and culture, The Verge provides a Pinterest gift guide featuring gifts for "him, her, mom, alien, lover, pet, BFF, boss, baby sister, mailman, and more." The over 50 suggestions of gifts for a lucky recipient in your life are streamlined to showcase the best and most innovative items, helping you narrow down that shopping list.
Instagifts
As a visual platform, Instagram provides the perfect place for companies and individuals to share their holiday gift guides. For bloggers, influencers, and businesses, Instagram is a great place to build a brand voice as the items curated reflect the overall tone and style of a brand.
While many recognize the part content like this can play in building brand voice, we narrowed down some of the best accounts sharing gift guides on Instagram at this time of year.
Luxury retail chain Neiman Marcus is counting down the days to Christmas through their Instagram "Love to Give" campaign. For 25 days starting December 1st, Neiman Marcus will be releasing a short Instagram video recommending "a product for consumers to gift to friends and loved ones, with 10 percent of proceeds benefitting the Heart of Neiman Marcus Foundation."
Since 2002, Oprah's annual listing of "Favorite Things" has been one of the most popular gift guides out there. While the "Oprah's Favorite Things" episodes were consistently the most-watched episodes of the legacy that was The Oprah Winfrey Show, these days O, The Oprah Magazine hosts the guide in print, online, and on social media. O's Instagram account showcases the items, but to get an even better look at the products and services featured I recommend checking out the official Instagram hashtag #favoritethings2015.
Brit + Co is "the leading community for creative living, making, and doing in the digital age."  their Instagram account showcases their unique and easy-to-use DIY kits alongside carefully curated items, as well as information on where to purchase. If you have a crafter or striving crafter on your holiday list this is definitely an account to follow for inspiration. It's not all DIY or crafting, though, with gift guides for "The Best Wearable Tech of 2015," "First Time Pet Parents," and "White Elephant Gifts for Every Member of the Family" among Brit + Co's extensive holiday guide.
Real Simple is a magazine dedicated to simplifying your life, and their Instagram account will definitely help streamline your gift buying process. Amongst their lifestyle, cooking, health and style tips, Real Simple's Instagram account offers images and tips for gift giving. Everything they share is a feast for the eyes, which makes the process of holiday shopping–dare I say it–enjoyable.
Online luxury fashion boutique Farfetch kicked off a different kind of social media gift guide this November. Using the hashtag #FarfetchCurates to conduct an Instagram treasure hunt, Farfetch is showing their top gift picks for the season. As their CMO Stephanie Horton explains, "There are an overwhelming number of gift guides out there this season, so the Instagram treasure hunt was created as a fun and playful way for our followers to discover our boutiques' key picks for the holidays."
Travel, life, and style blogger Stephanie Sterjovski has a flawless brand, and her multiple gift guides reflects this impeccable attention to detail. Not only does she share carefully curated collections of items, but highlights where they can be purchased on sale and offers discount codes where available.
As Melbourne's top online magazine for "food and drink, nightlife, fashion, art, design, and entertainment," Broadsheet is helping out the Instagram community with their social and interactive gift guide. Through the month of December, they are posting top gifts under $30 with the hashtag #broadsheetkriskringle. Along with this, they are encouraging other users to post their own suggestions using the same hashtag, which has the potential to result in a great collection of both Broadsheet and audience-generated gift suggestions.