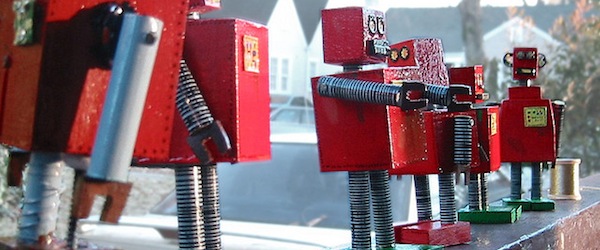 What is Your Opinion on Social Media Automation? Question of the Week
These days, it can sometimes feel like you are just trying to keep your head above water when it comes to social media tasks.  You need to be able to give your followers awesome content, while also fielding comments and questions, across multiple networks.
Luckily for us there are a ton of tools out that that we can use to help with our social media efforts. Social media automation is a hot topic in the industry, so last week we asked our followers: What is your opinion on social media automation?
We got a ton of really great answers, some even questioned whether our Tweet was scheduled (all i can say is… it'll always be a mystery). The answers were across the board: some people don't agree with automation and some really do. One interesting thing stood out however. Let's look at your answers to see:
@hootsuite as long as there's a human driving the content somewhere down the line, I say the more automation the better. — Luc Gendrot (@lgendrot) June 1, 2014
@hootsuite I find #automation a fantastic thing, from a producers perspective. #Engagement rates are much lower. #socialmedia #sociallife — EM DESIGNS (@emdesignsau) June 1, 2014

Automation can be a really great thing. Having tools to help us schedule and find quality content can save us tons of time and effort. The time you once wasted on researching content and setting alarms for when you should be posting can now be spent on getting into conversations with your followers. Automation can also help you stay consistent when there is a lack of manpower.
@hootsuite bad idea. Easier isnt always best when it comes to interacting with your followers. — Jeff C (@JeffClorley) June 1, 2014
@hootsuite stops being social and starts being only a responsive media — Enna (@multip) June 1, 2014
Sometimes it can be tough to find the balance of using automation tools to ensure your success, and just using it too much. Nobody wants to turn their social media presence into a robot. It's also important to remember that automation works better with human oversight. This point is reinforced by a history of inappropriate Tweets by businesses. For example, a few brands sent out ill-timed Tweets after the Sandy Hook Tragedy.
@hootsuite if it's not human, it's a PA system. If it's a human, it's customer service and serves better for brand reputation — Example Ev (@saltyboy9) June 1, 2014 
@hootsuite I think it's great if you're pushing content – horrible if used to engage with people (like automatic DMs on follow, or replies) — RJ Gazarek (@RJGazarek) June 1, 2014
Automation gets beat by customization every time because it's about connecting with people. Scheduling is effective though @hootsuite — BigBoy Marketing (@BigBoyMarketing) June 1, 2014
The overall picture we found with your answers was that as long as there was a person somewhere along the line, automation works. There are a couple rules however, like not automating when it comes to engagement and approving all the content you are promoting. The right balance of automation and human interaction is a great way to get your message out there on all of your networks.
Have you heard about Hootsuite's new Suggested Content feature? See how it can save you time.