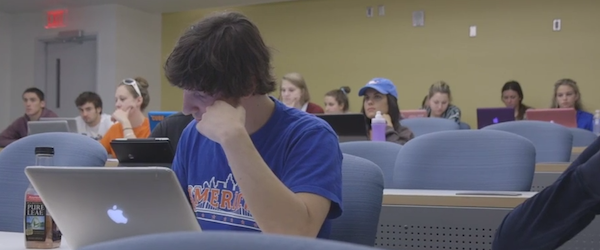 Journalism is Changing. Here's How Schools Can Keep Up
With newspapers struggling and TV news ratings down, many journalists see social media as a problem for the industry when they should be seeing it as a solution. Social media allows for better information gathering, a stronger and more direct connection with their readership, and a more timely dissemination of the news.
The future of journalism literally depends on the ability of its practitioners to adapt to new trends and technologies and connect with a newly empowered audience. Young journalists need to be taught how to make use of social media to advance not only their careers but the industry as a whole.
Do you teach future journalists? HootSuite's Higher Education Program delivers a Social Media Curriculum specifically for professors, helpingyou prepare the next generation of journalists to enter and excel in a rapidly changing industry.
Where Social Media Fits Into Journalism
The news cycle has changed. People want updates now, rather than later, and they want only the updates that are most relevant to them. That's nothing new, however. What has changed is that people now have the power to get exactly what they want.
While major newspapers and TV networks used to hold a near-monopoly on the news, now every person with access to the internet can visit innumerable blogs or social media accounts to follow the latest story as it happens, in real-time.
Although empowering our audiences to choose and follow news as they see fit is a positive, it has impacted the reliability of breaking news. Non-journalists are quick to spread rumors and misinformation online, and many people have come to value speed over quality.
So-called traditional journalists and media outlets have the ability to push back against these dangerous trends. But to do so they need to be trained to understand and use the latest technologies, especially social media.
Being able to geotarget a Twitter search gives journalists the ability to distinguish between a likely eyewitness and an unreliable source trying to inject themselves into the story. Knowing how to direct message someone can mean the difference between landing a big interview or missing the story. Knowing how to utilize Instagram, Pinterest and Tumblr can turn a story with 1,000 views into a story with 50,000 views.
Unfortunately, these skills aren't intuitive; they need to be taught, practiced and honed. For that reason, higher education institutions have a responsibility to train new journalists on the newest technologies before they enter the workforce.
A Social Media Curriculum Built for Journalism Education
Many universities have incorporated social media into existing courses on digital journalism or new media. This is an important step, but hands on experience and training with these tools is essential.
Christina Morgan teaches Social Media at Point Park University where she prepares students for the world of citizen journalism, she turned to HootSuite University to provide her students with resources and insight from some of the brightest social media minds.
"Having a relationship with Hootsuite University provides current resources to my students that give them a leg up over the competition at graduation," she said. "Through the courseware and one-on-one video tutorials with CEO's of the world's leading social media networks, Point Park University students are now equipped with the hands on practical skills to enter a digital position with confidence."
What can a simple video tutorial add to a journalism course?
"We'll watch the HootSuite University lecture series in class from Tumblr, where they cover how to build a brand and community on their platform, and I treat that as if they have come into our class to share that information with students one-on-one," Morgan explains. "I could have had a local guest speaker, but when students can view a lecture series webinar from the CEO of Storify or Klout, they get really excited about what they're learning."
Building a social media community is only part of what the Social Media for Journalism curriculum brings to the table. The 10-lesson plan covers "Social Media & Breaking News," "The Digital Journalism Landscape," "Social Media Etiquette," and more.
The Social Media for Journalism Curriculum was created through consultations with leading journalists, publications, and professors who informed its structure. This curriculum teaches students how to create and maintain a professional presence on social media to enhance their reporting, build their personal brand, and drive traffic to their stories. It includes assigned readings, videos, and projects built around real-world business cases such as Tumblr's original-journalism project Storyboard, Buzzfeed's expansion into political and business news, and Andrew Sullivan's subscription model for The Dish.
Journalism schools will always need to teach interviewing, writing fundamentals, story structure, and other pillars of the trade. It's now time for social media to join their ranks.
Are you a professor looking to teach social media in your classroom? Apply to HootSuite's Higher Education Program and gain access to free teaching resources and tools, ensuring your graduates are fully prepared for their future jobs.