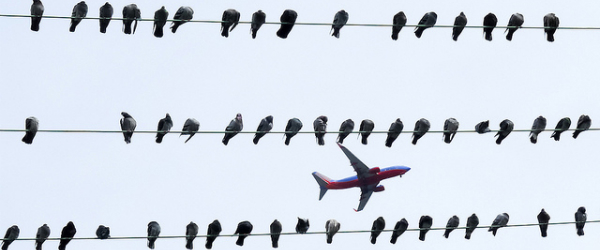 Social Media For Tourism: Twitter Tips from Flight Centre Canada
In the fast-paced tourism industry, real-time customer engagement is essential. Twitter can be the perfect tool for this challenge, but many have yet to discover how effective it can be. The social media team at Flight Center Canada have mastered the art of using Twitter to engage with their customers and provide high-quality customer service in real time. Flight Centre Canada's New Media Producer and Social Media Specialist Alicia Taggio shares her top 4 Twitter tips for tourism brands.
4 Twitter tips from Flight Centre Canada
Tip #1: Twitter can play many different roles in a social media strategy
Within Flight Centre Canada's social media strategy, Twitter plays many different roles. Not only does it help them get travel alerts and info to Canadians, but it has been very successful in helping Flight Centre spread the word about contests and marketing promotions. It is also one of the most popular ways for their customers to interact with the company and provide feedback about a store or a consultant before, during, and after their booking experience. Lastly, Flight Centre recently included share buttons on all their products on their website, and they found that the 'tweet share' button is used more than Facebook Likes, Shares, and Google+ when it comes to sharing  various travel packages from their site. This allowed the tourism company to use Twitter to grow their audience, so each time someone clicks the 'tweet share' button, it sends an automatic message which mentions @FlightCentreCA.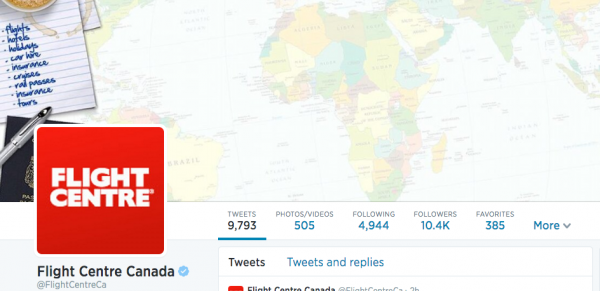 Tip #2: Use URL Parameters when running a contest on Twitter
Flight Centre Canada recently ran a campaign with LiveNation to give away a trip for Canadians to see their favourite band or artist perform anywhere in the world. They used a special URL Parameter to monitor the traffic it drove to the campaign's landing page through Google Analytics. This allowed them to take note of how successful their tweets were in driving traffic to the landing page.
Tip #3: Monitor Twitter 24/7
Flight Centre Canada built a social media team that monitors their Twitter mentions 24/7. They accomplished this by having one person managing the account  full-time, one part-time, and three customer relations team members who monitor for any customer service issues. Globally, Flight Centre has a team of over 10 people managing their various countries' Twitter accounts while monitoring for any mentions of the "Flight Centre" keyword. This allows them to provide their customers Twitter engagement 24/7 and ensure all risks are taken care of.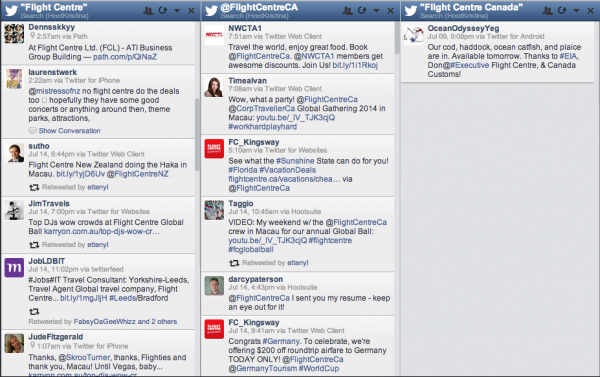 Tip #4: Use Hootsuite team assignments for effective Twitter management
In order to ensure top-notch Twitter management, Flight Center's social media team uses Hootsuite's Team Collaboration features to easily assign messages and tasks to one another. They are able to write notes on each assignment to make sure that whoever has been assigned is clear on what the task at hand entails. Hootsuite also allows Flight Centre's social media team to assign messages to their customer service team directly, which they have found to be incredibly efficient in allowing them to assist their clients in a timely manner.
Take your tourism brand's Twitter management to the next level with Hootsuite Pro!
Want to learn more about "Social Media For Tourism" with Flight Centre Canada? Tune in to our Live Online Panel: HERE!