Social Media for the CIO, Part 1: Social Media Governance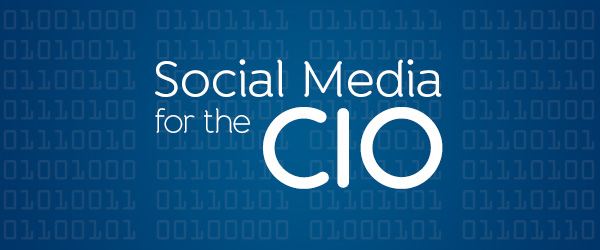 CIOs are at a social media crossroads. Along with mobile devices and Software as a Service (SaaS), social media has usually entered the enterprise through the back door, bypassing traditional technology gatekeepers in the IT department. More often than not, the IT organization has been called in after the fact to integrate siloed systems, rationalize security, and protect brand assets and data. In this five-part series, "Social Media for the CIO," we'll look at how CIOs and IT departments can get out ahead of these problems by creating safe and effective business environments for social media at an enterprise scale.
To find out how your IT department can use HootSuite Enterprise to take control, download Secure Your Social Organization With HootSuite Enterprise.
Social Media Governance: The IT Organization's Crucial Role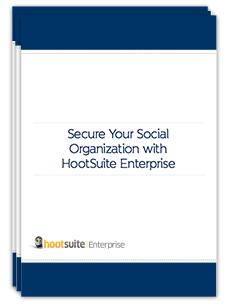 Social media typically arrives in a large organization at the business unit or local level, as various teams create new accounts on public social networks. Some of these accounts may be authorized by regional marketing managers or other stakeholders, while other accounts are simply set up by front-line employees or even contractors without approval.
By the time anyone at the corporate level makes a formal review of the enterprise's social footprint, the company may have accumulated dozens, if not hundreds of social media accounts on various networks. Research by Altimeter Group indicates that enterprise organizations have an average of 178 accounts under management, but only half of them have a centralized inventory of those accounts.
Although social teams in Marketing and Communications might try to keep track of your organization's growing social presence and even draft policies for governing its expansion, the truth is that social media governance requires the active involvement of the IT department and the CIO.
To learn how HootSuite Enterprise helps CIOs bring order to social media, download Secure Your Social Organization With HootSuite Enterprise.

Account Discovery
Executing a social strategy at an enterprise scale simply isn't possible unless you have global awareness of social assets. Otherwise, your enterprise may have multiple social teams working at cross-purposes on the same social network. It's so easy for an employee to create an "official" Facebook or Twitter profile that wasteful overlap is likely to occur at some point, sapping the energy from a campaign or event promotion by splitting follower counts and diluting message focus.
As important as it is to have a map of your own social assets, your organization needs to be equally aware of fraudulent accounts. Fake social profiles created by scam artists, imitators and detractors can seriously threaten your enterprise's brand security, so discovering these external liabilities as soon as possible should be an integral part of your overall governance approach.
Of course, mapping your brand's presence on the social web is not a one-time exercise. Because unauthorized accounts can pop up at any moment, your enterprise should scan for them on a periodic or persistent basis. Ideally, someone in your social media hub should receive an automatic notification as soon as a new account appears that might affect your brand.
To find out how HootSuite Enterprise can automate social account discovery, download Secure Your Social Organization With HootSuite Enterprise.

A Social Relationship Platform for the Enterprise
Social account discovery is about knowing the lay of the land. The natural extension of that process is to take control of the terrain and do some landscaping. And that means bringing the enterprise's whole collection of social accounts under the management of a single Social Relationship Platform. Doing so will not only fence out malware, brand hijackers and other external threats, but make it possible for your organization to decide which individuals and teams have access to which accounts.
Consolidating account ownership within a single Social Relationship Platform allows an enterprise to execute whatever organizational model fits its needs, from a strictly contained, centralized strategy to a highly dispersed, decentralized approach. Whether your organization prefers to keep social media operations in the hands of a corporate hub or seeks to empower business units with more autonomy, you'll need a global platform to ensure that common security standards are upheld, account provisioning is linked to your Active Directory, and partners, contractors and agencies are safely incorporated into workflows.
To find out how your IT department can deploy HootSuite Enterprise across every business unit as a unified Social Relationship Platform, download Secure Your Social Organization With HootSuite Enterprise.