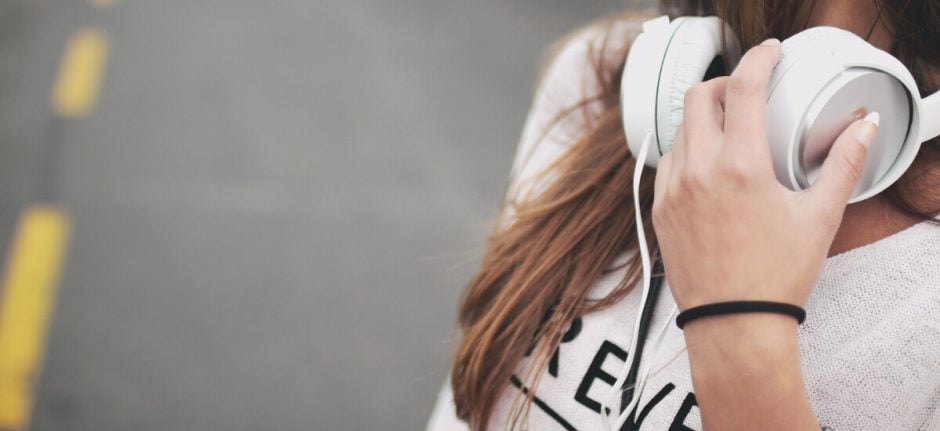 7 Podcasts That Will Make You a Better Social Media Marketer
If I'm wearing headphones, there's about an 80 percent chance I'm listening to a podcast (and a 20 percent chance I'm listening to nothing and just don't want people to bug me).
Podcasts are steadily growing in popularity (thanks Serial) and yet I'm still surprised by the amount of people who turn their noses up at them, or assume they're just another form of "boring talk radio." There's a reason the act of oral storytelling is as old as human language itself, after all. It's a form of communication that can still capture our attention and keep us engaged despite the countless other forms of stimulus we face at every moment.
For social media marketers in particular, podcasts can help keep your skills sharp and your brain churning, and arm you with strategies to stay one step ahead of the competition.
Here are six podcasts we recommend to get you started.
The #AskGaryVee Show is both an audio and video podcast about social media, marketing, and entrepreneurship that is built around audience participation. Listeners send in questions on Twitter using the #AskGaryVee hashtag and Gary Vaynerchuk (and the occasional guest) uses them as the basis of each episode's discussion.
Vaynerchuk got his start doing video blogs for his wine business back in 2006, so this podcast has a unique mix of insights about the future of social media and digital marketing, along with the hindsight and wisdom of someone who's really been at the forefront of it since the beginning. Vaynerchuk's bold personality (and the occasional f-bomb) make the show equally as entertaining as it is educational.
How it can make you a better social media marketer:
The #AskGaryVee Show regularly touches on brand building, conducting business in the digital world, entrepreneurship, marketing, and creativity—with the common thread being how social media affects (and is being affected by) these things. This is because Gary understands what all marketers should understand: social media does not exist in a bubble. This podcast will help you view social media activity in a more holistic way, as it relates to the rest of your business.
This is a great podcast for marketers and entrepreneurs looking for specific tactics and resources they can start using right away in their social strategies. Tyler Anderson, a social media entrepreneur himself, talks with top brands and influencers about what's working (and not working) on every social platform imaginable.
The episode titles clearly communicate the value you'll be getting out of each one. For example, recent episodes include "5 Ways Your Business Can Use Facebook Live" and "4 Ways Businesses Can Use Snapchat's On-demand Geofilters."
How it can make you a better social media marketer:
The clear agenda and narrow focus of each episode means you'll probably finish each one with a list of things to start doing immediately. So if you feel like your social media presence is stuck in a bit of a rut, a few episodes of Social Media Social Hour should give you a nice kick of inspiration.
This weekly podcast is hosted by the CEO and founder of Social Media Examiner, Michael Stelzner, and aims to help your business "navigate the social jungle with success stories and expert interviews from leading social media marketing pros."
I love that each episode starts off with a weekly "survival tip" or a recent discovery about an app, website, or feature that can help you save time and be more effective on social media. The discussion then turns to the episode's guest and the larger topic at hand.
How it can make you a better social media marketer:
This podcast is a deep dive into the world of social media, covering everything from tactical, platform-specific lessons (i.e. Snapchat content ideas) to broader discussions about social strategy (i.e. dealing with unhappy customers). Exactly the type of well-rounded knowledge you need when integrating social media into your overall marketing strategy.
Recently named Best Podcast/Audio Series at the 2015 Content Marketing Awards, Social Pros has been one of the go-to podcasts for social media marketers since 2012. Hosted by Jay Baer of Convince & Convert and Adam Brown of Salesforce, Social Pros "shines the spotlight on social media practitioners, people doing the real work for real companies."
You'll hear insights from a social media strategist in each episode, ending with "The Big Two" where the guest gives rapid-fire responses to two big questions from Baer and Brown.
How it can make you a better social media marketer:
Hearing from real social media practitioners from various industries about the specific work they're doing is a lot more useful than sweeping generalizations about social strategy that are hard to apply to your daily routine. Social Pros will give you plenty of ideas you can put into action.
5. Reply All by PJ Vogt and Alex Goldman
There's really no better way to describe Reply All than the show's tagline itself: "a show about the internet." This opens the door for a wide and consistently entertaining range of topics since, well, everything happens on the internet.
Reply All does a great job of covering both the random phenomenons of internet culture that everyone talks about, and the more serious global implications that the internet brings with it. Recent episode topics have ranged from reporters eavesdropping on ISIS operatives communicating online, to hunting down the creators of some of the weirdest and most unsettling GIFs on the internet.
How it can make you a better social media marketer:
Understanding what's going on with the internet on both a micro and macro level can pay off huge when creating digital marketing strategies. You'll have a better idea of what makes the internet tick, which is especially important when dealing with the ever-changing world of social media.
This American Life is a hugely popular weekly radio show from WBEZ that airs on numerous public radio stations. It's also offered as a podcast, and recently got its own station on Pandora.
Each episode centers around a theme, supported by four "acts" filled with different kinds of stories related to that theme. The stories vary in format, from essays and field recordings to memoirs and interviews. And they also range in emotion. A heartbreaking story will often be followed up with one that makes you laugh out loud on a crowded train.
How it can make you a better social media marketer:
While it's not directly related to marketing, every episode of This American Life offers a lesson in something integral to successful marketing: storytelling. Learning how to weave a compelling narrative through your marketing initiatives and then using social media to tell parts of that story will help your messages stand out in the crowd. For more insights about storytelling from the minds behind This American Life (and other amazing podcasts), I highly recommend the book "Out on the Wire: Storytelling Secrets of the New Masters of Radio" by Jessica Abel.
If you work in marketing or run a brand's social strategy, you'll want to listen to Hootsuite's marketing podcast, Hootcast. In each episode, we interview brands about the unexpected ways they're using social to grow their business.
How it can make you a better social media marketer:
Whether you're looking to find new customers, extend your reach, or get millions of loyal followers, Hootcast gives simple steps on how to get there. You'll also hear inspirational stories from brands and experts–reminding you that even the most daunting of tasks on social are within reach.
Have a favorite podcast that wasn't included in this list? Whether it's about social media, marketing, tech, or something completely unrelated—we'd love to hear about it. Tag @hootsuite on Twitter and let us know!