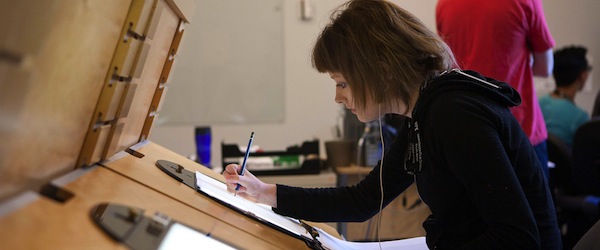 Students Want a Social Campus—Here's How Your Institution Can Make it Happen
Social media in higher education institutions no longer exists solely in the domain of students. Your students, whether they are at the application stage or are already enrolled, expect clarity around processes and the school's culture, as well as open lines of communication with the Admissions office. Early engagement in the student lifecycle is a simple and super-effective way for Admissions to not only recruit students but create lifelong relationships.
In 2012-13, 41% of school officials surveyed by the University of Massachusetts Dartmouth Center for Marketing Research responded that they could 'directly attribute an increase in enrollments' to their social media efforts.
Build Excitement and Pride, One Message at a Time
A good portion of a student's research into prospective schools will be done online, looking at academic reputation, campus culture, and alumni reviews. Twitter, LinkedIn, Facebook, even Instagram accounts will provide the most robust information in a student's search, along with the institution's overall Klout score. Higher education institutions can capitalize on this opportunity to present the best possible—and most relevant—information to prospective students through social media efforts. These less-overt recruitment tactics will also be more warmly accepted than traditional outreach methods, which goes a long way in creating a receptive audience. And the school has more control over the image it wants to present to prospective students by handling its social media messages in an open, transparent way. We created the downloadable Higher Education Implementation Guide, The Social Campus: Social Media Throughout the Student Lifecycle, to provide practical, easy-to-access information on expanding on these engagement opportunities.
What was once a one-way conversation—Admissions speaks, students listen—is now a multi-channel, multi-directional flow of information. Listening in on what people are saying about your institution, and other schools, is valuable. The word on the digital street can inform future recruitment plans or campaigns and help discover what efforts are working—or not working. You can answer questions about orientation, housing, meal plans, and application statuses and get real-time feedback from students. This type of social data can help an institution predict common issues, concerns, fears, and challenges that affect prospective recruits, which is excellent information not only in aiding next year's new students but in shaping upcoming campaigns.
Win Over Students Through Social Media Relationships
Motivated, high-achieving members of the Millennial, or Y, generation are accustomed to constant access to high school teachers for information and encouragement. Millennials expect acknowledgement and timely responses when they ask questions, indicating high levels of engagement, and they respond naturally and favorably to social media outreach. It's important to hone your social media efforts to ensure you are connecting with your audience, for example, by tracking your links to see what messages and networks are getting the most traction.
"…a study of American high school students indicates that 75% of the class of 2013 used social media in deciding where to enrol, up from 39% for the class of 2012. Of those students who used social media in their decision-making, 38% said it had influenced their choice of school." 
Academic institutions that show fluency in current technology and modes of communication have a much higher chance of reaching students, and building confidence in the school's offerings. That confidence can be leveraged into a lifelong relationship, as discussed in the Implementation Guide. Taking the time now to research and build proper social media outreach efforts will not only help with recruitment, but set the groundwork for any higher education institution's most vocal public champions: current students and alumni.
Social media can also maintain a connection with individual students who may have attended open houses or requested view books, keeping your school on their radar when application time comes around.
Admissions can act as a bridge for those students when they are choosing their future school, and maintain their enthusiasm while alleviating anxiety about the transition ahead. If used correctly, social media allows Admissions to maximize their appearance of accessibility and foster supportive, open connections with students that are used to constant feedback. Download the Higher Education Implementation Guide to learn how to accomplish these tasks.
This blog post is the first in a series about higher education institutions and social media. Each post will highlight learnings and takeaways from Hootsuite's Higher Education Implementation Guide, and provide insights into using social media to reach students (prospective and current) and alumni.