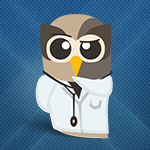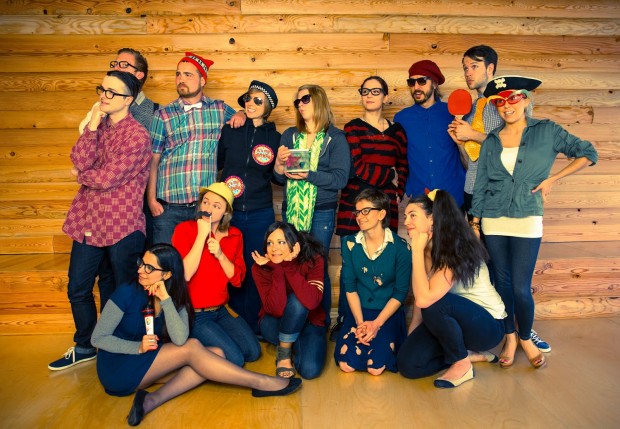 "We're a team of 17 that makes magic happen for over 6 million HootSuite users, 24 hours a day, Monday to Friday," says Social Lead Sarah Chambers. "Our team is divided across three shifts (one in London), to ensure no user is left behind, and we support five languages with a 93% satisfaction rating month-over-month."
It takes a special kind of person to field help requests all day. "Each member of our team was hired for their personality, which is something we try to bring to our customer-facing work," notes Sarah. "For example, we have 3 DJs, a pillow fighter (Flame Edna), an amazing female bass player, a trainee for the Spartan Race (we think the course will be crying at the end) and one of our team members just finished a 72 hr videogame-making marathon challenge."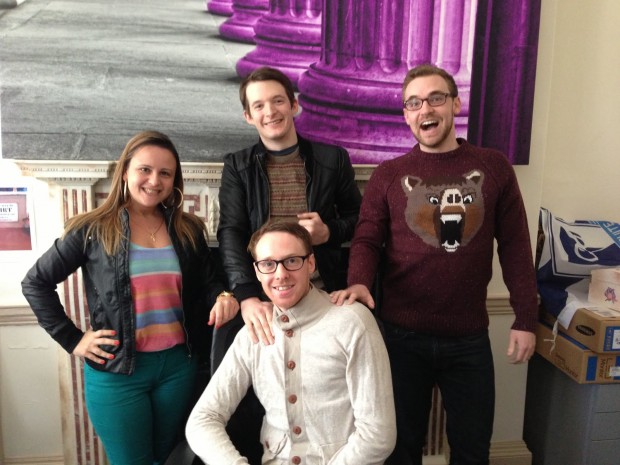 If there's a common thread among this gang, it's an abundance of "positivity," as noted by Product Liaison Kerri Bremner. "The first week Tarik (Ganibegovic, one of our customer advocates) worked here, we got more fistbumps than in all five of my past lives combined," says Kerri. "Our team also has a Friday Treats schedule (#freats), since we're all amazing bakers." That's one way to keep spirits up, to be sure.
Sarah thinks there is more to it than just being positive. "The biggest thing we have in common is a love of people (and if you're reading this, you're our people)," says Sarah. "We dislike it when you're frustrated, we are happy when you are happy, so let us make your day! Thanks for sticking with us through 100,000 tickets. You're awesome!"
The HootSuite Customer Success Interactive Game
To mark the occasion of 100,000 successfully completed help tickets, we made a fun little interactive game using Vine.
How to Play
Watch the video, and then see below for instructions.
At first glance, the video loop looks like pure chaos, and it is. But if you click it, it will freeze. When it does, you're left with a unique tableau that puts "Where's Waldo" to shame. Rather than trying to find a stripey-sweatered, toque-clad hipster, you score 10 points each if you freeze it on: 
A frisbee in mid-air
Someone wearing a pirate hat
Someone using a banana as a telephone
A cameo by LeeLou, Stephen O'Grady's black dog
Nicole Winstone's hair in a beehive that would rival Marge Simpson's
A frame that does NOT contain the framed photo of Greg Williams, AKA gwilli
A frame that shows Director of Customer Success Sharad Mohan (easily found, with his baby blue button-down) where he is NOT working on his laptop
Super BONUS: Freeze on the frame that shows HootSuite's Ambassador of Happiness Chris Trottier in a red jacket in the center. Your reward for finding the "Tyler Durden" frame is 30 points

Need help from the team? Visit the Help Desk and follow @HootSuite_Help.
If you want the best possible access to this incredible team, sign up for a trial of HootCare, a support upgrade that gives Pro users speedy, prioritized support response within four hours of creating a ticket.