#SXSW 2012 – South By South Nest ~ News Roundup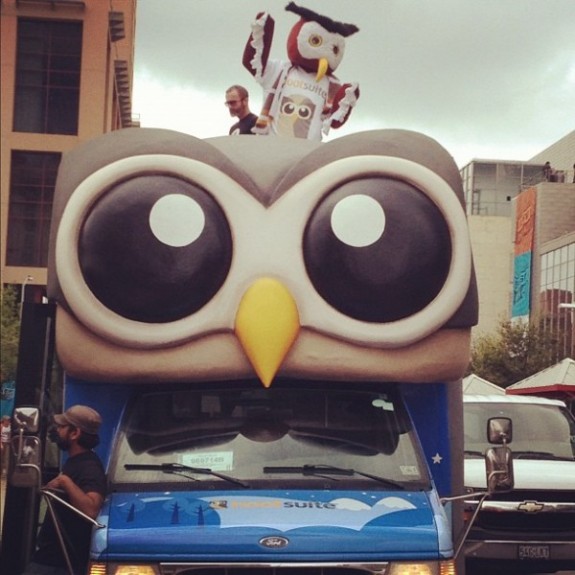 With SXSW Interactive in the rearview, our Owls have begun trickling back into HootSuite HQ. Along with some sizable media buzz, the team has returned with tales from the road, handfuls of swag, and very hoarse voices.
Following up on the appearances mentioned in our earlier posts, we've rounded up some of our favorite media bites and  experiences from SXSW. Plus, a couple new interviews featuring CEO, Ryan Holmes – via Mashable and MediaCom.
Media Frenzy
At a festival that saw brands hosting grilled-cheese eat-offs, sumo wrestler street teams, and a Jay-Z concert – it's become harder and harder to stand out. Luckily for HootSuite, our HootBus and SXSwag was a huge hit generating media coverage in USA Today (and their food blog – Bites on Today), Mashable, the Wall Street Journal and more!
Check out our favorite quotes, images and snippets from the media.
Wall Street Journal – Product Doesn't Speak for Itself? Hit the Street in a Clown Suit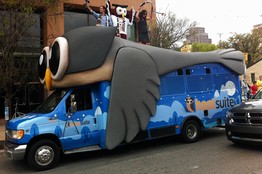 The Wall Street Journal documented some of the sights at SXSW in a recent article – focusing on some of the weird and wonderful spectacles on display.
While HootSuite didn't turn any homeless people into wireless hot spots or hire actors in elephant costumes for boxing matches, the HootCannon and HootBus still managed to attract the attention of festival-goers – some lucky enough to get a ride in the big bird.
No dot-com streakers have been spotted, but there have been plenty of hooters. The folks at HootSuite Media Inc., a social-media dashboard service, decorated an ordinary bus like a giant owl, with eyes the size of the windshield. They called it the "HootBus" and had employees shoot "HootSwag" like T-shirts at passersby from a CO2-powered "HootCannon."
USA Today – The buzz at SXSW, Day 3 highlights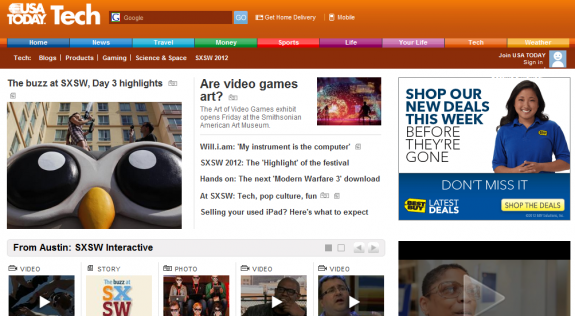 HootSuite was giving away t-shirts by launching them with a hand-held air cannon from on top of their van, which looks like a giant owl, on Monday morning at South by Southwest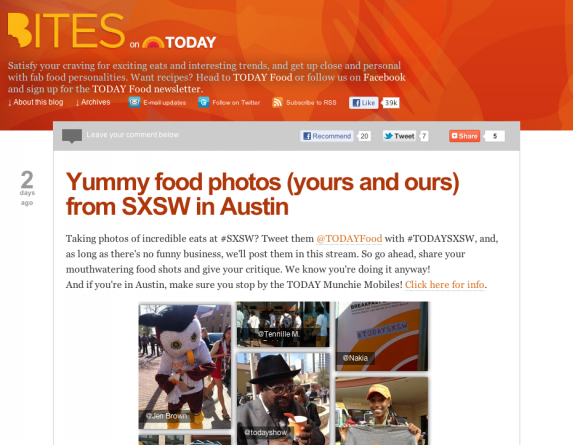 Mashable – SXSW Tour: Rain, Food Trucks and Whimsical, Bizarre Promotions [PICS]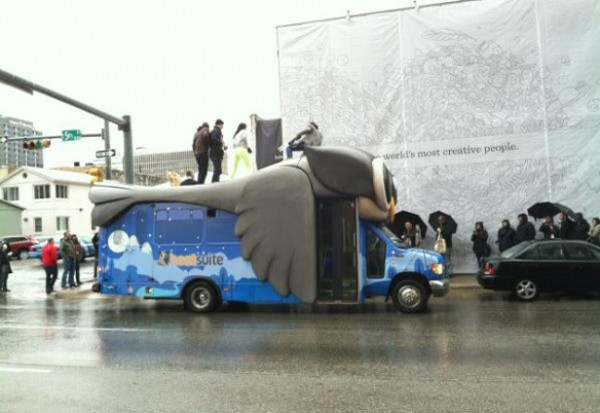 Mashable – Mashable Rocks SXSWi 2012 [PICS]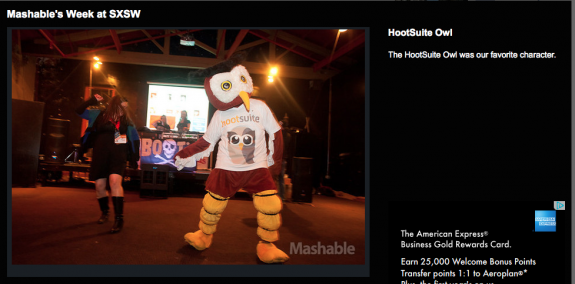 Entrepreneur – The Best Promos of SXSW 2012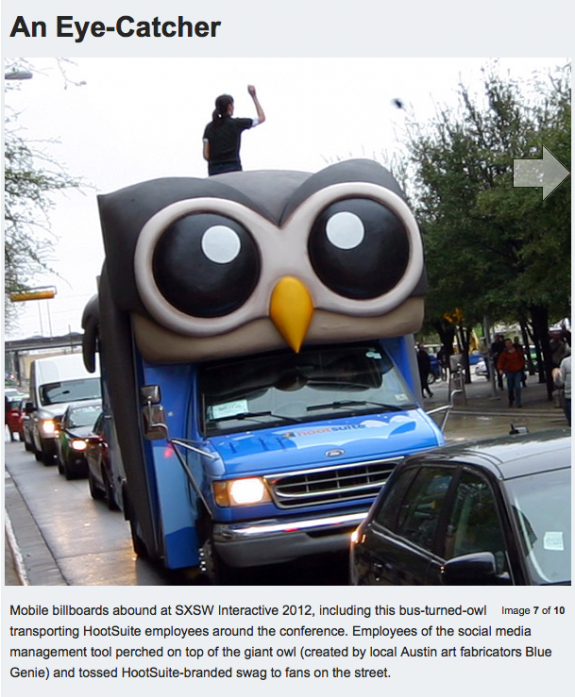 The Vancouver Sun – SXSW Day 2: HootSuite continues its ascent

The Vancouver Sun, ran some HootSuite SXSW coverage including a video interview with VP Community, Dave Olson, featuring snippets of his presentation. In the interview, DaveO touches on the Egyptian Revolution and HootBus.
Check out the Vancouver Sun article and accompanying video here: SXSW Day 2: HootSuite continues its ascent
Vancouver's HootSuite are the darlings of SXSW, again. If it's not the HootSuite Owl commanding crowds, it's the massive HootBus and t-shirt-canon-firing CEO Ryan Holmes attracting attention.

The social media dashboard is on an explosive growth curve and has now been adapted into 14 different languages. When Facebook and Twitter went down at the start of the Arab Spring in Egypt last year, HootSuite was the only outlet able to provide a conduit for the people during the first 36 hours. It was a pretty powerful day for the director of marketing Dave Olson, who witnessed 7,000 per cent spike in users overnight. He outlined how HootSuite has organically mobilized around the globe during his well-received SXSW session "Crowd Sourcing Community Projects Around the Globe Like Tom Sawyer."
Robert Quigley, a senior lecturer at the University of Texas, put together a summary on his Tumblr. Read it here: SXSW: 'Crowdsourcing Community Projects Like Tom Sawyer'
Inc.com – 7 Cool Things You've Missed at SXSW

Some of the best marketing at SXSW is the stuff that makes you go "aww," and the stuff that compels individuals (ostensibly of the trend-setter variety) to broadcast a brand to their social networks. Everyone has seen the massive and darling HootSuite bus.
An Owl's Eye View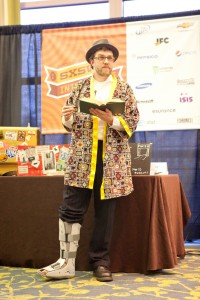 Although the five day event was home to an abundance of panels, discussions, and keynotes – many of the most valuable and memorable conversations were had in bars, on the streets, aboard the HootBus and over cups of coffee.
Using a combination of text messages, tweets, emails, and smoke signals, the HootSuite team connected with some amazing folks at some of the great events down in Austin:
Chief Executive Interviews
Even though SXSWi has come to a close, we've no plans to slow down and are keeping busy sharing the HootSuite story with two new interviews featuring HootCEO, Ryan Holmes.
YEC Global/Vokle – YEC Global with Hootsuite Founder Ryan Holmes
As part of the Young Entrepreneur Council's program, YEC Global – Ryan answered questions live via video chat in a broadcast hosted by Mashable and Vokle. Viewers sent in a variety of questions with topics ranging from his early experiences as an entrepreneur, SXSW, and even a few personal questions about Owly, the beloved HootSuite mascot.
MediaCom – Social Media Technology Thought Leader Interview Series – Ryan Holmes

This week, MediaCom's Ivan Fernandes interviewed Ryan for their Social Media Technology Thought Leader Interview Series. The series focuses on "key changes in the social media technology landscape and implications on the way brands engage with their customers."
In the interview Ryan shares how he channels his passion for social media into a solution for businesses seeking to effectively manage their social media networks and engage in the conversations happening around their brand. Ryan also lends his insight on new innovations and breakthroughs in the social media space.
Read the interview in its entirety here: Social Media Technology Thought Leader Interview Series – Ryan Holmes
Owl Over the Place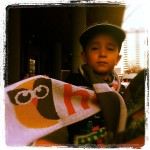 HootSuite has once again had a wonderful time at SXSW connecting with fans, collaborating with colleagues and building on the HootSuite story. The insights and innovations the team took in will certainly help shape our roadmap.
Check out our HootSuite SXSW 2012 Tumblr for loads of images from the festival and be sure to view our Sightings of #HootBus Storify.
For more HootSuite event info, follow @HootSuiteEvents where you'll find the latest event announcements and updates events we're attending.
Farewell for now Austin – we'll see you next year!