HootSuite Furthers Chinese Localization with New Tencent Weibo App Integration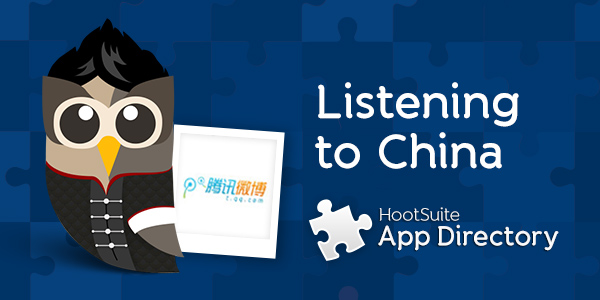 Users have asked, and we have listened. Based on popular demand, HootSuite's localization in the Chinese market started in 2012 and continues strong into 2013's Year of the Snake.
Last October, HootSuite launched a dashboard translation for Traditional Simplified Chinese together with a Sina Weibo app integration. A month later, popular social media site Renren was integrated into the HootSuite App Directory as it was one of the most frequently requested Chinese social networks for integrations.
Tencent Weibo Joins HootSuite App Directory
We're not stopping there! This month, we're thrilled to introduce the app integration for Tencent Weibo to the HootSuite App Directory. It's our goal to continue development of HootSuite for Chinese-speaking users around the globe. Try it out today and follow HootSuite's own Tencent account @互随中国 for updates.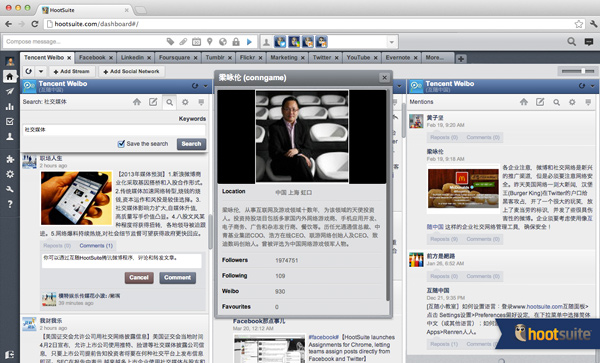 Tencent Weibo for HootSuite features:
Search for content on Tencent Weibo with keywords.

Create a stream with feeds for Home, Your Followers, Your Mentions, Your Weibos, and Favorites.

View re-posts, comments and post comments.

Compose and schedule messages, add photos and links.

Manage multiple accounts and select which profiles to publish messages.

View user profiles and statistics.
Why Tencent Weibo?
First off, it was because our users requested it. Wherever our users are, HootSuite is always looking to localize the dashboard so that the best social media sites are included. Secondly, based on popularity, Tencent was a natural choice with over 540 million registered users. In the future, depending on user feedback, we're looking to further integrate Tencent into the HootSuite dashboard.
In The News
We can't wait to hear feedback on our most recent integration, in addition to the Chinese-language translation and app integration projects. Media outlets have written about HootSuite's expansion into the Chinese markets. Here are some highlights:
"HootSuite and its owl have flown into China, adding support for the country's hottest Twitter-like service, Sina Weibo, in its social media dashboard." – Tech in Asia
"HootSuite, the popular social media management platform, continues to reach out to the Greater China market, as it announced this morning that its roster of Chinese social networks now includes Tencent Weibo…" – The Next Web
"Mayor Robertson's account will be managed via the new HootSuite-enabled Sina Weibo app in order to share postings between his English-language Twitter accounts…" – Vancouver Observer
Connect with Local Users
With users on the ground, and with the help of owly friend Jun Liu, HootSuite also hosted a HootUp in Shanghai: #HootUpSH. It was the first time that a group of local Chinese users were introduced to the HootSuite dashboard and Hoot culture, and it was a wonderful success. The attendees gave a lot of helpful feedback about the product, and we're looking forward to hearing more with this recent release.
HootSuite's Feedback Channels
To connect with us, HootSuite has created a handful of feedback channels including a HootSuite Tencent Weibo page @互随中国, a HootSuite Sina Weibo page @HootSuite互随中国, and a Twitter handle @HootSuite_CN.
Try out the Tencent Weibo app today. Leave a comment below or tweet us with any feedback, questions, and comments you have about our Chinese integrations.

To find out more about our past development in China, check out this Chinese news roundup.