How to Generate Leads With Social: The B2B Power of Twitter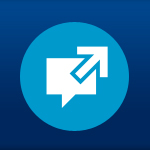 When looking at the power of Twitter for businesses, most discussions revolve around the relationship of businesses with consumers: marketing to, interacting with and attracting individuals.
But how powerful is Twitter for building or influencing B2B (business to business) relationships and audiences?
Tweets in Action: A Twitter B2B Study
This question was at the heart of a recent study by Compete in collaboration with Twitter. The study, "Tweets in Action: Mobile/Tech" looked at the "site visitation behaviour" of over 6,000 average American internet users. By examining how often they visited B2B tech sites, and comparing the behaviour of Twitter users against non-Twitter users, Compete was able to highlight three key ways that Tweets drive these types of relationships:
1. Twitter users who see Tweets from B2B tech brands are more likely to visit the sites of these brands (59% compared to 40%).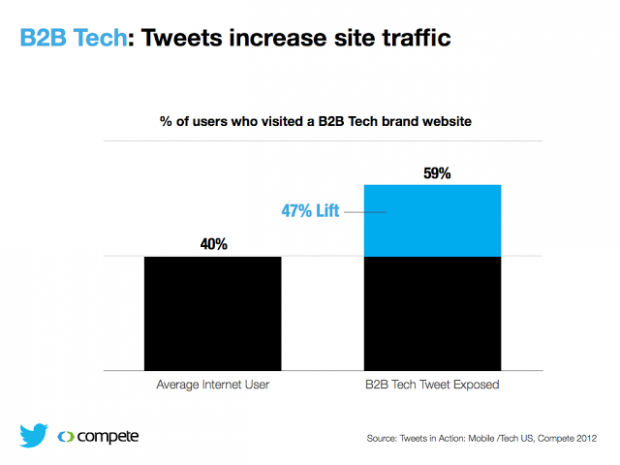 2. Twitter users who see B2B tech brand Tweets are more likely to search for these brands online (30% compared to 12%).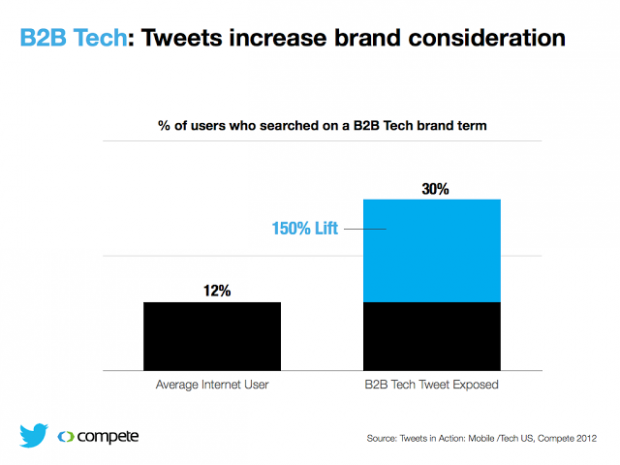 3. Twitter users exposed to B2B tech brand Tweets are more likely to convert. and complete a sign-up on a website (11% compared to 4%).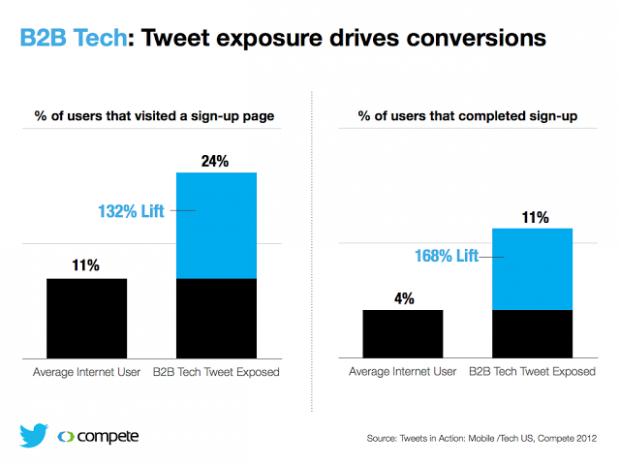 Great News for B2B Brands, Advertisers
So what does this all mean? First, it means that there is a large B2B audience on Twitter researching, interacting and looking for these opportunities. Second, it means that Tweets drive traffic to B2B brands' websites. And third, perhaps most importantly, Tweets actually drive conversion for B2B brands.
This study was able to illustrate the direct ROI of tweeting to a B2B audience. In 140 characters B2B brands are generating more leads and increasing their online business opportunities. The key is making it easy for the right people to view your Tweets and link those message directly to forms and calls-to-action on your website.
Thanks to targeting options provided by Twitter Ads, vendors can now ensure their Tweets reach the segment of Twitter users who are most likely to continue down the funnel. HootSuite's integration with Twitter's Promoted Products makes the whole process a smooth one, allowing you to manage your social profiles, listen and engage your audience, and then promote the Tweets that work best.
Learn more about HootSuite's Promoted Products Integration or apply for the Beta version.