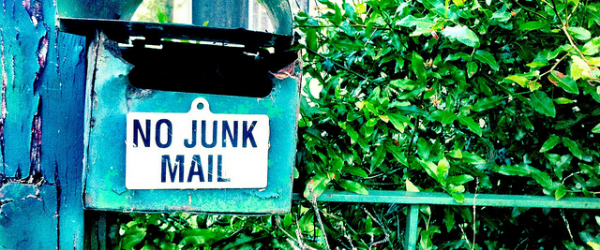 The Internet in Your Inbox: How to Make Checking Your Email Fun Again
Be honest with yourself for a moment: how many unread messages did you have in your inbox this morning? Did half of your correspondence go straight to Trash? And, most importantly, is this something that happens on a daily basis?
The world of social media doesn't wait for anyone, much less for those of us who are too busy sending heaps of unwanted mail to trash. Unfortunately, nowadays, instead of enjoying the advantage of instant communication via email, our inbox often gets flooded with information we don't want. Think of everything that ends up in your mailbox on top of any direct correspondence: social network notifications, special offers from retailers, purchase receipts, not to mention newsletters you don't remember signing up for. If you're not careful, you risk turning your morning email routine into a daily Delete All exercise.
What if, instead of being overwhelmed with unread messages of no interest to you, your inbox could once again become the hub of your online activities? In January, our CEO explained one way to take back the ownership of your inbox: declaring email bankruptcy. But it doesn't stop there: once you have defaulted on the debt of unread messages, the next step is to curate all the incoming content, in order to avoid repopulating your inbox with unwanted mail.
Once you've tamed the influx of mail in your inbox, checking email can become much-needed the boost of inspiration first thing in the morning. You can check all your correspondence in peace—and, as a bonus, have all your news and blogs neatly sorted. Here are a few things you can do to take back the ownership of your inbox.
First and foremost…unsubscribe!
You heard me. It's not rocket science: if you don't want to see something in your inbox, and find yourself sending mail from the same sender straight to Trash over and over again—you don't need it. Your Gmail storage may be unlimited, but unless you attach sentimental value to all your unread flight deals and last month's breaking news alerts, they shouldn't take up space in your mailbox.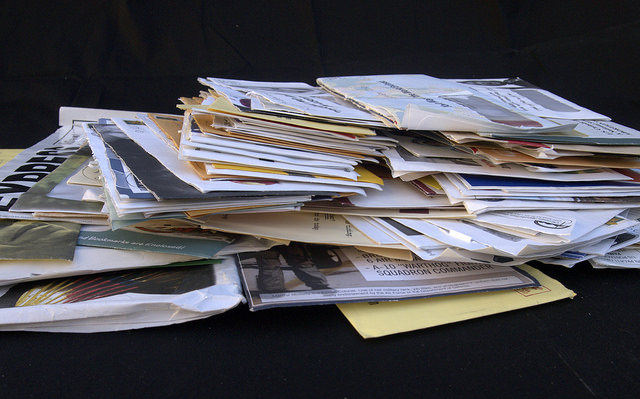 It doesn't take long to scroll to the bottom of every message that falls into the straight-to-trash category and click 'Unsubscribe'—or, if you're feeling lazy, let apps like Unroll.me or Mailstrom do it for you in one fell swoop. If you dedicate a couple of minutes every morning to unsubscribe from non-essential mail, you'll find that the number of new messages will become more and more manageable every day.
Once you've cut your losses, the real fun begins.
Sort your content
My worst-kept secret for finding inspiration for blog post ideas is subscribing to newsletters. On any given morning, newsletters of all sorts find their way into my inbox: news summaries, blog digests, fresh research from industry thinktanks—you name it, I probably subscribe to it.
Naturally, the more content you receive, the more time you need to read all of it, and you may not have that time when you check your mail. To avoid an irritating pile-up of unread messages, create labels for each distinct category and sort each incoming message into the appropriate category.
In order to do that in Gmail, for example, you can select emails from similar senders (for example, news outlets), click on More, and select Filter messages like these.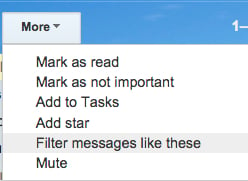 When you create a new filter, you can choose for new mail from these senders to skip the inbox and go directly into the appropriately labelled folder, or categorize as either Social, Promotions, Updates, or Forums.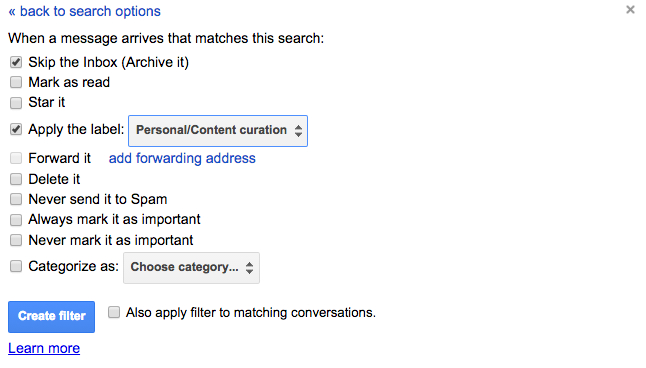 You can then go through each of your labels, or return to read them at a more convenient time. Presto!
Once again, you can get fancy by installing some apps to help you sort through your mailbox, but let's be honest: no technological mastermind will know what goes into "Personal/Content curation" better than you. I should really work on my category names.
Adjust frequency and notification preferences
If you are following several media outlets or blogs, you've probably experienced a pretty scarring case of inbox flooding. No matter how much you want to stay on top of current affairs, you may just not have the room in your schedule to read content from multiple sources every day. This is why many platforms that generate a lot of content on a daily basis have options to adjust the frequency of their emails.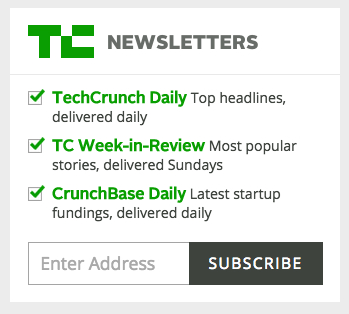 Adjust these settings based on your own reading habits as well as necessity—newsletters pertaining to hobbies or passions can be less frequent, for example, while the ones related to your professional field may be useful to read every day.

A similar principle can be applied to social network updates. Notifications may be on the verge of becoming their own platform, but Gmail still often sends them straight to the Spam folder. However, some updates, such as important LinkedIn contact requests or event invitations, are better to receive sooner than later. In order to keep your communications from social networks sparse and to the point, adjust your notification preferences and frequency for each of your channels.
On Facebook, click on the arrow in the upper-right corner and choose Settings. In the navigation menu on the left, go to Notifications, and modify your Email preferences. As you can see, there are a lot of activity you can get notified about, so choose wisely.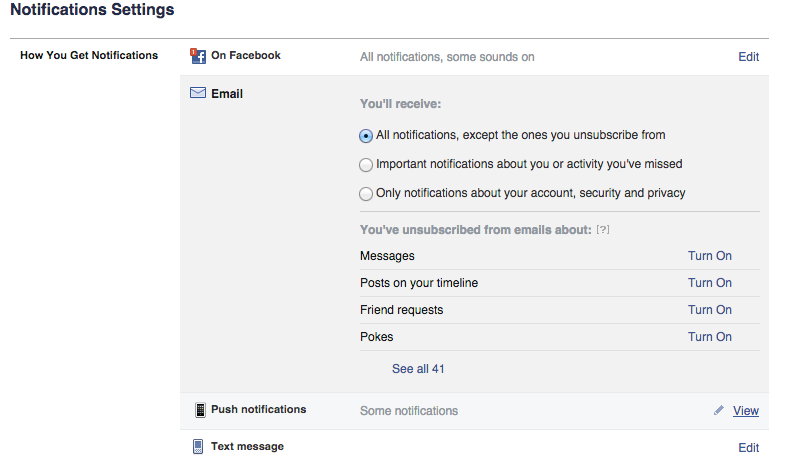 On LinkedIn, click on your profile photo icon in the upper-right corner of the page, and choose Privacy & Settings. Scroll to the bottom of the page and navigate to Communications in the left-hand menu. There, you can choose to modify the frequency of emails from LinkedIn, including network updates, LinkedIn Pulse digests, and group message summaries.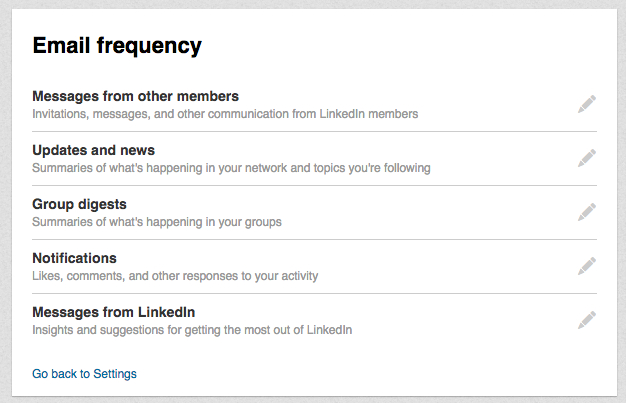 On Twitter, navigate to the Settings menu by clicking on your profile icon at the upper-right corner. Choose Email notifications, and go through the notifications you'd like to receive. You can also take advantage of Twitter's smart setting that limits the amount of emails you get from the network. Other settings relate to the activity around your Tweets, activity in the network of people you follow, and features such as 'While you were away…'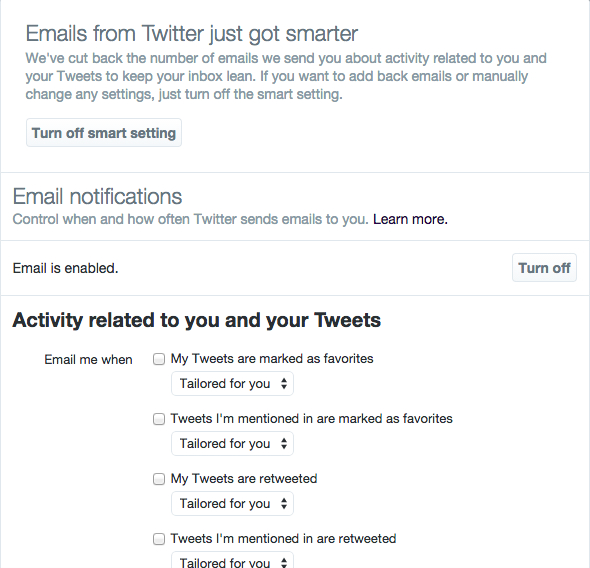 The best way to judge your preferences for social network emails is to consider the average daily amount of activity you experience on your account. For example, it's better to monitor new Facebook posts on your Timeline, Tweets with @mentions of your account, or LinkedIn contact requests in real time (using a social media management tool, for example), instead of getting flooded with email notifications about them.
Be honest about your likes and dislikes
When it comes to newsletters and digests, dedicate some time to curate content you're getting. One way of doing it is by adjusting the frequency, if that option is given, or unsubscribing from unwanted channels. Another method is to take advantage of the platforms' smart filters. For example, if you sign up to receive Medium digests, you may already know the collection of stories is based on your personal Medium history: the people and magazines you follow, and Medium blogs you have recommended. Help the algorithms deliver the content you want to read by actively engaging with your favourite blogs and authors.
Most importantly, no matter what you commit to receive in your inbox after the great purge, don't hesitate to hit the Unsubscribe button if the emails no longer match your current schedule or preferences.