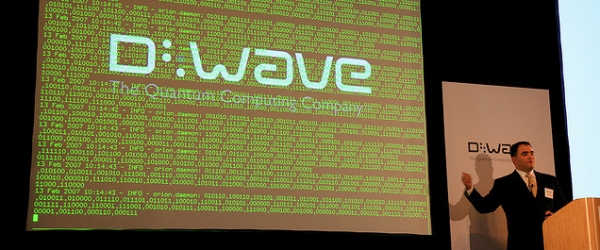 This Week in Social: Facebook's Shazam Competitor and Google's Bet on Quantum Computing
It's been an interesting second week of news for our new roundup series, This Week in Social. Every Sunday, we will gather the week's most important news about the state of the social web. Not everyone has time keep up with the rapid flow of news throughout the week, but if you're a social media professional, you can't afford to miss the big stories.
Now that you have some time, let's get you caught up.
Latest from the big 4:
Facebook has released a new feature that allows you to use your phone's microphone to identify what song, television show or movie is playing—much like the popular Shazam app. Once identified, the name of the show or track will be pre-populated into the status update you're writing, so you can share it out with friends quickly and easily. No more typing out Edward Sharpe and the Magnetic Zeros.
Admit it: "Who's Viewed Your Profile" is your favourite LinkedIn feature. Ours too. It's not vanity; it's just business… right? There's valuable intel in knowing who's checking you out on LinkedIn. And you can learn even more from this new feature that tells you compare to others in your network. If you've maxed out your klout and you're looking for another social media metric to obsess over, here you have it.
The news from Twitter this week turned out to be no news at all. On Monday ReCode's Peter Kafka reported that talks were underway for a Soundcloud acquisition. A day later, The Wall Street Journalreported that the deal was dead. Social media and online listening habits have long and entangled histories. It would have been an interesting move on Twitter's part, recognizing that people have shown they're determined to share what they're listening to. Twitter may have decided it wasn't a good deal, but just the idea certainly sparked a conversation.
Next big thing:
Combine the sheer scale of sites like Plenty of Fish, Match, and eHarmony with the ruthless real-time romantic hunger games of apps like Tinder, and you've got a pretty overwhelming online dating experience. The biggest differentiator for Coffee Meets Bagel, which now has $2.8 million in funding behind a big update, is that it won't take over your life. CMB sends you one match per day, whom you can either "like" or "ignore." If both parties like each other, they can SMS for a seven-day period. If they choose to go on a date, CMB offers a discount at a local restaurant or cafe.
CMB promises to make the challenge of using social media to improve your love life a little easier and more manageable. PumpUp does the opposite. Launched this week, the fitness network let's users track and share both workouts and photos of the results. A rough outing on Dragon's Den last year didn't result in any funding, but seems to have resulted in a pivot toward photo sharing rather than workout planning.
Long reads:
First, if you haven't heard about the ebay hack, stop right here and change your password. Ok, now that the important part is taken care of, you can settle in for some reading. If you're still in the mood to be freaked out about cybercrime, spend your Sunday with the 2010 paperback panic attack, Cyberwar, by former George W. Bush cybersecurity czar, Richard Clarke.
If not, try something more optimistic: Quantum Computing.  This week, Wiredreported on the new partnership between Google and NASA to acquire "what may be the search giant's most powerful piece of hardware yet": a quantum computer produced by Burnaby B.C.'s D-WAVE Systems. Or at least the claim is that it's a quantum computer. You'll have to read to figure out the complexities of that distinction.