Is there anything more important than choosing the right TikTok fonts? And no, we will not accept "the birth of your firstborn" or "that time you graduated university" as answers.
It sounds like we're exaggerating (and ok fine, we are), but like any other design decision, your font choice says a lot about your brand identity and the audience you're trying to appeal to on TikTok.
And while the decision may be important, choosing the right font for TikTok doesn't have to be intimidating.
We'll teach you what TikTok's fonts are, what they say about your video, and answer your frequently asked questions about them.
What are TikTok's fonts?
TikTok fonts are the lettering styles available within the app. While they technically should be called "TikTok typefaces," we'll save the pedantic "font vs. typeface" definitions for another day.
You can choose between Classic, Typewriter, Neon, and Serif when adding text to your video or photo. Each comes with its own flavor, so to speak, so choose wisely.
Here's our take on TikTok's fonts.
Classic
Classic is simple and clean. And if it reminds you of the good parts of 2020 (when everyone was stuck at home making trending TikToks), that's because this was the font TikTok used back then.
TikTok's Classic font looks a lot like Proxima Nova, a still-popular font that was everywhere in the early 2000s. It's been the primary typeface for many online juggernauts, like BuzzFeed, Mashable, NBC News, and Wired.
Classic is friendly and understated. It won't distract from your content, so it can be your go-to for any body copy in your videos. It also makes for easy reading in how-to videos or infographics.
Try mixing it up by pairing it with a font with more flair, and boom: You've got a logical design.
Typewriter
Typewriter is reminiscent of old-school private eyes, chain-smoking in the pouring rain while staking out a femme fatale. It's giving major 1950s grunge/nostalgia vibes.
Typewriter's vintage feel makes it perfect for throwback or retro content, but it's also a lovely fit for more poetic or dreamy posts.
Just a caution: We wouldn't recommend using Typewriter for long blocks of text. Classic might be a better font choice if you need to write a paragraph.
Handwriting
TikTok's Handwriting font is perfect for the cottage-core besties out there. This font skews more feminine, so it's great for those making any sort of beauty or fashion-forward content.
Be wary of using Handwriting to type out more than a few words, though. While pretty, this font can be difficult to read. It works best as a heading, title, or for emphasis.
Neon
Geometric, bright, and poppin', Neon has a slight art deco lean to it. You could also argue that Neon has Vegas vibes, and you wouldn't be wrong.
Use it to emulate old-school movie posters or give your content a gritty Hollywood feel.
Just remember: This font is designed to pop out, so don't make it compete with itself. Neon can stand alone.
You're not going to want to use it to write long paragraphs, either. One to three words should suffice.
Serif
The only serif on this list, the Serif font is, well, a classic serif font. (Serifs, FYI, are the decorative lines added to the main form of a letter.)
Serifs generally read as more high-end or luxurious, so using this font can evoke a sense of occasion, like weddings or a visit from the Queen.
You can be a bit more relaxed with your use of Serif. Lowercase Serif works for body copy, so you can type out longer pieces of text. In all caps, it can work well as a title or header.
How to add text to TikToks
There are two main ways to add text to your TikTok videos: using the TikTok app or a third-party TikTok fonts generator.
External tools can give you more typeface options, but that's not always the best call. Keep reading for more on that!
Adding text in the TikTok app
Add text to your content in four easy steps:
Step 1: Open your TikTok app
Navigate to the plus icon in the middle of your bottom row. Here, you can either film a new TikTok or upload your content.
Step 2: Click the Text button in the top right
Then, scroll through your fonts and colors and pick one that has the vibe you're going for.
Step 3: Hit Done in the top right corner
Fill out your caption and add any hashtags you like.
Step 4: Publish your content by hitting Post!
That's it!
Adding text using a third-party desktop tool
You can use several tools to add text to your TikToks, so the method you follow will depend on the tool at hand. But with intuitive options like Canva or Vimeo, the process should be fairly straightforward.
For Canva, for example, the steps would be:
Step 1: Grab a template or upload your own video
Step 2: Click on the text
Step 3: Adjust as necessary
Step 4: Download and upload to TikTok as you normally would
Unlike TikTok's fairly limited font choices, using an external tool opens up a whole world of fancy characters you can add to your content.
But FYI, TikToks that look like they're made in-app are typically more well-received than super-polished marketing videos. So even if you do create the video in a third-party app, you might want to use TikTok's fonts regardless.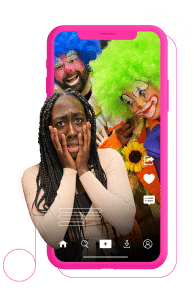 Get better at TikTok — with Hootsuite.
Access exclusive, weekly social media bootcamps hosted by TikTok experts as soon as you sign up, with insider tips on how to:
Grow your followers
Get more engagement
Get on the For You Page
And more!
Try it for free
Why you should be using text in your TikToks
Adding text is an easy win for your TikTok content. Here are a few reasons why.
And don't forget, if something isn't working, test something else! Experiment with different texts and font types until you find something that works for your brand.
Clarity
The For You page is a relentless waterfall of content. If you want to stand out, you need to grab people from the get-go. Place some eye-catching text in your video's thumbnail and the first few seconds.
Your on-screen text can also emphasize the important parts of your message you don't want viewers to miss.
If you're still not seeing the success you deserve, try TikTok marketing strategies and follow it up with some TikTok tricks.
Accessibility
Not everyone watches videos with sound. You can reach a wider audience by including text with your videos.
You can also use text to help break down longer pieces and make it easier for viewers to understand what you're saying.
Plus, TikToks with text components are more accessible to Deaf and hard-of-hearing viewers, meaning that you'll be able to reach more people.
SEO
The TikTok algorithm is less of a mystery than in the past, and video SEO is a real thing.
You can also optimize your TikTok SEO by including keywords in your on-screen text.
TikTok has also said that using its features, like effects and text, will have a positive impact on your content's ranking on the For You page.
Frequently asked questions about TikTok fonts
What font does TikTok use?
TikTok uses the Classic font, which is nearly identical to Proxima Nova – Semibold.
How do you get a font username on TikTok?
Figuring out ​​how to get a font username on TikTok or use special characters or cool fonts in your TikTok bio is easy. You simply have to use a third-party text generator like this one from Fontalic. Enter your desired text, choose your favorite output text, and then paste your fancy font into your TikTok profile.
Grow your TikTok presence alongside your other social channels using Hootsuite. Schedule and publish posts for the best times, engage your audience, and measure performance — all from one easy-to-use dashboard. Try it free today.
Grow on TikTok faster with Hootsuite
Schedule posts, learn from analytics, and respond to comments all in one place.
Start your 30-day trial