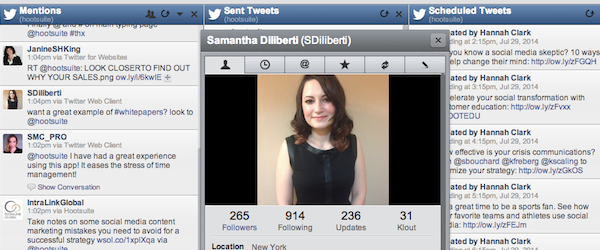 To Respond or Not to Respond on Twitter: A Step by Step Guide
On a cold winter day in November 2010, the Calgary Stampeders were hosting the Saskatchewan Roughriders in front of a sellout crowd, battling for a chance to advance to the Canadian Football League's championship game. Trailing, on the road, Saskatchewan quarterback Darian Durant passed to Cary Koch, who slid through the snow and crashed into an endzone sign for a game-changing touchdown.
In the CFL's downtown Toronto boardroom, my team and I watched Rider fans from coast to coast light up our social media dashboard like a Vegas slot machine. As the Tweets flew through our streams, we realized that there was no way we could keep up with the action.
For many companies on Twitter, the deluge of daily Tweets makes it nearly impossible to respond to everyone. I've experienced this challenge many times, from the live sporting events to launching a major rebrand for a bank. While it is often viewed as best practice to respond to everyone, this isn't always possible.
Over the years, I have developed a system for efficiently sorting through my Hootsuite dashboard to prioritize responses. With some practice and experience, this process should take you less than a minute to complete. Here is my mental flowchart:
Step 1: Scan your stream(s)
At Hootsuite we receive thousands of mentions each day. I start by scanning my mentions stream. I look for Tweets that start with the @ symbol or have a question or statement while ignoring Tweets that start with RT. As soon as I find a Tweet that appears actionable, I move on to the next step.
Step 2: Read the Tweet
This sounds like a simple step, but I like to take a quick second to read the Tweet once or twice to make sure that it truly is actionable. Actionable Tweets are Tweets that deserve a reply or a favourite.
Step 3: Assess the Tweeter
This is where you get to play the border guard who is screening the passenger at customs. Are you dealing with a legitimate human or a spammer? Hone in on the profile pic and the username. Does their picture look real? Is their username full of gobbledigook? Experience has helped me quickly determine whether I'm dealing with a real person. If I'm dealing with a real person (or brand), I start to dig deeper.
Step 4: Click on the username and open the profile box
I love the Hootsuite profile box because it provides a simple snapshot of who I'm interacting with. I like to look at several metrics in a matter of seconds to make my assessment:
Klout Score: My eyes immediately dart to the Klout score. Klout filtering is a good starting point, but it certainly isn't the be all and end all. It can help you quickly determine whether he or she has influence.
Followers: Do they have a lot of followers? Are they following a lot of people? What is their follower ratio? At first glance, you may want to respond to someone who has 13,000 followers, but what if they are following 25,000 people? Beware of this red herring as you may be exerting effort on someone who doesn't have an engaged follower base and has simply gamed the system to increase their followers.
Updates: Does this person Tweet a lot? Are they new to Twitter? Or do they blast their feeds with endless banter that draws little attention?
Bio: Who am I dealing with? A journalist? A social media expert? Someone who works for the competition? Has Twitter verified them?
By answering these questions, you will uncover tons of important nuggets that can help you craft the perfect response—or avoid writing a response when your energy can be better spent engaging with someone else.
Step 5: Look at their Tweet history
This can be an optional step if the previous assessments have satisfied your requirements for a response. However, if you are uncertain what to do next, this is a good step to help understand the position of the person who is engaging with your brand. This is especially helpful when they are making a complaint.
Using Hootsuite, I click on the timeline icon and it pulls up their Tweet history. Look at their history to see if you can uncover more of the story. I generally scan through their previous 5-10 Tweets to see if I can gain additional context. Sometimes, I discover that they are a serial complainer who enjoys ranting at big brands—this happened often when people complained to me and my team at the bank.
Step 6: Check out their website
If by this point you still can't decide how to respond, you can click the website URL in their profile. It may take you to their personal website or their blog or their LinkedIn profile. This can help you make your final assessment on whether you should reply or how your response should take shape.
Ultimately, humans like dealing with other humans. So make an effort to be kind and helpful.
A few weeks ago, we at Hootsuite received a Tweet from a user who was quite frustrated with our service. By reading her Tweet, we recognized that she had been a strong advocate who was now a detractor because of a service issue. By following this process above, we uncovered that she was a social media manager and her recent Tweet history indicated just how upset she was.
My gut reaction was to send her a direct message via Twitter that included my email address and mobile phone number. Sure enough, 30 seconds later my phone rang. She talked. I listened. I talked. She listened. In the end, we worked things out. Do I normally give my personal phone number out to strangers? No. But remember, it is hard to do wrong when you are trying to do what's right.