Top 10 Global Twitter Trends of the Week ~ Volume 75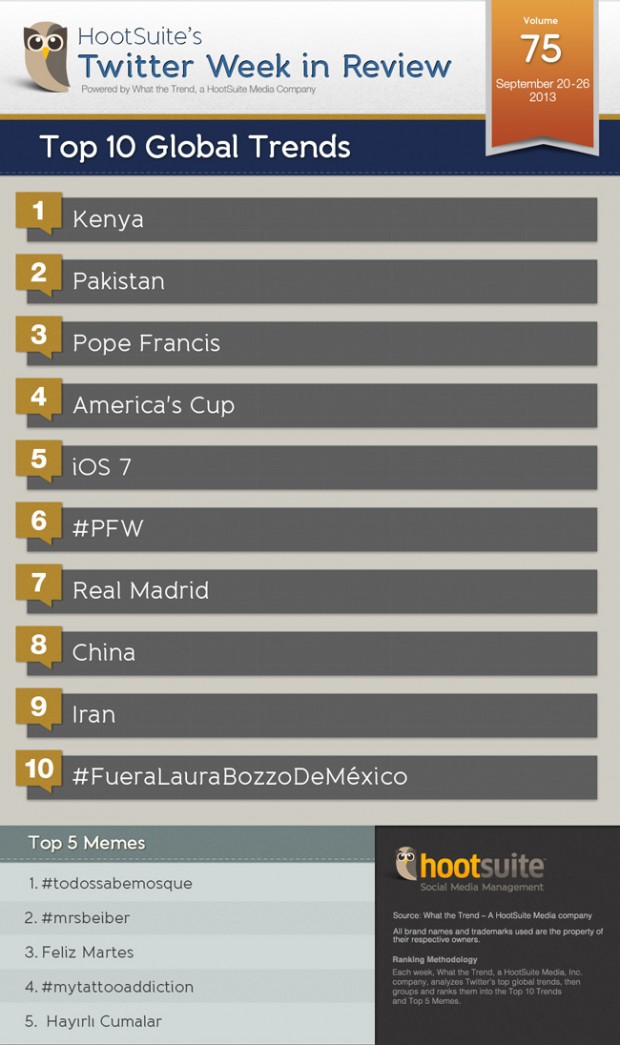 There are over 300 million tweets sent from around the world every day. And millions more search queries. Twitter is a source for news and conversations, so what is everyone talking about this week?
As tragedy strikes Kenya and Pakistan, news sources and public around the world turn to Twitter for information, updates and to send their condolences. In other trends, many call Pope Francis a revolutionary, and America's Cup "flying machines" perhaps revolutionizes sailing.
#1: Kenya
In the heart of Kenya's capital city of Nairobi, a terrorist attack and hostage situation occurred in popular Westgate Mall last weekend. Somalia's Muslim extremist group known as Al-Shabaab took responsibility for the attack that targeted non-muslims. The siege on the mall included the terrorists holding some 100 hostages and leaving a death toll of 72 and counting, with several dozen people still missing. Due to grenades and other explosives left by terrorists, 3 floors of the mall collapsed, trapping several bodies, including the terrorists.
This is the second time that the Kenyan capital has been targeted for terrorism since the US Embassy was bombed in 1998. Nairobi has since started a slow and long mend, with 3 days of mourning officially announced by Kenya's President Uhuru Kenyatta. Our hearts go out to all those affected.
#2: Pakistan
On Tuesday a 7.7 magnitude earthquake devastated western Pakistan, displacing hundreds of thousands across the country and leaving 327 dead. Soldiers and rescue workers scramble to reach victims in the country's remote regions. The earthquake was greatest in an impoverished area of Baluchistan Province, where mud houses in remote areas collapsed, killing hundreds and injuring almost 500 people.
Interestingly, a strange mud-island was formed from the earthquake in the Arabian Sea. National Geographic is calling it a "global curiosity" that will likely not last more than a month. Apparently, a mud-volcano pushed the mud from the seafloor up, forming a island. Even more interestingly, it brought up a dead octopus and several fish, which people have been "fishing" off of the island.
#3: Pope Francis
Pope Francis isn't a pope you can pin down, that's for sure. Some are calling him a reformer, some a revolutionary, but whatever his title, Pope Francis is making radical changes to the Roman Catholic Church.
After trending over the last few weeks for his liberal reformation ideas on gays, abortion and atheists, Pope Francis has perhaps pulled in the reigns of late. Australian Father Greg Reynolds found out last week that the Pope had excommunicated him for his less-than-traditional views on the Catholic Church. Reynolds publicly supports women's ordination and gay marriage, but apparently took his reformation too far. "I am very surprised that this order has come under his watch; it seems so inconsistent with everything else he has said and done," Reynolds told the National Catholic Reporter.
#4: America's Cup
After a record 19 days and 19 races, the world was asking: "Who will hoist the oldest trophy in international sport?" Twitter was buzzing this past week as the ORACLE Sailing Team USA won the 34th America's Cup on Wednesday. Team USA beat out Emirates Team New Zealand in what is being called "the greatest comeback in 162 years of competition." Trailing 8-1 a week ago, Oracle sailed away from Emirates Team New Zealand by 44 seconds on Wednesday to retain the Auld Mug, the oldest trophy in international sports, in a winner-take-all finale on San Francisco Bay. The American-backed team won eight consecutive races to win 9-8 in the first-to-nine series.
"This year's America's Cup vessels are more flying machine than yacht. The sails on the AC72s are 13 stories high and built like airplane wings. The twin hulls of the catamarans can rise from the water and hydrofoil over San Francisco Bay at speeds approaching 50 m.p.h." – New York Times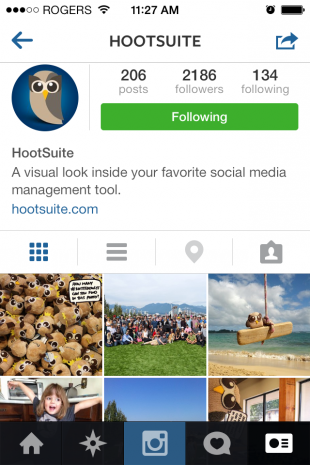 #5: iOS 7
After Apple released their latest operating system, iOS 7, other tech giants announced their iOS 7 mobile updates. For example, Instagram had a mild update that tweaked a few features, including higher resolution images and bigger images. HootSuite Mobile App also had redesign overhaul *wink *wink. Since iOS 7 has been out for over a week now, people are sharing tricks and tips, as well as their top list of problems with the new operating system.
#6: #PFW
One of the biggest fashion events in the world, The French Fashion Federation's Paris Fashion Week began in Paris this week, with each runway show tearing through the city and fashion world. Buyers, magazine editors, bloggers, designers, models and fashion lovers are glued to their favorite shows this week and wouldn't miss a chance to tweet a pic of their new favorite Alexander Wang bag or Anthony Vaccarello outfit. Don't know what I'm talking about? Then you're not one of the millions of Twitterers that contributed to #PFW.
#8: China
Rumors led the world to believe that China's Shanghai region was going to lessen the restrictions on their Facebook and Twitter firewalls. That rumor was short-lived. Apparently even in the free trade zone, China's regime wants to clamp down harder on pornography, gambling, drugs and smuggling. As long as the state-runs media outlets, there'll be no New-York-Times-reading-visitors after all. The Great Firewall of China still stands.
#9: Iran
This past week, US Secretary of State John Kerry and Iranian Foreign Minister Mohammad Javad Zarif met in New York to discuss the idea of restarting talks on Iran's nuclear program. It has been 30-year since US and Iranian high-officials have met face-to-face. Iran's new President Hassan Rouhani, is widely seen as more moderate than his predecessor, and seems to be working to mend previously tense relationships between Iran and the US. While Kerry sounds cautiously optimistic, this meeting could signify progress in a positive direction.
"As long as nuclear weapons exist, the risk of their use, threat of use and proliferation persist," President Rouhani said to the U.N. General Assembly. "The only absolute guarantee is their total elimination."
#10: #FueraLauraBozzoDeMéxico
Peruvian TV host, Laura Bozzo has apparently been making use of Mexico's public resources to film her show. While this seems rather trivial, people took to Twitter to get Laura out of Mexico. According to sources, the hashtag #FueraLauraBozzoDeMéxico (Get out of Mexico Laura Bozzo) was being tweeted at around 2 thousands tweets per hour. Needless to say, the public has spoken.
Check out which Top 10 Twitter Trends popped up in our USA charts this week.