Top 10 USA Twitter Trends of the Week, Vol 72 by HootSuite and Ad Age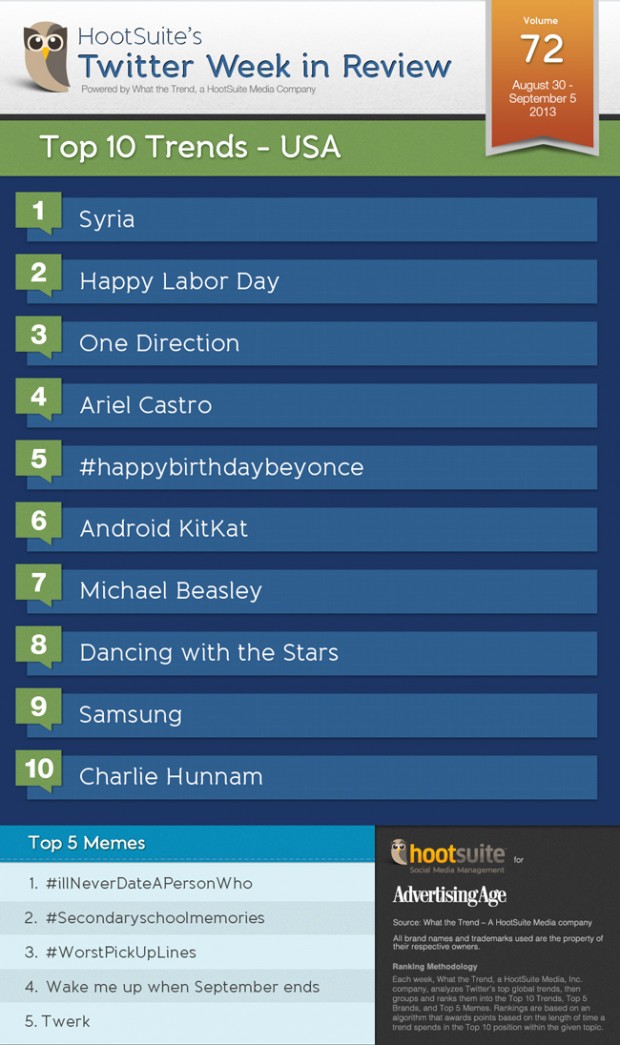 With hundreds of millions of daily tweets and search inquiries in the United States alone, Twitter is rich with conversations and news updates. Our USA Twitter Trends of the Week capture the top 10 discussions and break them down.
While discussions over the conflict in Syria topped our Twitter charts this week, Google and Samsung made power moves in the tech-world and landed in thousands of Twitter discussions.
#1: Syria
Syria has been on the top of everyone's minds this past week – especially those that follow international politics, the news or Twitter for that matter. As Russia greets world leaders with small chat and smiles, this year's G20 Summit in St Petersburg kicks off on the subject of what to do with Syria. British scientists recently revealed traces of sarin in the alleged bombings in Damascus, Syria. This news may back Obama enough to move forward with a limited attack on Syria, although it will have to be approved first by the US Congress.
#2: Happy Labor Day
Often associated with the end of summer, Labor Day long weekend is celebrated across the U.S. with vacations, bbqs, beer and even sometimes fireworks. But historically, Labor Day is an annual celebration of the American labor movement and is dedicated to celebrating the achievements of workers. While it seems like the origin of the holiday was lost, unsurprisingly the long weekend away from work wasn't.
#3: One Direction
These young pop stars sure know how to work the trends. Broken up into several top trends around the globe, each One Direction star had the band trending for different reasons. Liam Payne celebrated his birthday this past week and had millions wishing him a #HappyBirthdayLiam. Likewise Harry and Cara trended globally after being spotted together at a movie theatre and leaving fans wondering if they're back on. Without diving into 1D's day-to-day lives, let's just say that these boys have been busy and fans share their every move on Twitter.
#4: Ariel Castro
Perhaps one of the most notorious prisoners behind bars in the U.S., Ariel Castro committed suicide this week in his Cleveland, Ohio cell. Castro was only a month into his life sentence for kidnapping, rapping and imprisoning three women for over a decade in his home. Questions have been raised as to how he managed to hang himself in the cell while under protective state custody.
"As horrifying as Mr. Castro's crimes may be, the state has a responsibility to ensure his safety from himself and others." —American Civil Liberties Union of Ohio Executive Director Christine Link.
#6: Android KitKat
"Gimme a break, Google. Break me off a piece of that OS Kit Kat bar." Still don't get the punch line? Google Android's mobile operating system for smartphones and tablets is adding one more dessert to its menu (Ice Cream Sandwich and Honeycomb to name a few). Teaming up with Nestlé's Kit Kat, Google Android's version 4.4 Kit Kat is expected to launch this fall. "Kit Kat consumers are young, vibrant consumers of candy and chocolate bars, and that's a nice match with Android," said Jennifer Podhajsky, VP of U.S. chocolate at Hershey.
Mmm Kit Kat…
#7: Michael Beasley
After a rather tumultuous year in and out of court and fighting with coaches, The Phoenix Suns have finally officially dumped Michael Beasley, the former 2008 second-overall draft pick.
#9: Samsung
Beating Apple to "must-have" device for the fall, Samsung recently unveiled their new Galaxy Gear 'smartwatch.' This highly anticipated digital watch can basically do everything a smartphone can – make and receive calls, text, take pics, surf the web and play with apps – but it's (obviously) worn on your wrist. Samsung trended globally for their new product, but the general sentiment was skepticism of the pricey and mediocre product. While the product is innovative and fashion forward (for men), it doesn't have support for Twitter or Facebook, it needs to be charged daily and it won't work unless a smartphone or tablet is on you.
Unfortunately for Samsung, many are saying that for $299 they'll just buy another smartphone.
#10: Charlie Hunnam
After selling 70M copies worldwide, the racy literary sensation "Fifty Shades of Grey" is being adapted for the big screen. English actor Charlie Hunnam and actress Dakota Johnson have landed the lead roles of Christian Grey and Anastasia Steele. The news broke Twitter after British author EL James tweeted that "The gorgeous and talented Charlie Hunnam will be Christian Grey in the film adaptation of Fifty Shades of Grey."