Top 10 USA Twitter Trends of the Week, Vol 76 by HootSuite and Ad Age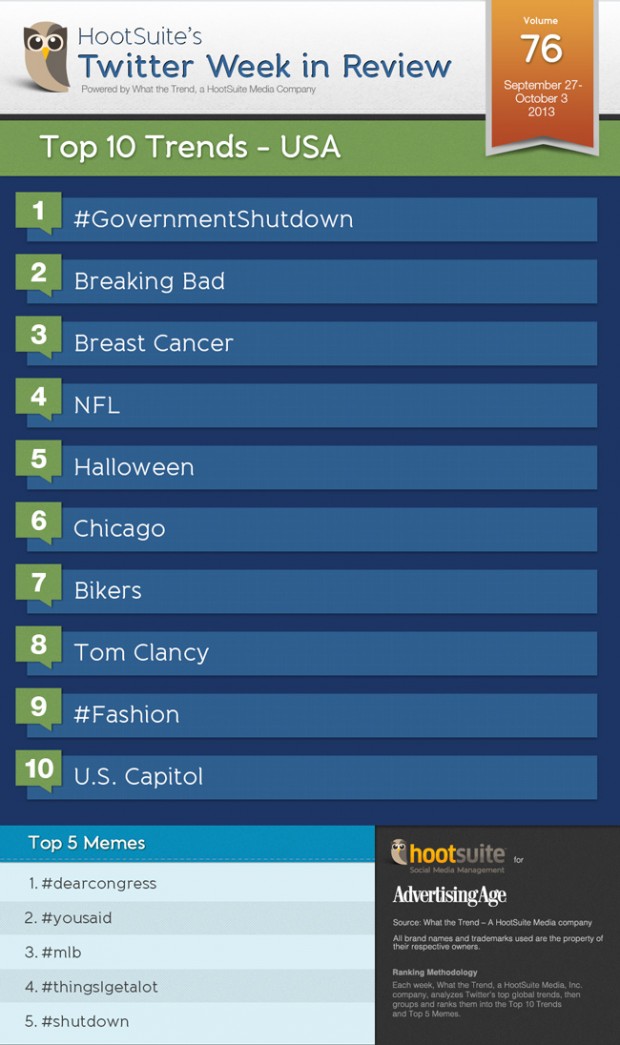 With hundreds of millions of daily tweets and search inquiries in the United States alone, Twitter is rich with conversations and news updates. Our USA Twitter Trends of the Week capture the top 10 discussions and break them down trend by trend.
#1: #GovernmentShutdown
Americans across the country can't stop tweeting about the partial shutdown of the government, and for good reason. The House and Senate failed to reach an agreeable Appropriations Bill which determines where the government's money will be spent for the next fiscal year. Many people speculate that the implementation of Obamacare caused the refusal by Republicans, and ultimately led to the furlough of 800,000 workers and the closure of a number of government services.
While Americans across the Twittersphere are throwing "punches" at the government, some lend a helping hand to those that are directly affected by the shutdown. Here's President Obama's statement on the shutdown:
#2: Breaking Bad
No spoilers! We promise… Breaking Bad premiered its first episode on AMC in January 2008. Five years, five seasons and 62 episodes later, people could not stop talking about the end of arguably one of the greatest television dramas of all time. In a time when television is struggling to compete against other online mediums, Breaking Bad's final episode may prove to be one of the most fulfilling and well-made farewells ever.
Twitterers said their goodbyes in all kinds of ways, such as coming up with alternate endings… Let's just say Breaking Bad will be truly missed. #RIPBB.
Jesse, I love you and you will always be a part of me. Thanks for the memories. Your friend, Aaron

— Aaron Paul (@aaronpaul_8) September 30, 2013
#3: Breast Cancer
It's Breast Cancer Awareness Month (NBCAM), and people worldwide are tweeting their support. This annual international health campaign is organized by major breast cancer charities every October. Breast Cancer Awareness month was set in hopes of increasing awareness of the disease and to raise funds for research into its cause, prevention, diagnosis, treatment and cure.
So if you haven't contributed to the trend quite yet, jump on it and support, bring awareness and show some love for those affected by Breast Cancer.
#5: Hallowe'en
Now that it's October, Hallowe'en's a hot topic on Twitter. Discussions were popping up all over the net about costume ideas, where the party is going to be, and how delicious Halloween candy is…  This October-themed trend isn't surprising considering that nobody wants to be stuck the night before without a good idea for a costume.
#7: Bikers
Discussion erupted on social media after a video surfaced showing an SUV and a group of bikers battling it out. To summarize the video: A man driving with his family along a New York City highway was attacked and beaten by several dozen motorcyclists who first surrounded his sport utility vehicle and stopped it on the road, then chased him for miles after he plowed through the blockade of bikes in an attempt to escape. One biker suffered broken legs and apparent spine injuries when the SUV ran him over and may be paralyzed, police said. A second biker suffered a leg injury. The driver, who was travelling with his wife and a toddler, was taken to a hospital and required stitches to his face.
This sparked the question: Who is right, and who is wrong in this situation? And Twitterers loved voicing their opinions on the matter.
Take a look at the video to see for yourself:
#8: Tom Clancy
Tom Clancy, whose high-tech, Cold War thrillers like The Hunt for Red October and Patriot Games made him the most widely read and influential military novelist of his time, sadly passed away at the age of 66. Penguin Group said Wednesday that Clancy died Tuesday in Baltimore. The publisher did not disclose a cause of death.
#9: #Fashion
Businesses, brands and people throughout the fashion world were using the hashtag #fashion this week, as Fall Fashion bloggers got online to chat about what is IN this fall. After September issues of many fashion mags were released, and now that 'back-to-school' fashions are over with, many are still embracing what is coming into style for warm weather this year. Get ready for sweaters, boots and big chunky scarves…
#10: U.S. Capitol
Since Twitter is now an instant source for up-to-the-minute news updates, the platform was buzzing on Thursday, after the words "shots fired at the US Capitol" were broadcasted. Police near the Capitol opened fire on Thursday on a car being chased by authorities, hitting a woman driving the vehicle that also contained a child (who, thankfully, was uninjured). The woman initially rammed her car into a White House barrier, and started a high speed car chase. The chaotic scene, with gunfire erupting near the heart of the Washington, brought a swarm of emergency vehicles and caused Congress and surrounding offices to be temporarily locked down.
See video of the pursuit: