Top 10 USA Twitter Trends of the Week, Vol 82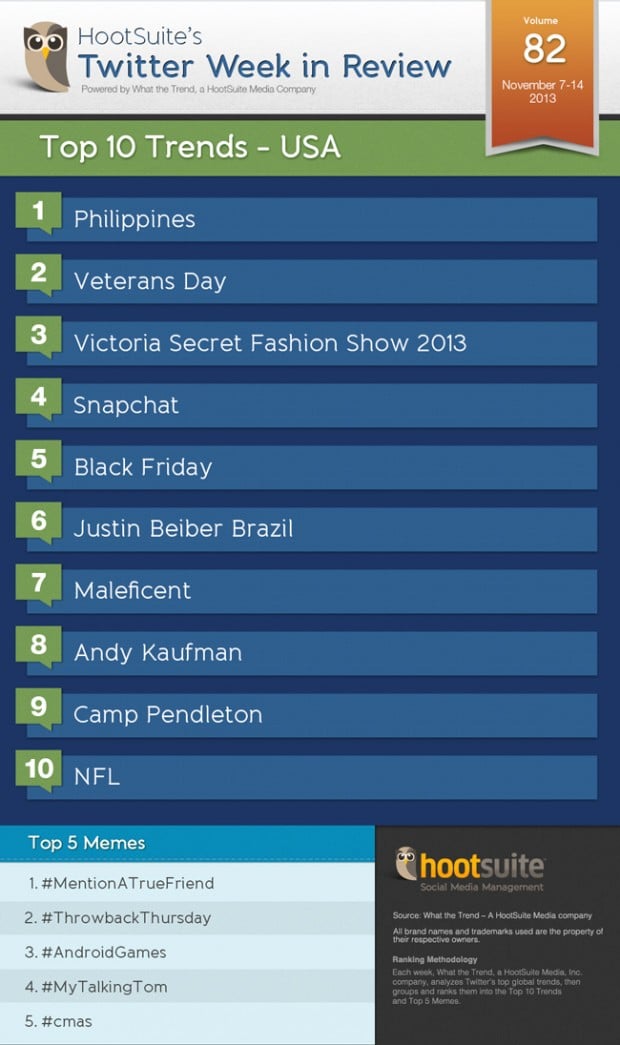 With hundreds of millions of daily tweets and search inquiries in the United States alone, Twitter is rich with conversations and news updates. Our USA Twitter Trends of the Week chart captures the top 10 discussions and breaks them down trend by trend.
1: Philippines
Tweets come in every minute, even now, a full week after powerful Typhoon Haiyan hit the Philippines last Friday. Messages of thoughts and prayers, as well as stories from survivors and newly updating facts have been sent around Twitter this week. There were over 600,000 people who have been displaced. Twitterers have been sharing pictures from the disaster and information on how to donate. If you are interested in donating:
Ways to help the Red Cross. pic.twitter.com/7SWbTOb1kA

— Philippine Red Cross (@philredcross) November 9, 2013
Twitterverse, u can help Philippines by spreading the word to the world. And if you can, pls donate to @philredcrosshttp://t.co/14802ugzqb

— rintintinkerbell (@tinkatalbas) November 10, 2013
2: Veterans Day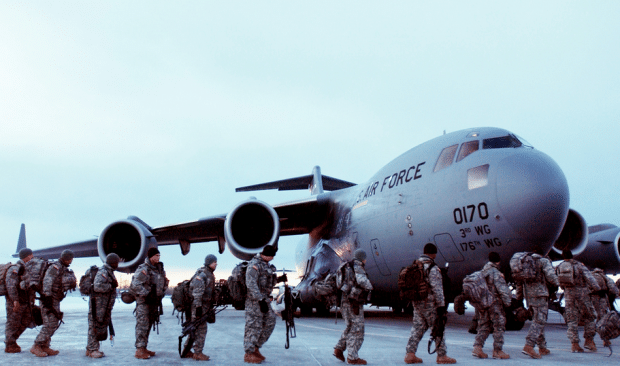 Each November 11th, Americans across the nation honor the sacrifices and service of the United State's armed forces. Tweets from north to south flew through the Twittersphere, with plans of parades and wreath-laying ceremonies. Many Twitterers wrote messages of gratitude and recognition.
"It's a great day for America and it's a great day for New York as we honor the people who give their lives to protect us," New York City Mayor Michael Bloomberg said, "It is the service and sacrifice of our veterans that has enabled New York to grow into the world's greatest city and shine as a beacon of freedom."
3: Victoria Secret Fashion Show 2013
35 of Victoria Secret's sexiest Angel's showed off their wings in Wednesday night's taping of the  2013 Victoria Secret Fashion Show, and WOW did Twitter take notice. Taylor Swift knocked Twitterers off their seats, with her outstanding performance. Take a look at the Fashion Show Gallery to see what the angels were wearing. Are you excited yet? If so, take note: the 18th Victoria's Secret Fashion Show will air on Tuesday, Dec. 10. #babealert
I know you don't want to wait, so here's Victoria Secret Fashion Show 2012 (we can always reminisce):
4: Snapchat
Snapchat, why you so confusing? Twitter was lit up with tweets discussing the pros and cons of the decision made by Snapchat's CEO, declining Facebook's offer of $3 billion for the company. If you aren't already using the app, it allows user to take and edit photos or videos and send them to friends. Sounds normal, right? Wrong. The app only lets users set a time limit of up to 10 seconds, before the "snap" will delete itself.
What do you think? I would love to hear your opinions, so please let me know in comments below. To spur your creativity:
"@reckless: i would pay snapchat another billion if they would just let me remember yesterday's mistakes" @Evernote

— David March (@David_March) November 15, 2013
5: Black Friday
Can you believe that some companies are already announcing pre-midnight Thanksgiving hours? Twitterers couldn't either. Some expressed excitement, sharing their plans to get to Toys R Us, Best Buy and Target super early to beat the lineups that will quickly grow. Others are disappointed at stores being open on Thanksgiving, and blatantly show how they wish the employees got to spend the holiday with their families.
Last year, 35 million Americans left their dinner tables and went shopping, up from 29 million the year before. Where will you be on Thanksgiving and Black Friday? Wherever it is you plan to be… hopefully the lines won't be too long for you, although I'm sure we'll see tweets about how they are out the door and around the block. #BlackFridayIsComing
Here's some footage from last year's Black Friday:
6: Justin Bieber Brazil
Tweens have a strong hand in ruling the trends of the Twittersphere, and yes this week they have done it again: Justin Bieber has made it onto the trends list. It all started when a video was leaked of Justin Bieber sleeping in a hotel room, with an unknown woman blowing him a kiss. Twitter almost imploded with tween tweets in response to this video. But that's not the end…
More tweets flew through Twitter, after the "unknown woman" in Bieber's room ended up being Brazilian model Tati Neves. Neves decided to go  public with news of their alleged 'romantic relationship.' She describes Bieber as a "marvellous and unforgettable" lover. Tweet that.
Want to check in on Twitterers around the globe were talking about this week? Take a look at our Top Global Twitter Trends.