Twitter 2011 Trends from What the Trend: Part 2 featuring Brands and Hashtags
The new year is underway but we have one more recap to share. The previous Twitter 2011 Trends infographic shared Top Trends under all sorts of topics, but this time around, we're all about brands and business. This companion piece presents the Top 15 trending brands of last year – some made the list for good reasons… others for their challenges. We also included Top 10s for Memorials, Holidays and Hashtags to round out the info and share the unique topics which capture the public's conversation.
The list was based on an algorithm that awarded points based on the rank and duration spent on the top 10. Similar to the first infographic, the data used in this series were compiled by What the Trend – a HootSuite Media company from over 500,000 trends which appeared on Twitter.com. In addition to the 15 brands, the top trending topics, hashtags, memorials, and holidays of 2011 were also included.
Top Trend Redux
In December, we analyzed 207,518 Twitter trends compiling them into a Twitter 2011 Trends infographic. The lists focused on the top trending topics in movies, US television, music artists, sports, and world news. For more information on the original Twitter 2011 Trends infographic, see coverage in AdAge and Mashable as well as the original post.
HootSuite also released data on the Top 50 Trends for Canada. For a breakdown of Canadian trends in 2011 check out the Financial Post's coverage.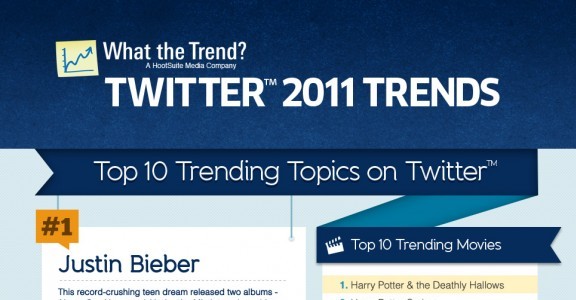 What's that Trend?
Need to know what's behind the latest Twitter trend? What the Trend helps others make sense of the sometimes cryptic hashtags and topics that trend on Twitter. Acquired by HootSuite in September 2011, the crowdsourced web service shares user-defined explanations of trending topics.
We plan to bring more infographics and stats in the future, but in the meantime you can get involved by helping define topics on the What the Trend website. For the latest on this HootSuite company, follow @wtt on Twitter.