Twitter Tool Comparison Fest ~ News Round-up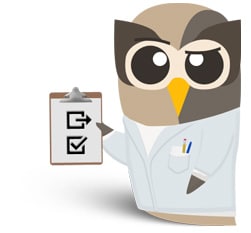 Indeed, there are a several other companies building tools for publishing to Twitter and other social media publishing platforms. And of course, each has a distinct focus, feature-set, and an audience of enthusiasts.
While we concentrate on building tools to help spread messages, monitor conversations and track results, several sites have put HootSuite head-to-head with other social tools to give the tale of the tape.
We've dug up a few recent (and one older) comparisons to share… kicking it off with a fun one which is a few months old, but worth the wait:
FlowTown: If Twitter Clients Were Action Stars
What would Chuck Norris do if he had to take down some chumps in a new and unfamiliar landscape? He would march in like he's been there a million times and take care of the job. And then he'd tweet about it…undoubtedly via HootSuite. Similarly, HootSuite runs entirely online, allowing you to manage your networks with ease and style no matter where you happen to be and whatever Internet-connected operating system you are using.
ZDNet: CoTweet vs. HootSuite: Battle of the business Twitter apps
Who wins this battle? It's really a tough call, as neither is a silver bullet in its current form. In the end, however, I need to recommend HootSuite as the free Twitter business application of choice. Its intuitive analytics, customizable dashboard, ability to integrate other social networks, and tweet management are overall superior to that of CoTweet.
Nate Bal: The Difference Between TweetDeck, HootSuite And Seesmic
Different programs = different features. Though all of these programs are real-time browsers that connect you with your contacts across multiple social networks they don't necessarily have all the same features. See the graph below.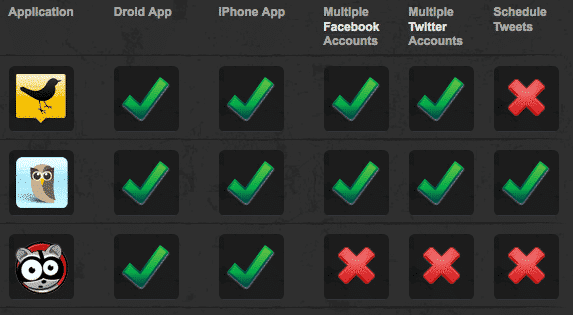 Articles Base: Social Oomph Or Hootsuite Is The Question!
After some in depth comparisons of Social Oomph and Hootsuite I decided that the following features were the best to bring  up on both programs: Social Oomph or Hootsuite will both do what you want them to manage your Twitter account and automate it for you.
Dragon Blogger: Comparing HootSuite to TweetDeck
Keep in mind that Tweetdeck is an Adobe Air application that installs on your desktop while Hootsuite is a completely web based application that doesn't need to install so this leads to some difference from how the applications work. So without further chatter, I present to you the pros and cons of both Hootsuite and Tweetdeck and you can decide which works best for your needs.
Stephanie Burt: Product Review: Tweetdeck vs. Hootsuite
For me, the clear winner is Hootsuite. My multiple account management started in Tweetdeck, but I feel its more for users that have one or two account to manage. In Hootsuite, the ability to preschedule tweets/status updates alone is a lifesaver. Its an everything, but the kitchen sink type of product, which gets my 100% support. Now only if it really did the dishes.
Baby Boomer Entreprenuer: A Review of Hootsuite as compared with TweetDeck
I mostly like Hootsuite and will probably keep using it, but I don't think I'll give up Tweetdeck entirely, if for no other reason than to keep up with new followers. I think it's easier to update my Facebook profile and page from Hootsuite and I really like the schedule later feature.
Need more? Explore past News Round-ups and, if there are others you think need to be shared, please let us know with a comment.