The best Twitter tools for marketing
Maybe you see yourself as a proud minimalist in the Twitter marketing world. But the truth is, a brand can't reach its full potential on Twitter's native client alone. You need Twitter tools.
If you really want to grow your Twitter account (and why the heck wouldn't you?!), embracing third-party tools isn't just recommended… it's essential.
There's a whole spectrum of Twitter tools out there (many of them free!) just waiting to help you reach your social media goals.
Bonus: Download the free 30-day plan to grow your Twitter following fast, a daily workbook that will help you establish a Twitter marketing routine and track your growth, so you can show your boss real results after one month.
Twitter tools for analytics
If you're already here having a blast on the Hootsuite Blog then you probably are already familiar with the super-cool features of our in-house analytics tool, but may we brag for a moment anyways?
Hootsuite Analytics is a social media analytics tool that lets you easily track the performance of your Twitter channel (and all your other social accounts, too!) so you can replicate what works and get more engagement. Hootsuite Analytics also makes it easy to create custom reports to showcase your results to your boss and share insights with your team.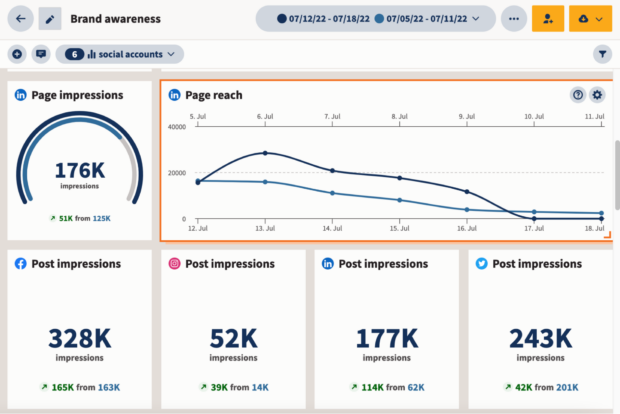 Track metrics like reach, engagement rate, impressions, likes, plays, shares, clicks, and saves so you can quickly measure your progress toward your goals in real-time. You can even set up custom boards that give you an overview of your most important metrics at a glance over a select period of time.
With Hootsuite Analytics, you can also find out when your audience is online, get personalized recommendations for your best times to post for each of your accounts, and access industry benchmarks.
Pro tip: Hootsuite Analytics is available to Pro and Team plan users and meets the needs of most small social media teams. Business Plan users and above have access to more custom analytics solutions, including Insights by Brandwatch and Hootsuite Impact.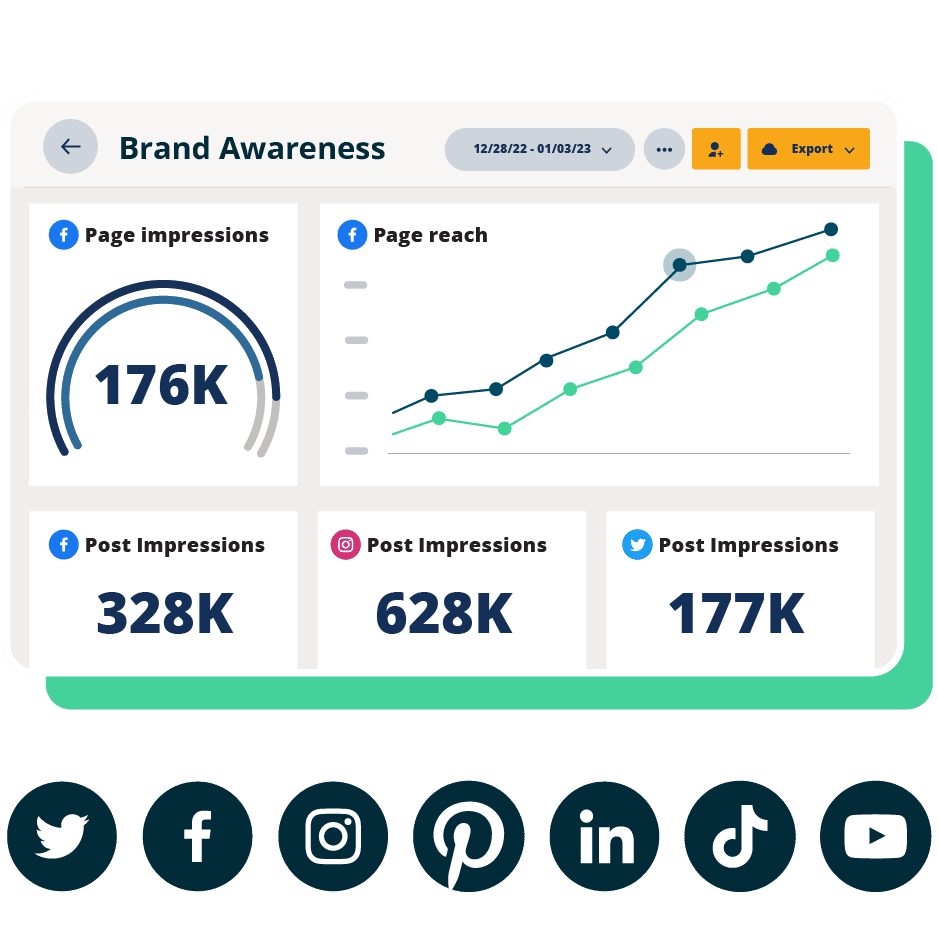 #1 Analytics Tool for Growth
Beautiful reports. Clear data. Actionable insights to help you grow faster.
Start free 30-day trial
Brandwatch is a digital consumer intelligence platform that gives historical and real-time data relevant to you and your brand.
It analyzes images to recognize figures that you might care about and can compare the interests of different groups in your audience.
Brandwatch starts at $1,000 per month, and it's ideal for folks who are all about the numbers—it's very data-heavy, as opposed to visual.
Hootsuite offers a free Brandwatch integration for all Enterprise and Business plan users called Insights. It is a key feature for customers who are serious about social listening.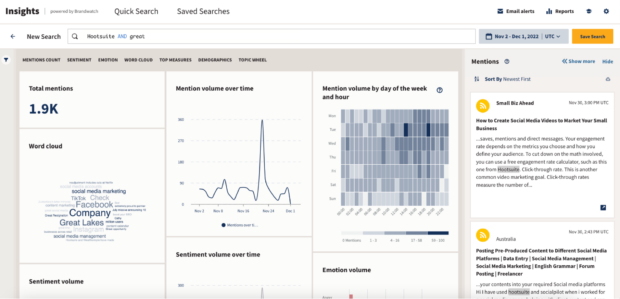 Twitter tools for competitive analysis
Statsocial empowers marketing initiatives by providing a wealth of information: you'll get comprehensive market data sourced from a database of 300 million (!) individuals.
Through Statsocial, you'll easily identify influential figures within your industry and gain insights into your audience's interests. Statsocial also enables you to specifically target individuals through surveys, letting you gather valuable feedback and tailor your approach accordingly.
Pro tip: Statsocial is free through Hootsuite.
Not everyone knows this, but with Hootsuite Analytics, you can easily do a little social media benchmarking. Find out how others in your industry are doing on social and compare your results with just a few clicks.
Just sign in to your Hootsuite dashboard and head to Analytics, and then scroll to Benchmarking and click Industry. From here, pick the industry that best describes your business and see how your results compare to average performance stats within your industry.

You can set up custom timeframes and look up benchmarks for metrics like audience growth rate, engagement rate, profile impressions, and more. Plus, if you need to present your results to your team, boss, or other stakeholders, you can easily download your comparison report as a PDF file.
Twitter tools for identifying leads
LeadSift is a powerful tool that locates potential leads on Twitter and categorizes their intent, whether that's "purchase," "churn," or "seek assistance."
This app diligently scans millions of conversations to identify both direct and indirect leads, assigning them a lead rating for your convenience. Swiftly filtering through this wealth of data makes it quick and easy to pinpoint hot leads and effectively engage with users.
A Leadsift Hootsuite integration is available free for Enterprise users (it's just $7.99 for everyone else).
Marketo is technically a marketing automation platform, but where it really excels is in lead management. The tools here are triggered by customer events to turn mentions into action. It'll also give you real-time behavioral and demographic data to help you predict a lead's next move.
Marketo coordinates email, social, paid media and more into one central hub, and helpfully integrates with Hootsuite. Via Hootsuite, you can enrich your leads with social activity, and drive leads through the funnel faster by manually sending their social interactions with your brand to Marketo.
Twitter tools for mentions and monitoring
Mentionlytics is keeping an eye out for your brand, scanning the web and all social for mentions of your brand, with support for monitoring keywords in all languages.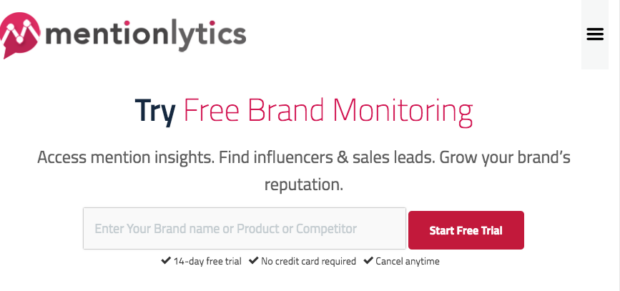 Sentiment analysis features will help detect emotion and keep you in the loop about whether you're the talk of the town—for better or for worse. Filter by source, sentiment, country, keyword, and more… and find your top influencers in the process.
Conveniently, Mentionlytics integrates directly with your Hootsuite dashboard, too, for freeeee!
Nexalogy is a comprehensive social media monitoring and discovery platform designed to enhance your marketing strategy. By harnessing data from various social media channels, the software provides valuable insights that can inform your decision-making process.
One key Nexalogy feature? Its ability to extract informative summaries from images encompassing objects, foods, events, and people. The platform also offers an interactive timeline that allows you to visualize the peak activity periods of users. (This feature proves particularly useful for identifying crises in both political and business contexts, allowing you to catch a social media scandal before it goes too far.)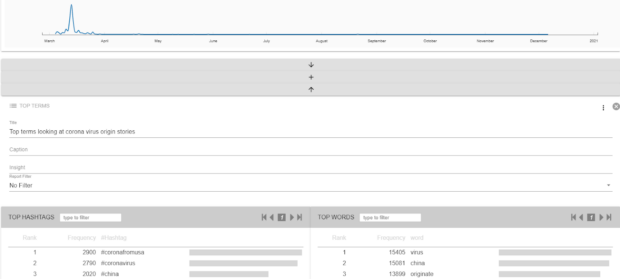 Source: Nexalogy
Cloohawk serves as your dedicated Twitter watchdog, providing valuable suggestions for enhancing engagement and fostering growth. It also acts as your personal Tweet doctor (dogtor?!), diagnosing any issues and prescribing effective remedies to improve your Twitter presence.
The "hacks" suggested by Cloohawk might include using appropriate hashtags, sharing trending stories, or reposting your own previous posts. By implementing these recommendations, you can optimize your Twitter performance and achieve your desired goals.
Bonus: Cloohawk's bot will auto-retweet anything deemed relevant to your brand.
Hootsuite offers a free Cloohawk integration for all users.
Formerly known as Tweetsmap, this is a great visual tool to help you understand exactly what your Twitter audience is talking about, segmented by location or demographics.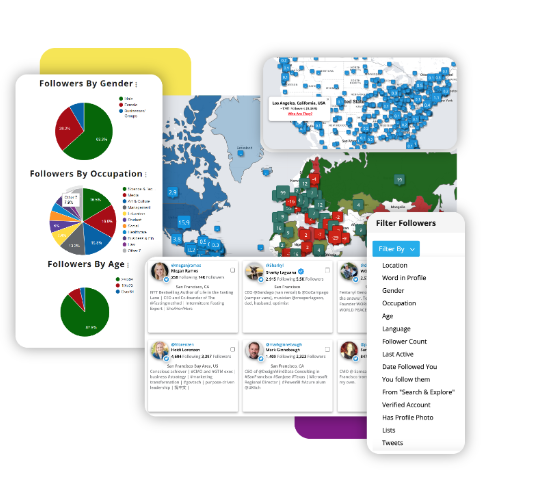 Source: Fedica
You can also curate and analyze any Twitter lists or users and research trending topics around the globe. (And you can get a free Hootsuite integration that works right in your dashboard!)
Want to keep an eye on your competitors, stay engaged with relevant online conversations, and protect your brand's reputation on Twitter? Hootsuite Streams can help you do all that — and more.
Hootsuite Streams is a social listening and monitoring tool for Twitter and your other social accounts. It allows you to create custom feeds with Tweets relevant to your business. You can filter posts by account, keyword, hashtags, and even location.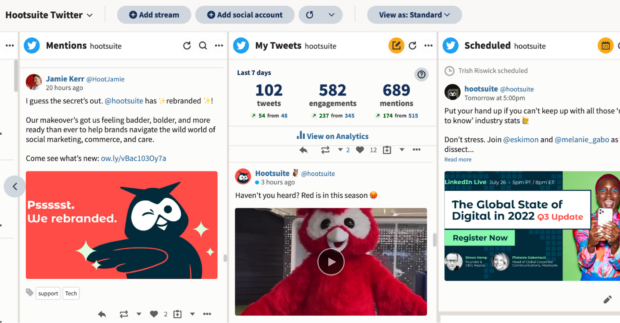 Set up a stream that aggregates your biggest competitor's posts and one that follows a hashtag that's trending in your industry. Streams display posts along with public comments and reactions, helping you effortlessly keep up with important conversations happening in your industry.
Hootsuite Streams can also help you spot potential brand crises early and protect your online reputation. By keeping track of brand mentions, you can better understand your brand sentiment, easily collect valuable feedback, and step in before conversations get heated.
Talkwalker may have the world's largest social data library, and promises to help you "profit from the formidable potential of real-time consumer data." Whoa.
Set up an account (it also integrates with Hootsuite for free) and let the Talkwalker robots deal with keeping up with all your Twitter mentions and industry conversations. You can also use Talkwalker to monitor media conversations about competitors (both owned and earned).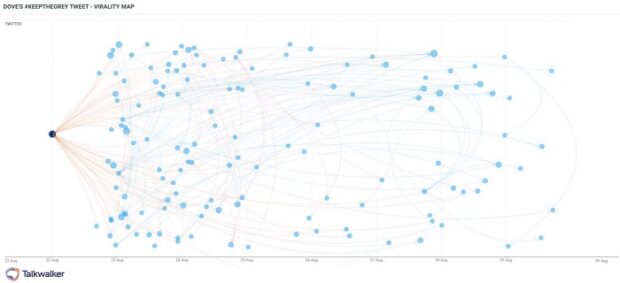 Source: Talkwalker
Tag, assign, and respond to mentions that Talkwalker pulls up, whether they're years old or happening in real-time. Advanced analytics report on potential reach, sentiment tone, emotion, and volume of engagement.
Twitter tools for timing
While our article about the best times to post on social media is a great starting point for timing your Twitter posts, Hootsuite's Best Time to Publish feature (found under Analytics) will give you an even more specific, personalized suggestion.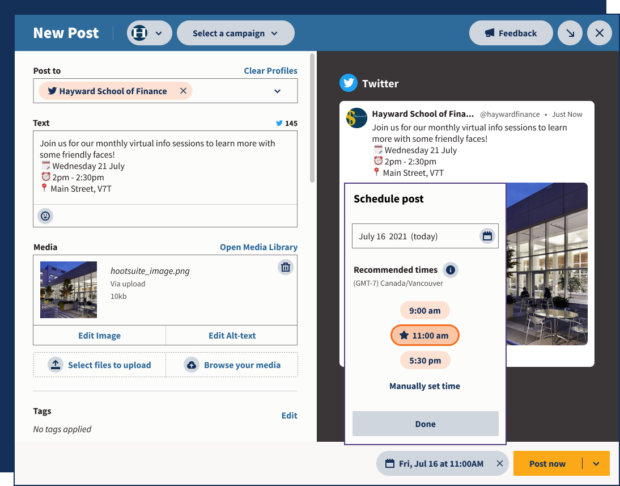 These recommendations are based on your past performance and tailored to your unique audience and their activity patterns on Twitter. The Best Time to Publish tool also breaks down different suggested times for specific goals — are you trying to drive traffic, or build awareness?
This allows you to match each piece of content to specific business goals and optimize your posting schedule for maximum effectiveness. (And score big points with your boss. Just saying.)
Twitter tools for Twitter chats
With Hootsuite Inbox, you can bridge the gap between social media engagement and customer service — and manage all of your Twitter messages in one place.
From private messages to mentions to emoji reactions, the all-in-one workspace makes it easy to track the history of any individual's interactions with your brand on social media, add notes to customers' profiles, handle messages as a team, or automate message routing.
With Hootsuite Composer, you can create and schedule all of your Tweets in one place, with access to helpful content creation tools in the process — for instance, a built-in Grammerly Pro app for engaging, typo-free captions or the Canva integration that gives you immediate access to post templates and advanced editing tools.
Once your posts are scheduled, you can review and edit them from a single calendar view that gives you a bird's eye view of your content plan.
Twitter tools for images
It's no secret that Canva is a design-savvy social media manager's BFF. This user-friendly graphic design tool has completely transformed the way many of us create content, which is precisely why we've permanently integrated Canva into the Hootsuite dashboard. (Believe it or not, Canva templates are seamlessly built right into Hootsuite Composer).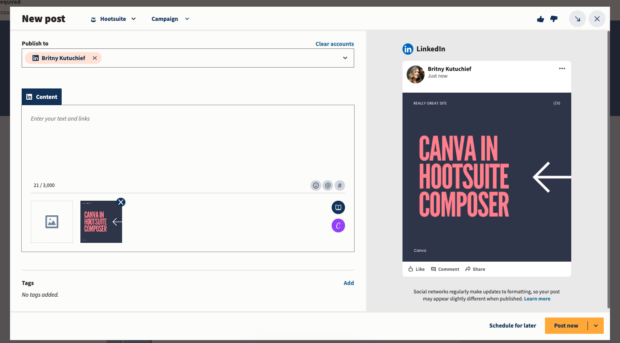 Sure, Make a Meme may not offer the polished and professional appearance of Canva… but there's a specific corner of the internet that adores the haphazard style of early aughts meme culture (lolcat is back, y'all). And Make a Meme lets you slap together memes at a speed that can keep up with the whiplash-inducing pace of modern Twitter (even if you haven't studied up on our guide to creating visual content for social).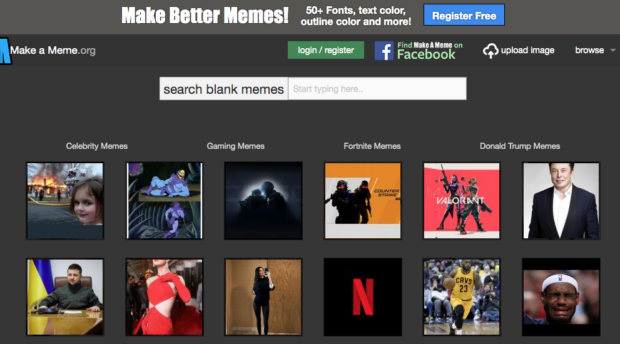 If your primary goal is to edit your existing images for social media, Picmonkey is here. Owned by Shutterstock, PM offers a wide collection of stock photography that you can use to enhance your grid or inspire your campaigns.
Importantly, Picmonkey provides a range of templates for logos, banners, and thumbnails, which can be super helpful if you're streamlining content creation across all channels. And with helpful features like a background remover, snagging product shots for your brand becomes a breeze.
Adobe Premiere Rush
For years, Adobe has been dominating the visual content editing space ("Photoshop" has become a verb for a reason). Among its latest offerings is Adobe Premiere Rush, a video editing software designed to cater to the needs of content creators.
With straightforward features and a user-friendly interface, Rush has become a fave for vloggers and marketers who aren't aiming to produce lengthy films. As the name suggests, speed takes precedence over detail — from capturing footage to editing and sharing, Rush allows you to swiftly transform your masterpiece.
Rush's mobile compatibility adds another layer of convenience, earning it countless bonus points among creators who prefer working from their smartphones.
Designing captivating and compelling posts, videos, and stories is a breeze with Adobe Express's selection of social-friendly templates.
It's no secret that stunning visuals are crucial to any effective Twitter strategy in 2023, and this app stands out as one of the finest options available for editing photos and videos.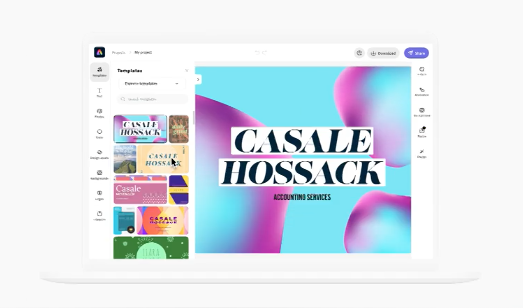 Source: Adobe Creative Cloud Express
This social media tool has tons of free stock images, templates, and effects.
The basic plan is free. Premium (which includes more images, branding options, millions of stock images, and 100GB of storage space) is about $10 monthly.
(Don't forget to check out our list of the best stock photo sites, too.)
Twitter tools to find influencers
Search for the right partner for your next big campaign with Upfluence's powerful search tool. Whether you're on the hunt for micro-influences or celebrities or industry thought-leaders, Upfluence helps you find and compare Twitter creators at scale. Vet creators by reviewing engagement rates, audience sizes, demographics, and more.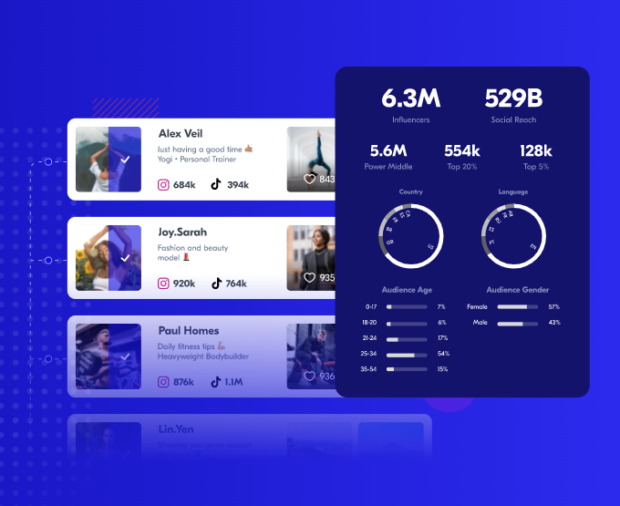 And you guessed it: there's a Hootsuite integration for Upfluence, too. Use the app to effortlessly distribute influencer content from your Upfluence account to Hootsuite.
Klear's influencer marketing platform offers a free Twitter influencer search — explore by your industry (sports? Fashion? science?) and then use Klear to build and measure your influencer programs and campaigns.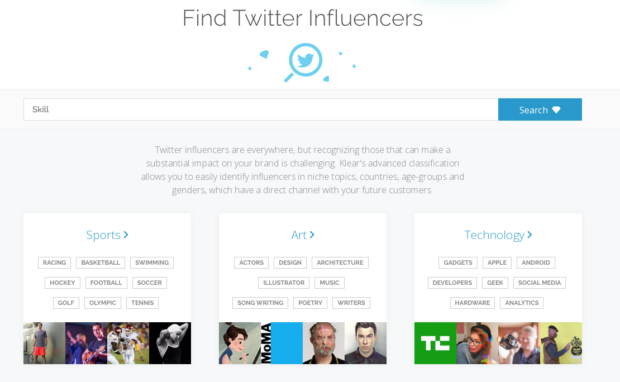 Twitter tools for trending topics
It's right in the name, really: Google Trends gives you access to the latest trends across Google Search, Google News, and YouTube.
This is invaluable for understanding what people are searching for and what captures their interest in terms of reading and viewing, enabling you to create Twitter content that aligns with your audience's existing interests.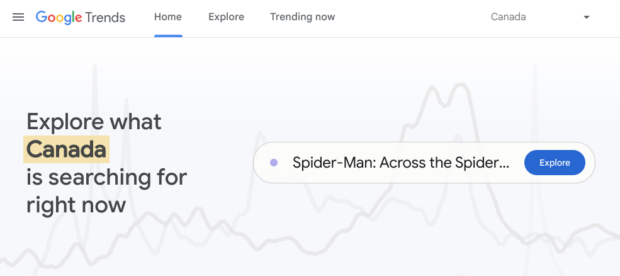 On the Google Trends homepage, you'll discover a compilation of clustered topics that people are actively searching for. Explore this real-time data to generate fresh content ideas. Or, directly input search terms relevant to your brand into the tool, allowing you to delve deeper and gather specific insights.
What's hot? What's not? Trendspottr knows. The platform's AI technology curates trending content across hundreds of different industries and topics. This is a great one for B2B brands, but anyone can benefit from a little market intelligence, no?
Twitter tools for following/unfollowing
Audisense promises to turn Twitter into your personal customer relationship management tool, with technology that allows you to find specific users that fit your desired demographic. You'll also be able to mass unfollow unhelpful or spammy accounts.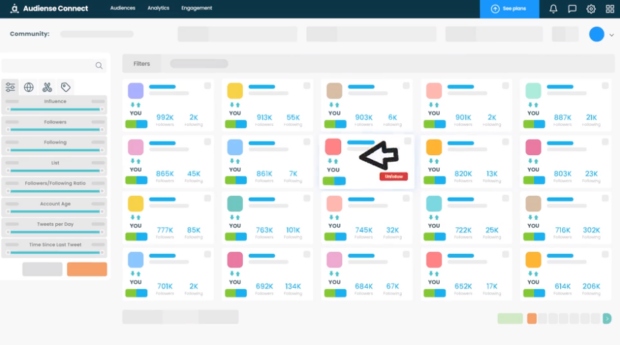 Circleboom's Twitter management tool is super intuitive. Access insights about your followers and follower tracking, and use Circleboom's suite to find spammers, fakes, and inactive accounts. Smart search tools make it easy to find new users to grow your network.
Twitter tools for content creation
You know that hashtags help the Twitter algorithms surface your content to the right people. But coming up with the right hashtags for every single post is a lot of work.
Enter: Hootsuite's hashtag generator. Whenever you're creating a post in Composer, Hootsuite's AI technology will recommend a custom set of hashtags based on your draft — the tool analyzes both your caption and the images you've uploaded to suggest the most relevant tags.
Psst: Freshen up on your non-AI hashtag strategy with our guide to everything you need to know about hashtags in 2023.
With this platform, you'll effortlessly automate the publication of RSS feeds to your social media accounts. For instance, you have the option to configure it to automatically share your blog posts on Twitter as soon as they're published on your blog. This streamlined process ensures that your content reaches your audience ASAP as soon as you have a new masterpiece out there in the world. (It's about $7 a month but free with Hootsuite's Enterprise plan.)
Grammarly is an essential tool that every copywriter and content creator out there should have in their arsenal — the kind of hero that comes to the rescue when the proper placement of "i" before "e" becomes a blurry memory.
Grammarly seamlessly integrates with platforms like Google Docs and Gmail to automatically checks your grammar and spelling. (And if you opt for the premium version, you'll unlock additional benefits such as passive voice warnings, tone checking and suggestions, and plagiarism detection.)
Very cool news: you can even use Grammarly right in your Hootsuite dashboard, even if you don't have a Grammarly account yet.
Just log into Hootsuite and navigate to Composer to start composing your post. As you write, Grammarly will detect anywhere there might be room for improvement and then suggest new words, phrases, or punctuation to suit. It can even analyze your writing style and tone in real time, offering one-click edits that you can implement instantly.
OwlyWriter AI
Did you know that Hootsuite comes with OwlyWriter AI, a built-in creative AI tool that saves social media pros hours of work?
You can use OwlyWriter to write a new social media caption in a specific tone based on a prompt, generate post ideas, or repurpose your top-performing posts.
If you're not sure what to post, click on "Get Inspired." Then, type in the general, high-level topic you want to address and click "Get Ideas." OwlyWriter will generate a list of post ideas related to the topic.
Save time by using Hootsuite to manage your Twitter presence alongside your other social channels. You can run contests, share videos, schedule posts, and monitor your efforts — all from one convenient dashboard! Try it for free today.
Do it better with Hootsuite, the all-in-one social media tool. Stay on top of things, grow, and beat the competition.
Free 30-Day Trial