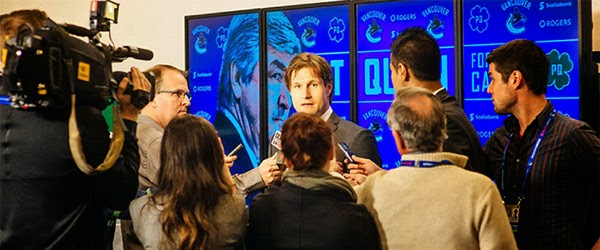 5 Lessons From Periscoping the Vancouver Canucks Social Media Team
Live streaming video is all the rage since the launch of Periscope and Meerkat. People have used these apps to live stream all kinds of things, from concert rehearsals to Mario Kart tournaments. So what happens when you combine the power of Periscope with exclusive access to the start of the Stanley Cup playoffs?
We sent our Hootsuite social media team behind the scenes with the Vancouver Canucks social media team during their first playoff game of 2015 and the results were fascinating.
Our gracious hosts were Laura Wong, Canucks Social Media Specialist and Derek Jory, the lead writer for Canucks.com.
Our plan was to host four live broadcasts ranging from pre- and post-game AMAs (Ask Me Anything), as well as a live look during the first intermission. We also gave viewers an exclusive peek inside the locker room for the post-game media circus and coach's press conference. While it helped to have outstanding content at our fingertips, we also discovered some key things about Periscope that we think are worth sharing:
5 things we learned about live streaming on Periscope from Vancouver Canucks social media team
1. Done is better than perfect
Don't worry about trying to be perfect with your live stream. The beauty of going live is that you will have mishaps. People may say the wrong thing. Your tripod will get bumped. Someone will walk through your obsessively composed shot. One of the best parts of behind-the-scenes access is the chaos that comes with it—like getting stuck inside an elevator en route to the post-game media scrums (yes, this actually happened).
2. Prepare for the unexpected
Always prepare for the unexpected when you are shooting live video. In addition to getting stuck in an elevator, we battled poor WiFi and loud music at times. Our goal was to shoot our opening AMA (Ask Me Anything) with the Canucks social team down by the ice. We had visions of a bright, empty arena that was perfectly manicured pre-game. Instead, our AMA went live around the same time they were doing a run-through of their game day presentation. That meant a dark area with loud music and audio blaring through the speakers. We improvised by setting up inside a luxury box with the doors closed; but even then, we received feedback that the audio wasn't great.
3. Be aware of your setup
Based on the point above, try and find a place where you can get good audio. Live streaming from an iPhone can create great video, but audio technology has not caught up. Your best bet is to find somewhere quiet to shoot your broadcast, and ensure that the subject is close to the screen so you can pick up their voice. Of course, you sacrifice context when you get this close to your subject. This goes back to point #1: it might not be perfect!
In addition to the audio portion of your setup, you'll also want to ensure that your camera is steady—unless you are tracking some live action. A tripod helps immensely. We were able to rig together a traditional tripod with a selfie stick to make a contraption that worked for our two-person interview.
Lastly, try to keep the subject's head in the top third of your frame so that the audience can read the messages coming in, as well as type messages to you. When the audience types responses, their messages cover half the screen.
4. Prepare for dead air
It's inevitable that during a live broadcast you'll have some dead air. That's why it is important to have some prepared questions or topics at the ready–especially for the first few minutes when it takes time for your audience to build. If you are interviewing people, this helps put your subjects at ease and starts a natural flow of conversation, so they aren't sitting uncomfortably waiting for questions to roll in.
"I get pretty nervous and awkward on camera–that's why I'm usually behind it," explained Laura Wong. "But credit to Jaime for having reasonable questions prepared and to the people who tuned in with their own questions, even if half of them were about beards!"
5. Context is important
Remember to re-set the interview so your audience knows who they are talking to. We suggest doing this every 90 seconds or so. Think about what it's like listening to the radio and not knowing who the guest is. It is really hard on the audience to get invested in a conversation when they are missing key information like who the people on the screen are.
In addition to being the ears for your audience, you are also their eyes. Make sure you put the images into context. Backing away from player scrums in the locker room to show the surroundings was helpful to show people how busy the dressing room was and how hard it was for Laura to get in there and get her recorder near the player's voice path. In fact, it led to one of the funniest exchanges on the broadcast, when someone asked if she was going to get a robotic arm to get in there. She answered by saying that she's considering a selfie stick to make up for her height disadvantage. Had it not been for the visual context, this interesting exchange may not have taken place. Remember, you are the eyes (and ears) for the audience.
Looking for more information on the Canucks?
Looking for more information about live-streaming apps, Meerkat and Periscope?