They say you never get a second chance to make a first impression. That's why making sure you've nailed your brand's social media profile isn't optional — it's critical.
But a good social media profile goes beyond a first impression. It can also reinforce your brand to existing customers and bring new ones aboard by offering a succinct version of your brand story. (So maybe the "first impression" anecdote wasn't such a good first impression for this article. Yikes!)
It's easy to take your social media profile for granted or think your posts will speak for themselves. But crafting a strong social profile will boost your engagement, strengthen your brand, and keep your messaging consistent.
To keep it simple: Yes, your social media profiles matter. And there are likely some things you've been doing wrong. Luckily, our guide on how to build a social media profile can help. We've even included some of our favorite social profile examples for inspiration!
10 ways to optimize your social media profiles
What are social profiles?
Social profiles are the online identities of a specific brand or person as established on different social networks.
Social profiles display key details of the person or organization, including their location, contact info, area of interest or expertise, and general position in an online niche.
Think of a social profile as a person or brand's digital business card. Someone should be able to glance at yours and understand who you are, what you do, and what you're all about.
And these days, your social profile is established and reiterated by the different apps you appear on. Your Facebook, Instagram, Twitter, TikTok, LinkedIn, Pinterest, YouTube and BeReal profiles all contribute to your overall social profile.
You should treat every social media service like it's equally important, giving it the same level of care and attention to make sure your branding stays consistent.
What should your social media profiles include?
There are ways to max out your social media profile, and we'll get to those in a second.
But first, let's cover some of the essentials you should include in your brand's social media profile.
They might seem obvious, but hey, there's no shame in starting with the basics.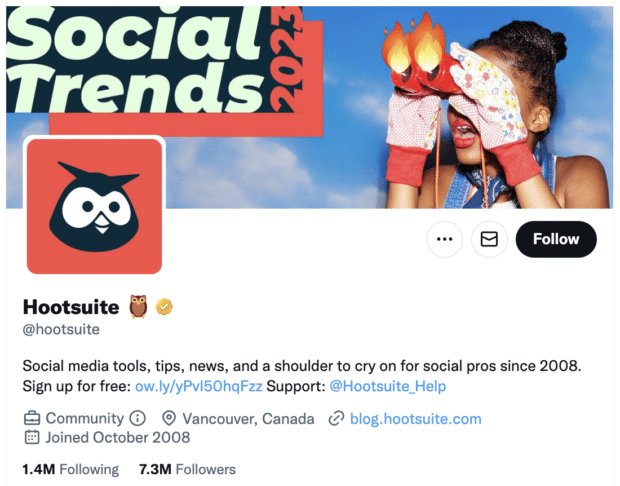 Your display name. You're probably already using your brand name, but make sure you're consistent across different social networking sites. Don't call yourself The Cat's Eye Vintage on one page and just Cat's Eye Vintage on the other. You should also try to have the same handle on every platform whenever possible.
Your relevant links. One of the most important things to consider when setting up your social profile is how you can convert people into customers. Whether it's an online store, a homepage for your brand or a Linktree sending users to your relevant influencer sites, the links in your bio have to work — no exceptions.
Your bio. This is one of the most crucial elements of your social media profile. You can use this section to describe who you are and what you do, or get a little more experimental and play with your brand's slogans. Whatever you decide, be strategic with it and use this field to its full potential. (Psst: try our free social media bio generator to get started.)
Your location. This one's optional, but whether you use it or not is all part of your broader brand strategy. If your business is tied to a specific location, adding your city will increase your reach in that area. If you're a national or international company, you may choose to leave it blank (how mysterious) or add the location of your headquarters to add a sense of relatability.
10 ways to optimize your social media profiles
If you've got the basics from the previous section handled, you'll be well on your way to a successful social media profile.
But if you're ready for the advanced class, these tips will help you finesse your profile even further. With each tip, we've included social media profile examples to help you put our advice into practice.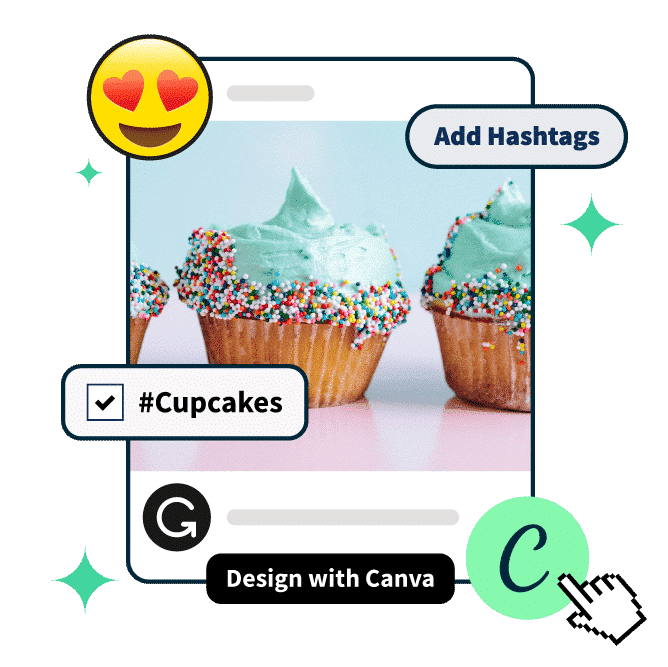 The formula for going viral
Everything you need to make engaging content. AI support for captions, an AI hashtag generator, and access to Canva and Grammarly Pro in Hootsuite.
Get 30 days for $0
1. Perfect your profile picture
Brand consistency is important, so you likely want to keep the same profile picture across all social media sites. But that doesn't mean you can just upload the same JPEG everywhere and go for lunch. There will likely be some tweaks required for each platform.
Nothing screams "unprofessional!" quite like an ill-fitting profile picture. It's important to adjust the size of your pics to fit each site, especially since some platforms have circular profile pictures and others use squares. Try to keep them as similar as possible without sacrificing their appearance on each site.
And if you're using your logo as your profile picture, make sure it isn't cropped or cut off!
We've got a whole handy guide to social media image sizing, but here's a little cheat sheet:
Facebook profile picture: 170 X 170 pixels
Twitter profile photo: 400 X 400 pixels
TikTok profile photo: 20 X 20 pixels (minimum)
LinkedIn profile photo: 400 X 400 pixels (minimum)
Instagram profile picture: 110 X 110 pixels
Pinterest profile picture: 150 X 150 pixels
YouTube profile picture: 800 X 800 pixels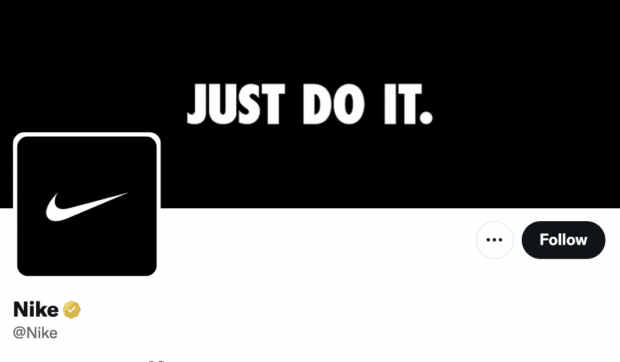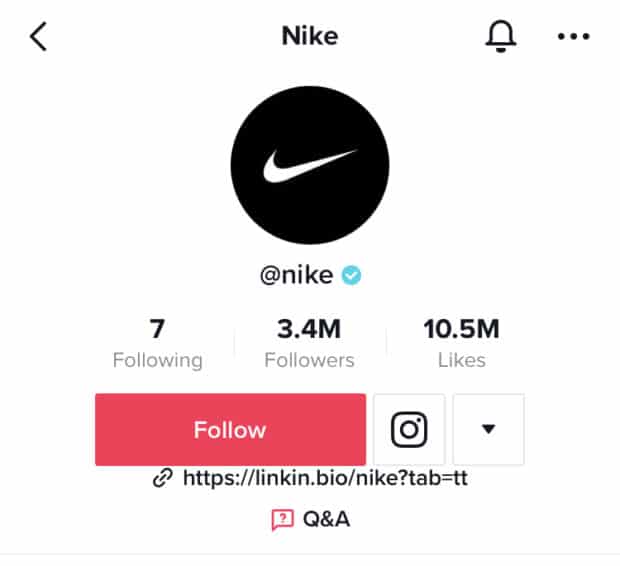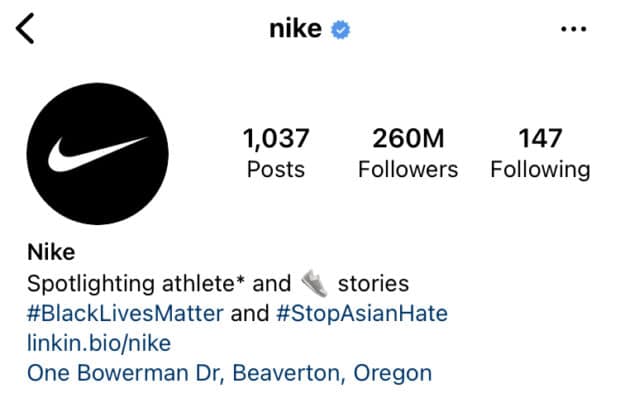 Nike uses the same simple profile picture across all of its social media platforms. No matter the size of the profile image, their distinctive swoosh is always perfectly positioned.
2. Design what you can
Geriatric millennials might remember when they could spruce up their MySpace page with browser-breaking HTML codes. These days, most social media sites have wisely avoided letting people change the cursor or embed an emo song. But there are still plenty of ways to customize your page.
Most social media sites have other image opportunities outside of their profile pictures. Think, for example, Twitter's banner or Facebook's cover images.
These images are ways to continue telling your brand story. You can even incorporate your profile banner into your overall design.
On sites like Instagram, you can even plan your entire grid to fit a unified theme or color scheme. Many brands make sure everything they post fits within their visual identity, giving the whole page a sense of cohesion.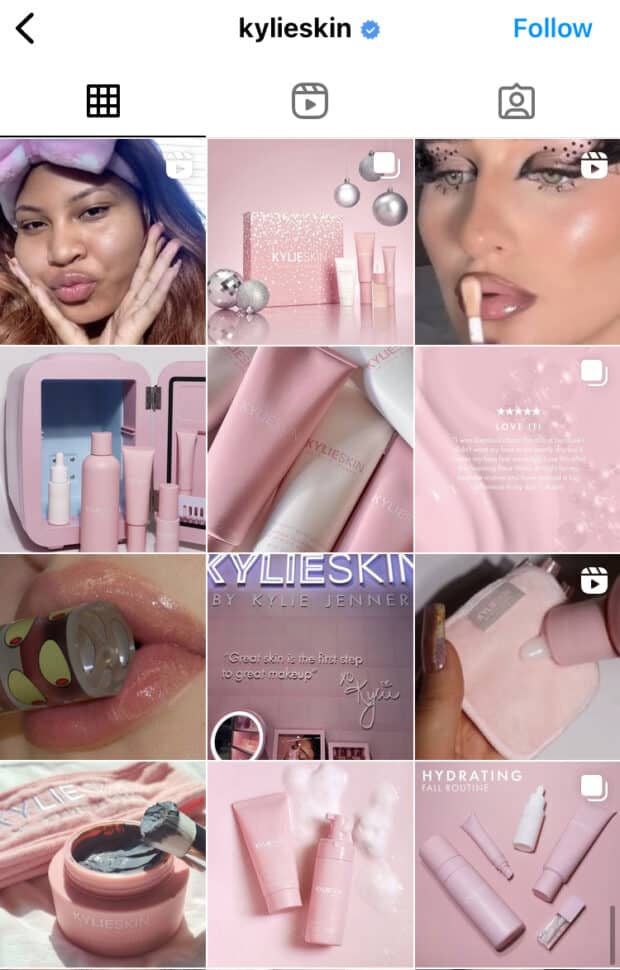 Kylie Jenner's skincare brand Kylie Skin keeps its pink branding in almost every image in order to make the grid feel like a unified brand experience.
3. Write the perfect bio
In case you haven't noticed, planning is the secret to perfecting your profile. And this is especially true with your social media bio, which is really an open-ended invitation to flex the written word.
Want to offer a straightforward description of your company on your business page? Sure, that's a good bet for beginning businesses. But if you're well-established, you can use that space to drop a slogan, highlight your latest promotion or even keep it intentionally vague.
And don't forget that SEO also plays a role in social media bios — most platforms are also search engines, after all. It's never a bad idea to work some specific and relevant keywords into your bio, as long as you can keep it natural and not be spammy.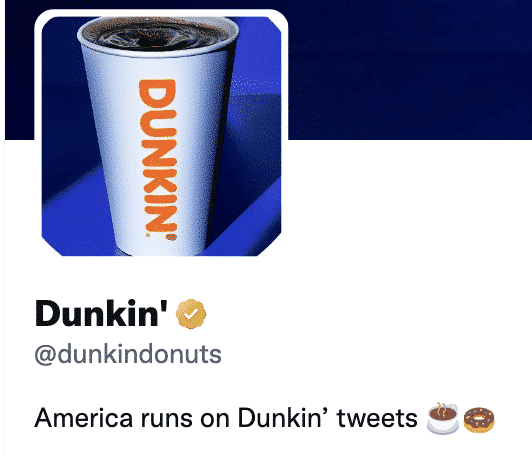 Dunkin's profile on Twitter…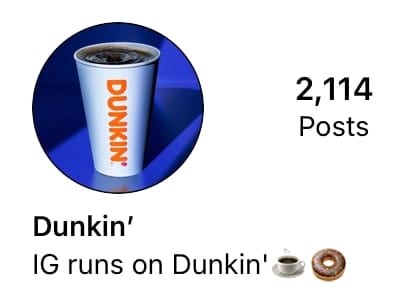 and on Instagram…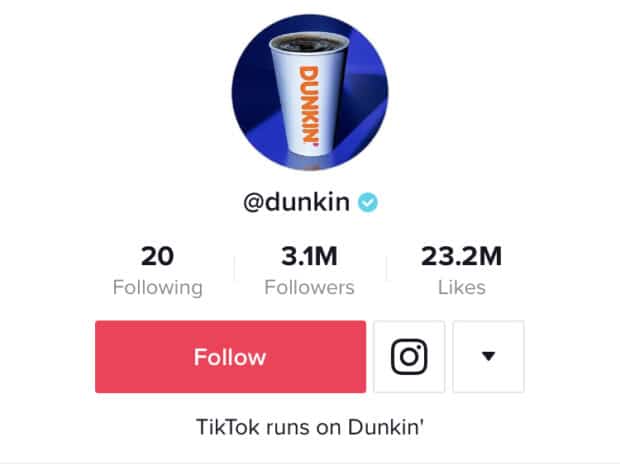 and on TikTok each uses an adapted version of their famous slogan.
4. Pin what's important
Think of your profile as a homepage that people might discover while poking around online. You want to make it easy for those explorers to find your best work. You can easily do this by pinning your favorite or most pertinent posts to the top of your profile.
Plus, you can change your pinned post whenever you want. Keep an eye on that content — because it looks really bad to have Black Friday promotions at the top of your page in the middle of May.

Hootsuite's pinned Tweet reminds Twitter users that they can get support by following the @Hootsuite_Help account.
5. Set your interests and choose your allies
It's all about who you know, and that couldn't be more true on social media. Sure, if you're a luxury mega-brand that doesn't need to hustle for clout, you could have the elusive 0 above your "following" header. Still, who you choose to follow should be an integral part of your brand strategy.
Whether friending on Facebook or following on Twitter, Instagram or TikTok, how your brand account interacts with other brand accounts will determine how the algorithm treats your profile. It will start suggesting your page to relevant people and promoting your material organically.
On sites like Facebook, you can also like other pages with your brand page. This is a great way to establish your brand's niche. Don't skip this step if it's available to you!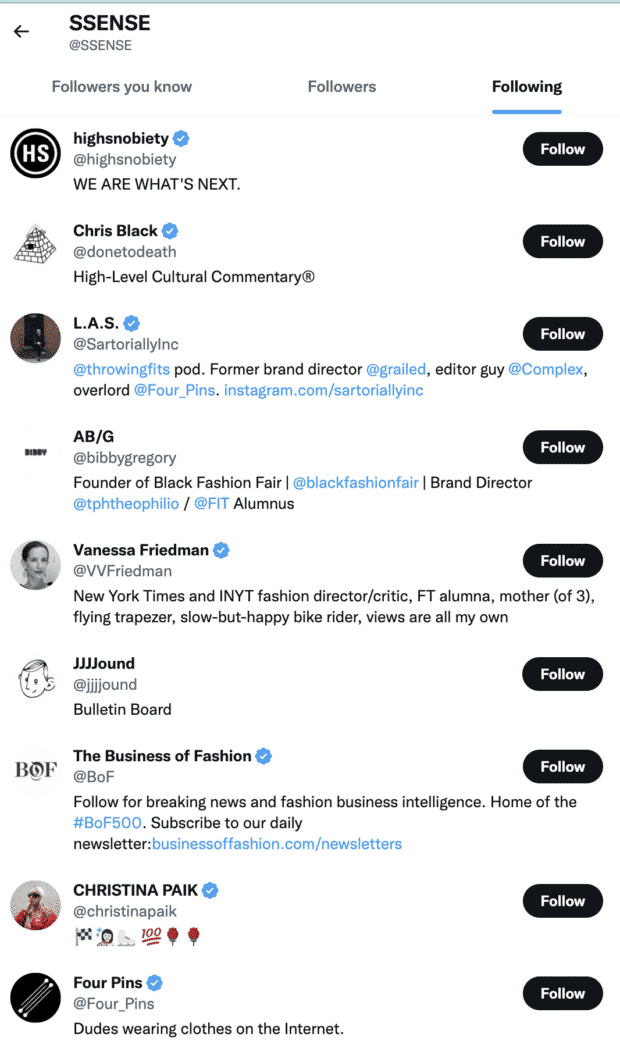 Online luxury retailer Ssense keeps a tight knit group of people it follows on Twitter, helping further its reputation as part of the fashion conversation.
6. Set your privacy
This one almost goes without saying, but it's still something you should double-check. If you want your social media posts to reach the maximum number of people, you should make sure they're all set to public and are easily shareable. On Facebook, in particular, you want to make sure that all of your posts can be shared with the click of a button.
Ironically, there was a trend toward brands launching private Instagram accounts a few years ago in an attempt to promote exclusivity (and boost follower counts), but that trend has luckily died down.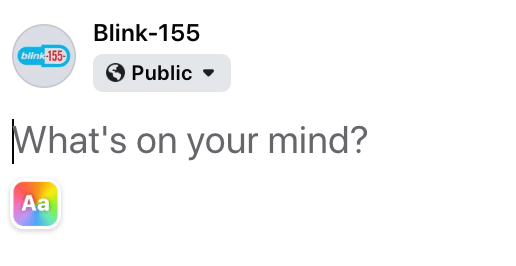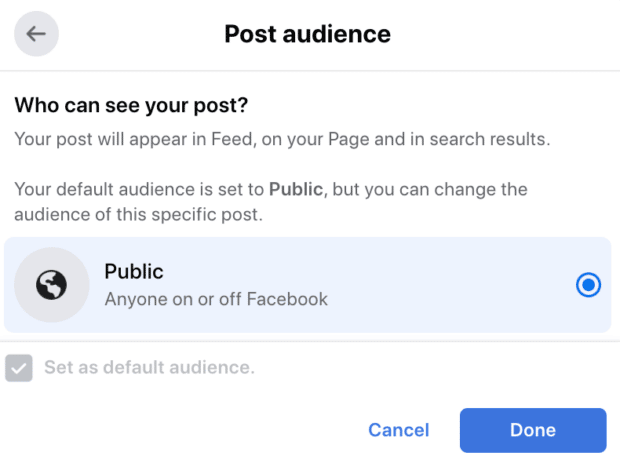 Click the dropdown menu on Facebook to switch your post audience from Public to any other audiences you may have saved. Of course, Public will reach the most people.
7. Keep it clean
Your social media profile is your space, which means you'll need to do some regular housekeeping. That might mean untagging yourself from unflattering or inappropriate photos, deleting comments that cross the line and making sure you keep an eye out for spam, which should also be reported and deleted.
A clean social media profile sends the message that you're a legit brand that cares about how you're perceived.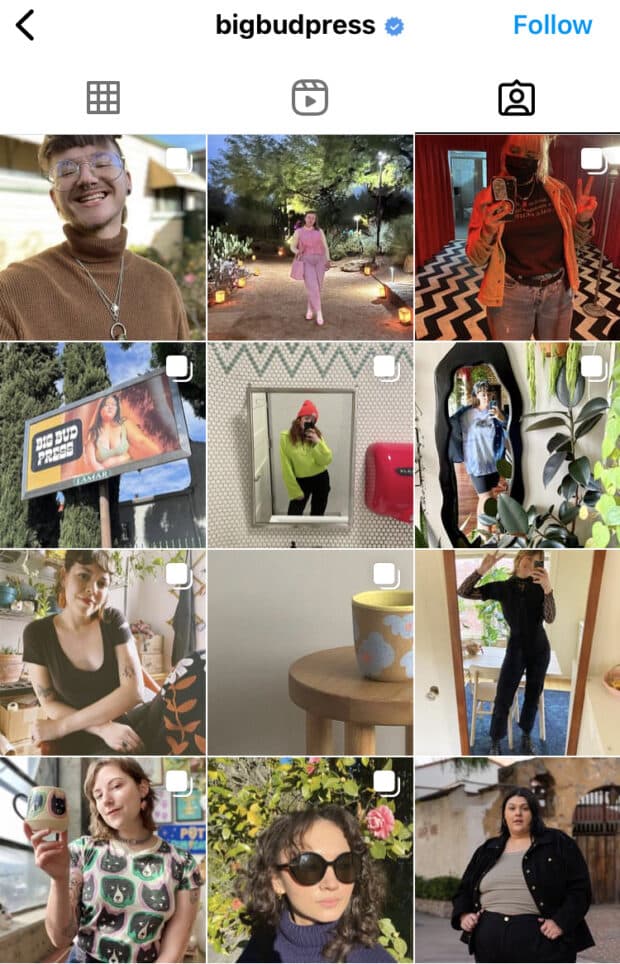 By keeping a curated "Tagged" feed, brands like Big Bud Press can have a section for user-generated content that highlights their products on Instagram.
8. Cross-promote your posts
Keeping your socials consistent is key, but you should also cross-promote your other social media profiles whenever possible. This might be as simple as re-uploading a TikTok video as a Reel on Instagram or a YouTube short. Or it could mean offering more distinct calls to action.
The link in your bio is prime real estate, especially on sites like Instagram, where you can only share one URL. Linktree allows you to create an easy landing page with links to your other social profiles as well as your online shop, home page, contact form and anything else you might desire.
if you follow me on Instagram and TikTok, you'll find a few behind the scenes video I took of episode 6 the musical! hope you all enjoyed watching it as much as we enjoyed filming it. pic.twitter.com/96AqNHCidF

— Jillian Mercado (@jilly_peppa) December 23, 2022
Actor Jillian Mercado used her Twitter to tease other exclusive behind-the-scenes content from her musical on TikTok and Instagram.
9. Test your links
Another one that sounds obvious but is absolutely essential! When was the last time you audited all of your social media links?
Try logging in from a different account on a different browser and click around for a while. Do all the links go where they're supposed to, or did something weird happen with the formatting? The email that's included in your Twitter bio — is it loading into the mail app properly when you click it?
We've all got clumsy fingers sometimes, and it's easy to miss weird formatting when we copy and paste. Still, a misplaced comma or quotation mark could be why you're missing out on the business opportunity of a lifetime. I mean, you never know.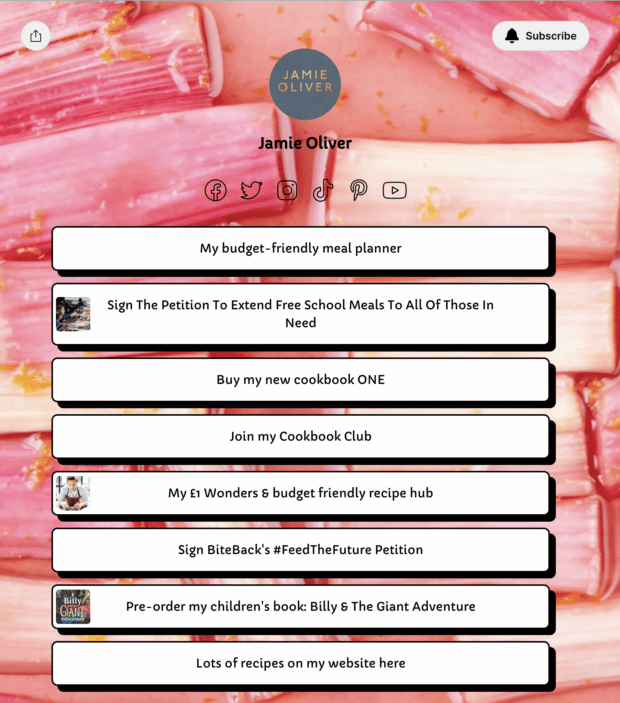 Celebrity chef Jamie Oliver's Linktree page guides users to all of his social profiles as well as his cookbooks and online recipes. And all of the links work! (We checked.)
10. Build trust
While you're looking around your social media profiles, try to envision them as an outsider. Do they look legit?
If you've followed the previous steps and made sure all of your profiles are clean, consistent and professional, they likely will.
But there are even more ways you can make yourself stand out:
Check your grammar. While human beings are prone to typos and grammatical errors, we still associate them with untrustworthy sources online. Make sure your spelling and sentence structure are up to snuff.
Post just enough. You don't want to flood the feed, but you also want people visiting your profile to see that you are an active (and, therefore, legit) brand.
Get verified. It depends on the platform, but generally speaking, it's never been easier to have your brand page verified on a social media platform. This usually means a checkmark is added to your brand's profile, and users can rest assured that they can trust you.
Want to keep all of your social network profiles consistent? Build your social channels using Hootsuite. You can schedule and publish posts for the best times, engage your audience, and measure performance — all from a single dashboard. Try it free today.
Better content in half the time
Boost engagement and save time with an AI writer, hashtag generator, Canva, and Grammarly Pro in Hootsuite.
Free 30-Day Trial