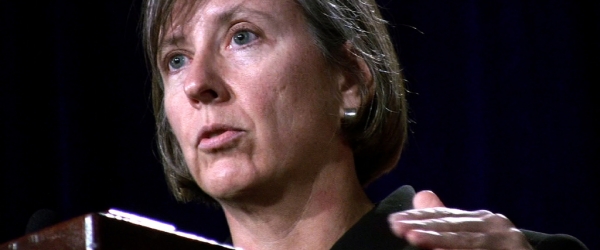 This Week in Social: The Meeker Report Drops and a Few Things Google Wants to Forget
Three of the big four social networks contributed interesting news to this third installment of our news roundup series, This Week in Social. Every Sunday, we will gather the week's most important news about the state of the social web. Not everyone has time keep up with the rapid flow of news throughout the week, but if you're a social media professional, you can't afford to miss the big stories.
Now that you have some time, let's get you caught up.
Latest from the big 4:
In response to a European Court of Justice ruling earlier this month finding EU citizens have a "right to be forgotten," Google released a web form for those wishing to exercise their new right. The search and social giant faces a daunting challenge, as everyone in Europe who has ever had something embarrassing about them published online considers formally requesting that it be removed from search results. As of Saturday, forms requesting that specific pages be forgotten were pouring in at a rate of 20 per minute.
Earlier this week, Facebook announced changes that will affect how content shared to your profile through third-party apps is treated in the News Feed. The social network has distinguished between "implicitly" shared stories and "explicitly" shared stories. Since this announcement, we've been getting a lot of questions about whether Facebook posts sent through our dashboard will be affected by the change. When people use HootSuite to post to Facebook, they are fully in control of each post they send, so these posts are explicitly shared stories and their reach will remain unaffected by these changes.
Notice something different about Twitter's web font? No, of course you don't; you're using HootSuite, right? So maybe you're not up in arms about the change toward "a sleeker and narrower look," but Mashable is reporting that some people are.
Starting today, we're rolling out a new font on http://t.co/zDdcbPwclU, moving from Helvetica Neue to Gotham.

— Twitter Support (@Support) May 30, 2014
(Ok, so not much from Twitter this week. But the Google thing and the Facebook thing are both pretty big.)
Next big thing:
A collaboration between The Dalai Lama Center for Ethics and Transformative Values at MIT and MIT Media Lab Playful Systems, this new iPhone app promises "you and a stranger will experience the world in your own way, together," for 20 days. It's like Chatoulette, but with a lot more commitment. Also, Chatroulette is less about fostering empathy across social, cultural, and political boundaries, catalyzing a sense of shared human experience, and more about… Actually, this will likely involve some exhibitionism too.
Montreal-based Seevibes has raised a $1 million seed round, led by Polytech Ventures. The social analytics startup provides insights about the second-screen social media activities of TV audiences for advertisers, brands, and networks. The investment  will fund international expansion.
Long reads:
Mary Meeker, now with venture capital firm Kleiner Perkins Caufield & Byers, is one of few tech industry analysts whose reports are so influential, they have the power to shape conversations and inform business decisions for a whole year. She presented her annual technology trends report on Wednesday at the Code Conference. Maybe you've noticed by now that it's landed, but have you been through all 164 slides? Didn't think so. Here they are:
For social media professionals, one of the most salient points pertained to the rise of social networks oriented toward images and video. Check out the Instagram trend line, in particular: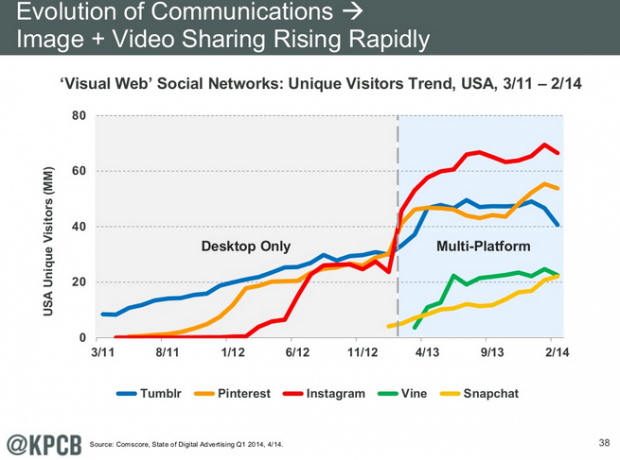 Sign up today to try HootSuite for free!