Who to Follow on Twitter for Crisis News, Part 1: Ukraine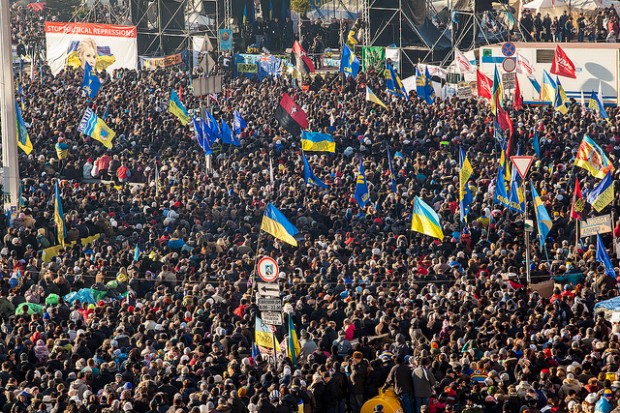 With political strife dominating so much of our news cycle these past months, and events from Ukraine to Venezuela rapidly unfolding, Twitter is one of the best ways to stay informed in real time. But when social media turns everyone into an information source, it can be a challenge to sort the signal from the noise and figure out who to trust.
To help you find reliable sources for some of the most timely geopolitical news stories, we've created a series of Twitter lists compiling trusted journalists, activists and citizens on the ground in the conflict regions. These are the people sharing the most up-to-date information, often from their own first hand experiences.
Events in  Ukraine have drastically escalated in the past few weeks and not surprisingly, Twitter and other social media channels have often been the most up-to-date sources of information on the unfolding conflict. Now, let's get you caught up: The country is torn apart. Some people are looking for closer ties to the West while the rest push for close ties with Russia. After overthrowing the government, Crimea (made up of mostly Russian speaking citizens) started protesting, using the justification that the new Ukrainian government would suppress the rights of their people.
Russia claims they have the right to send troops to Crimea to defend the ethnically Russian population and the strategically critical home port of the Russian Navy's Black Sea fleet. However, a 1994 treaty agreement, to which both Russia and the United States are signatories, guarantees Ukrainian sovereignty over territory that includes Crimea. For  updates, here are some sources we have been following:
1: @KyivPost: Ukraine's leading English-language newspaper.
Two deaths in clashes near Crimean parliament; gunmen seize government headquarters (PHOTOS) http://t.co/CokqJftk3q pic.twitter.com/sCzaXriuUH

— KyivPost (@KyivPost) February 27, 2014
2: Christopher Miller, @ChristopherJM, Editor at leading English-language newspaper @KyivPost. Also freelance correspondent covering Ukraine.
On Kyiv's Independence Square tonight, Yatseniuk nominated as prime minister to lead new govt http://t.co/k0quAiYBZi pic.twitter.com/hvzw7pmrkP

— Christopher Miller (@ChristopherJM) February 26, 2014
3: Euromaidan PR, @EuromaidanPR, This is the Official International Public Relations Secretariat for the Headquarters of National Resistance of the EuroMaidan
#Ukrainian soldier strengthens flag at the entrance to #Belbek military base in fron of invaders -pravda.com.ua |PR pic.twitter.com/VTGESvbJa6

— Euromaidan PR (@EuromaidanPR) March 4, 2014
4: Frederik Pleitgen, @fpleitgenCNN, CNN Correspondent
Will be live reporting from Moscow again this morning on #ukraine crisis. What are Putin's next moves?

— Frederik Pleitgen (@fpleitgenCNN) March 2, 2014
5: Max Seddon, @maxseddon, Foreign Affairs reporter at Buzzfeed (and formerly at AP Moscow)
Pro-Russian activists are storming the provincial government building in Donetsk. Pic via @novostidnua pic.twitter.com/cEBWvAP2Zy

— max seddon (@maxseddon) March 3, 2014
Also make sure to take a look at Kyiv Post photojournalist Anastasia Vlasova, Editor-in-Chief of The Interpreter Magazine Michael Weiss, Media lead on Amnesty International's Global Campaigns and former Independent journalist Maxim Tucker, New York Times reporter based in Moscow David Herszenhorn, and EuroMaiden account U.REVOLUTION.