Who You'll Meet At #HootHire
Every year Hootsuite hosts a huge hiring fair we've dubbed #HootHire. The event sees hundreds of prospective employees welcomed into the Nest looking for a career in a market-leading company working to transform the way people and businesses communicate. If you're interested in learning more about life in a hyper-paced tech innovation culture, driven by passionate people who play as hard as they work, join us for this year's HootHire.
When: August 27th, 5 – 7pm PDT
Where: Hootsuite HQ2,111 E. 5th Ave., Vancouver, Canada
We're throwing open our new HQ2 doors to applicants for all roles on our careers page, with a focus on hyper-growth in sales and development.
If you attend #HootHire expecting a formal interview process, you might be disappointed. The event is much more of a networking opportunity—a chance to make an impression on the people who you might be sitting across from in an interview somewhere down the line. It's also a chance the meet future coworkers, and get a sense of the personalities and people that make this place tick.
If you're thinking of attending this year's #HootHire event, here are some of the people you'll probably meet while you're here and how to make the most of your visit to the nest:
The ultra-friendly HR team
As you walk through the doors of the Hootsuite offices, you'll probably be greeted by a number of smiling faces pointing you in the right direction. Say hello to our ultra-friendly Human Resources team, also known as "Talent."
Bringing in the right people to help propel our hyper-growth is the Talent team's top focus. Always working to grow teams of egoless, entrepreneurial, and passionate Owls, the Talent team organized this event. They're the people who can tell you who you want to meet, and where they're located. These are also the people who would contact you about an interview if you make a good impression.
That said, #HootHire isn't your interview. Unless you're applying for a position in Talent (there are several open!), say hello, let them point you in the right direction and then go meet with employees from your sought-after department. All applicants should be applying online anyways, so you don't have to worry about our HR team getting your CV. Instead, use #HootHire to really meet with the people who share your skills and professional focus.
The in-demand managers
Every department will have its managers in attendance at #HootHire. These are the people that run the show, so-to-speak, so it goes without saying that their attention will be in high demand. Unfortunately, it's basically impossible for these managers to meet with every single applicant during the event, unless they were to stay until about 2 a.m.
With that in mind, a number of other staff members from every department will also be on hand to meet with applicants. These employees will speak with you about the job, the working environment, their colleagues and answer any questions you might have. These employees also know their stuff and will get your resume to the right people in the same way a manager will. No matter who you meet with, strive to make an impression and do your best. But don't stand around waiting for a manager when there are other staff members eager to meet you.
The passionate developers
The Hootsuite developers are a unique group of people. They are incredibly hard-working and skilled, but are equally quirky and fun to be around. The development team is looking for people who are innovative, curious and egoless. we embrace innovation, curiosity, and give you lots of room to create. Talk to our engineers about what it's like building great product from the ground up. Learn their story and share your own. We have a number of jobs open on this growing team. If you fit the profile, make sure you stop by.
Other eager applicants
The new Hootsuite office, or HQ2 as we call it, is going to be filled to the brim with people in the same situation as you. Hundreds of career-seekers are going to be looking to make a lasting impression on as many staff members as possible in a very short amount of time. It's going to get feisty, right? Well, we hope not.
These people should be treated more like your peers than your competition. No one is getting hired on the spot. Be confident in yourself and in your resume. Talk to the staff members you're interested in working with, then make room for other applicants to do the same. Once you've spent a bit of time with our employees, take the time to meet other applicants. Ask them for their impression about the event, the office, the employees. See if you missed out on talking to someone who was particularly receptive to their pitch, or someone important in the department you're applying for. Share your insights and experiences at #HootHire. These applicants might soon be working alongside you.
HootDogs
Don't make the mistake of saying "dogs aren't people." While factually correct, you would be missing the important role our dogs play in the Hootsuite working environment.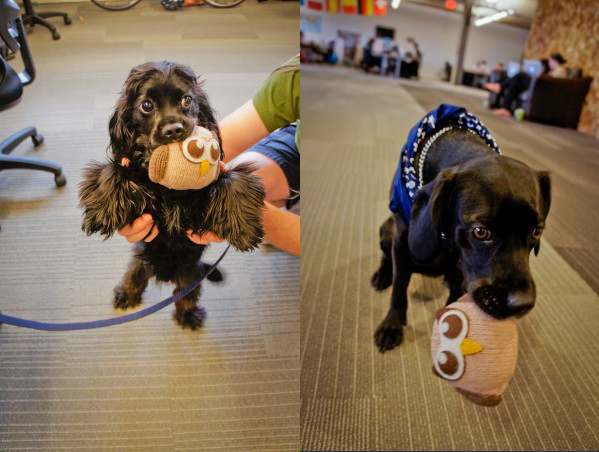 The HootDogs are a staple of this office. They are a way that new Hootsuite employees connect with their peers. They help us relax and enjoy ourselves in the midst of stressful or very busy days. They encourage us to get up from our desks, get outside and be active— an essential part of the work-life balance. These dogs make us feel at home, while at work,  and for that reason they're treated as colleagues. Embrace it, and say hello to some of our four-legged friends while you're here.
#HootHire 2014
When: August 27th, 5 – 7pm PDT
Where: Hootsuite HQ2,111 E. 5th Ave., Vancouver, Canada
More information about our HootHire event can be found here.