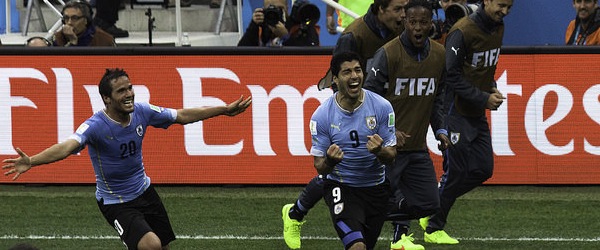 Your Must-Read Guide to Following the World Cup on Twitter
The first goal of the 2014 World Cup was an own goal by Marcelo against Brazil. Ivory Coast just got eliminated on a very questionable last minute penalty shot for Greece. Portugal tied the USA in the last thirty seconds of injury time with an impeccable cross from Cristiano Ronaldo. Ghana blew away everyone's expectations and tied against Germany. Spain flamed out against Netherlands, 5-1. Et j'en passe.
This year the World Cup has been full of surprises, good and bad depending on the team you're rooting for. With so many notable moments, it has also been an incredible event to follow on social media.
In fact, on June 17th 8.95 million tweets were generated during the preliminary Brazil vs. Mexico match-up alone. Twitter has been an incredible hotbed of World Cup activity, and the reactions of fans and media on the social network has added an entirely new dimension to how we experience the tournament.
But when there are millions of tweets about a single soccer match, how do you filter for the most relevant and interesting stuff?
The World Cup is in full on fever pitch at Hootsuite and we also happen to dabble in Twitter here and there. So, Mo came over to my desk and asked me if I could write up a Twitter guide for the World Cup. The result is the guide below.
It's massive at 75 slides, but has most of the essential stuff you need to know to get the most out of Twitter during this World Cup:
Twitter Search (basic and advanced)
Twitter Lists
Hootsuite Dashboards to see everything in one place
Creating Hootfeeds for live updates
Using the Hootlet to listen in on the conversation happening within the stadium
Even if you aren't a soccer fan, this Slideshare will help you follow any event or learn about any topic on Twitter with an insane amount of depth.
Check it out and let me and Mo know what you think!!
But wait, there's more!
We've also built a World Cup command center to gather social media mentions of each of the participating teams. This is the perfect second screen to follow social media while you follow the game.