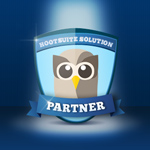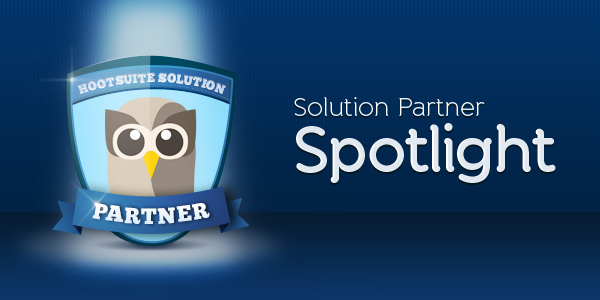 HootSuite Solution Partners provide services to businesses looking to grow in social by offering social media marketing strategy, implementation and training. Need support growing your social business? Connect with a HootSuite Solution Partner today.

HootSuite's Solution Partner team is pleased to feature Tent Social, a social media and content marketing agency based in Vancouver and Toronto, Canada. Jeff Berezny, the Founder of Tent Social shares his definition of Social Media ROI and how it helped him and his client, Trump International's STOCK Restaurant, to build and measure success with social.
Business Challenge: Lack of A Social Media Strategy
When STOCK Restaurant opened in early 2012, they set up basic Facebook and Twitter profiles looking to establish a strong online presence. But with no clear social strategy or framework to analyze the success of their social efforts, STOCK's social media presence had minimal activity and growth.
STOCK wanted to drive new customers through the doors of their brand new restaurant and recognized they needed help in building a strong and effective social presence. They turned to Tent Social for their expertise on social media and marketing.
3 Steps to Measuring Social Media ROI
"New businesses often ask 'what is the ROI of social media?'. To me, it's like asking 'what's the ROI of a newspaper?'" says Berezny. "Social media is a channel, not an activity. You can't measure a channel, you have to measure the activity (or content) which you communicate on that channel."
In collaboration with the restaurant's marketing team, Tent Social worked through 3 key steps to create a social marketing strategy that would define and organize content in a way that would allow for relevant measurement of social media marketing ROI. Utilizing HootSuite Enterprise's advanced features and reporting combined with Tent Social custom reporting, STOCK Restaurant was equipped with the right tools to start building their social presence. Check out the steps Tent Social executed with STOCK Restaurant:
1. (R) Role Definition
Berezny set the stage for effective social media marketing by determining the goals and the role it would play in achieving business objectives. He looked at the following social media marketing roles and then aligned it with relevant social content:
Educate & Entice – with the restaurant's dishes, ambiance, and the Chocolate Lab (a private kitchen that produces exclusive chocolate confectioneries and desserts)
Drive Trust & Awareness – of the restaurant's brand

Convert & Sell – by driving trial through effective communication of promotions
Care & Delight – with timely responses to in-restaurant experiences using social media
2. (O) Objective-Based Content
Produce content that aligns with these roles and objectives. A common error for many businesses is to aimlessly post content to attract attention which wastes a lot of time and resources. To measure broader trends versus the impact of a single post, Tent Social grouped the restaurant's social content by the 4 categories noted above using HootSuite Enterprise's tagging function.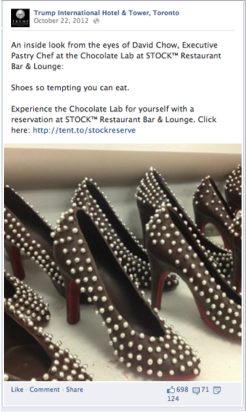 With a main focus to educate and entice their audience, content was created to educate the audience about the products offered at STOCK's Chocolate Lab.
A visual of their chocolate shoes was featured to entice the audience and invite them to come into the restaurant to see more.
In the process of content creation, HootSuite Enterprise's tagging tool was key to forming objective-focused buckets, which contributed to successful performance reporting and data interpretation. For this particular post, Tent Social applied the tags: "Entices & Educates" and "STOCK: Chocolate Lab" to create buckets that would highlight the objective as well as connect it to a specific campaign.
Tent Social helped establish STOCK as a thought leader in its area of expertise by educating the audience with insider knowledge such as unique drink recipes and behind the scenes access to their Chocolate Lab.
3. (I) Interpret Results
It is important to understand the context in which the content and data are being presented, and what the ultimate goals to properly interpret them. The amount of likes and +1s are simply numbers; to gain insight into what these numbers represent, they must be interpreted in a meaningful way.
Using the content groups created for STOCK, Tent Social gauged performance based on 4 core metrics:
Reach

Engagement

Conversion

Caring & Sentiment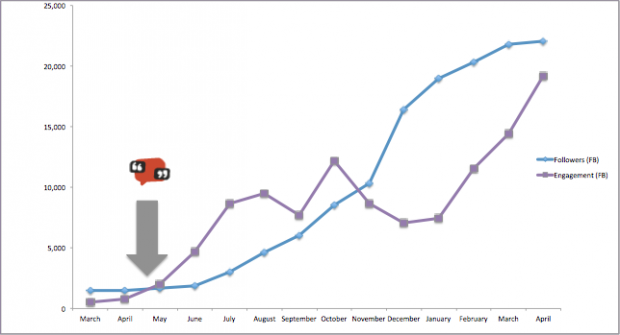 Social Success
In executing and improving multiple campaigns simultaneously, HootSuite Enterprise's scheduling and tagging features became crucial to the organization and success of their performance tracking. Beyond being a platform to build a base for reporting, HootSuite Enterprise offered the ability to seamlessly convert data into graphs and reports. Measuring social media ROI using this 3-step method allowed STOCK to determine which campaigns would drive the most benefit to their bottom line, and which campaigns would need to be adjusted or ended. Within the span of a year, STOCK's following had increased by 15 times and their user engagement had risen 38 times.
Thank you to Jeff for sharing his expertise in social media marketing ROI. Learn more about Tent Social on their Blog, and via Twitter, Facebook, LinkedIn, and Google+.
Does your business need support in building a successful social strategy? Click below to be connected with a HootSuite Solution Partner near you.