A Guide to Evaluating Enterprise Social Relationship Platforms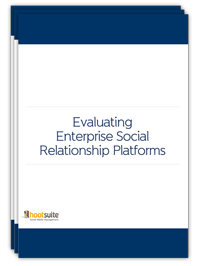 As organizations recognize the impact that social media has on every part of the enterprise, social relationship platforms have become essential. Finding the best enterprise social relationship platform for your organization can be challenging.
When evaluating, make sure the social relationship platform maps to the needs of your organization in the long term. Keep in mind the tasks that are beyond typical social media management, which in turn forms the core of your strategy and adapts to the needs of every department.
This buyer's guide provides a framework to help you make a solid and confident investment that will meet the expanding social media needs of your organization.

In this guide you will find the 12 essential capabilities of an Enterprise Social Relationship Platform:
Social Media Management
Engagement
Advertising
Integrations
Collaboration
Security
Compliance
Governance
Scalability
Analytics & Reporting
Global Support
Education & Training
Which enterprise social relationship platform is right for you? Get the information you need to make an informed decision in our Buyers' Guide: Evaluating Enterprise Social Relationship Platforms.