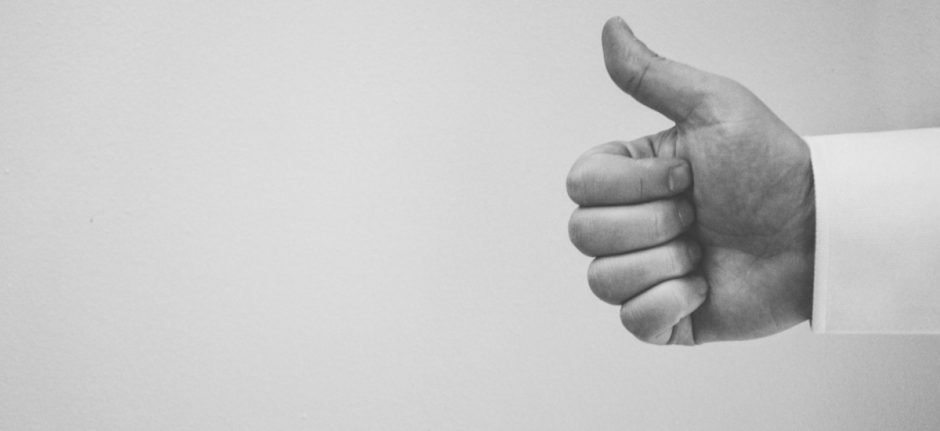 3 Things You Should Know About Facebook Pages According to Entrepreneur
Do you know anyone who isn't on Facebook? That's probably because everyone's on the platform that made social media mainstream, from your quirky aunt to your boss to your barista. Though there are numerous social networks to choose from—covering an astonishing array of niches—Facebook is the town square in which everyone gathers.
Facebook had 1.04 billion daily active users in December 2015 alone and the number of businesses using Facebook Pages climbed to 50 million in that same month (up from 40 million less than a year earlier). That's no small thing.
And if you're thinking, "Sure they're on there, but what are businesses doing with their Pages," you might be interested to know that 2.5 billion comments are made on Facebook Pages each month. In addition, 70 percent of brands say that video is the most effective for content marketing and Facebook is certainly a player in that arena—its average daily video views skyrocketed to 8 billion in November 2015.
Being on Facebook as a business is no longer optional—it's a prerequisite for doing business in the age of social media.
Rocky Vy, community marketing manager at Entrepreneur, knows all about managing Facebook for business (for a global brand, no less) and keeping the more than 2.5 million Facebook fans on Entrepreneur's main Facebook Page—the brand also operates niche Pages Young Entrepreneur, Women Entrepreneur, Inspiration for Entrepreneurs, and Entrepreneur Magazine—interested and engaged
He joined us recently for a #HootChat all about engaging your brand community on Facebook. Here are three interesting insights he shared about using Facebook Pages for business.
3 insights about Facebook Pages from Entrepreneur
1. Create an online community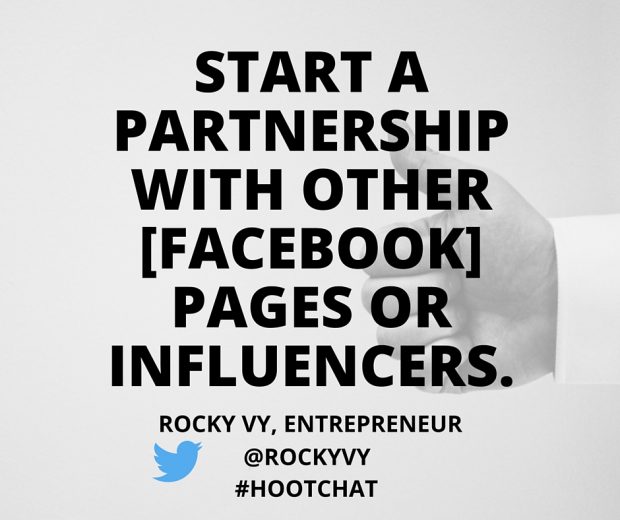 "Businesses should have some kind of presence on Facebook," wrote Vy in a series of Tweets. "You don't want to miss out on the biggest party in the world… Start a partnership with other [Facebook] Pages or influencers. Businesses can create communities in neighborhoods and should online."
In the same way that you'd cultivate a community as an individual social media user (one comprised of friends, relatives, coworkers, and acquaintances), you should create an online community for your business. Connect with other businesses—Like their Pages, add them to your Page's Featured Likes, tag them in posts, and engage with them—to create a supportive community on Facebook.
Say, for example, that you run a coffee shop. You might form relationships with your suppliers (e.g. "we proudly serve locally baked pastries made by X"), local artists whose work hangs in your shop, nonprofits whose values align with your own (e.g. you brew your coffee from fair trade beans so you've connected with fair trade nonprofits), the bookstore next door whose customers frequently grab a bevy for their book-browsing enjoyment, or other local businesses in your neighborhood—whether through an official organization (such as membership in a chamber of commerce or business association) or by simply connecting with businesses nearby and forming relationships.
Your Page's relationships can contribute depth and authenticity to your social posts, as well as adding welcome variety. Tagging the Facebook Pages of your partner organizations shows your followers what your business cares about and gives you a great opportunity to talk about something other than yourself. Also, if you show your fellow Facebook Pages some love, they'll likely return the favor, bringing your Page to the attention of a whole new group of people and maybe drawing in some new customers.
2. Engage people with your story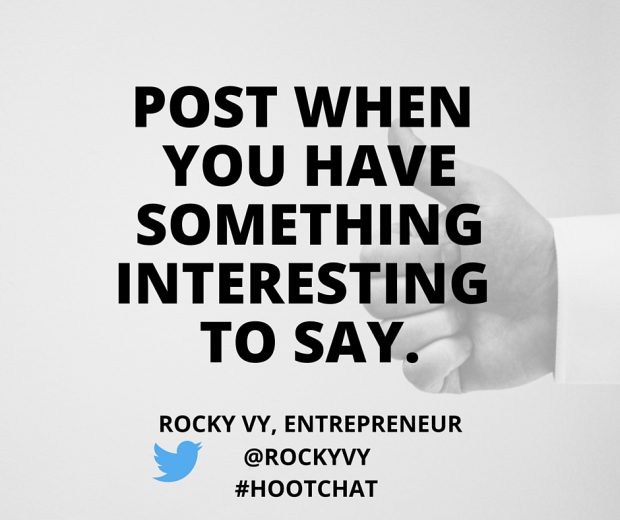 "If you want to be engaging on [Facebook], you need to have a point of view or a story," wrote Vy in a series of Tweets. "You want people to react, or feel something. You should post when you have something interesting to say… Tag people [and] Pages on your post, ask questions, be different, and reply to comments… Add Reviews and Messages to your Page. People need a place to express their opinion. And of course, respond to them! People like being heard."
People love to be told a story. Like any of your other marketing or communications activities, your social media should do a good job of telling your brand story. Are you a scrappy startup with a few employees making magic on a shoestring budget? Are you a big, well-established company that's been run by the same family for 50 years? Whatever your story is, the essence of your brand should be clear to your followers through your social posts. People are drawn to authenticity, so make your brand someone they want to connect with.
And once they do, be sure to engage them—follow up with people, respond to comments. Show that you're listening and that you care what they have to say.
3. Let the data guide your strategy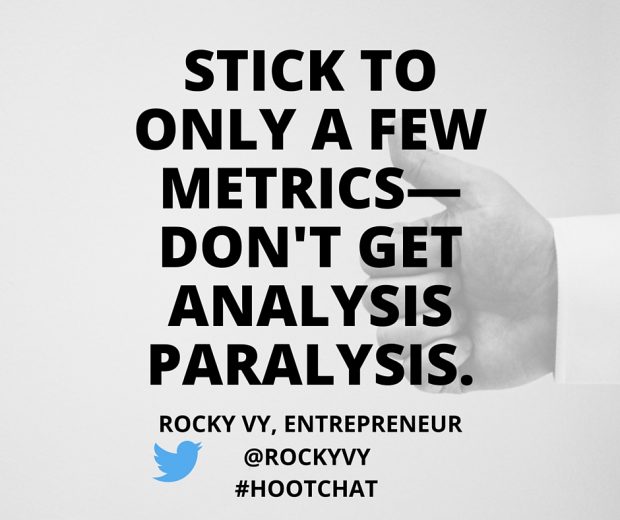 "The data you measure depends on the goals of your org or strategy," wrote Vy in a series of Tweets. "Stick to only a few metrics—don't get analysis paralysis… [Don't follow] 'trends' or other research without doing your own testing. We're all different. Experiment. Analyze. Go."
While it might not be as fun (at first glance, anyway) as social posting, your Page's data is absolutely critical to success in your strategy.
Not sure what social media data your business should track? We put together a cheat sheet of fundamental social data terms. We've also listed 26 important social media KPIs that marketers should consider. Go through them and choose a few that matter to your business.
Engage followers, manage posts, and analyze your Facebook data using Hootsuite. Try it free today!