With its ephemeral messages, addictive features, and lo-fi charm, Snapchat may be the hottest social network of 2016. It's the most recent one to stick and it's made a significant impact since it did.
A few quick (but not disappearing) facts about Snapchat: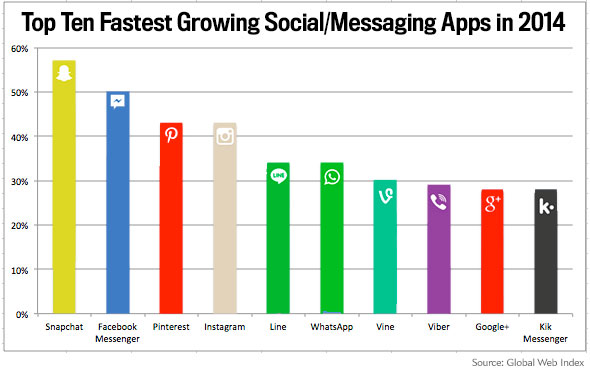 But—despite Snapchat's impressive growth and impact—many brands haven't yet begun to harness its power. There are still a lot of misconceptions regarding the social messaging app's purpose. Our own Ryan Holmes cleared these up when he explained why brands should take Snapchat seriously (hint: it's not sexting).
With the social messaging app poised to go mainstream in 2016, it's time marketers paid Snapchat the attention it deserves.
Simply put: brands need to get on Snapchat PRONTO.
Haley Overland, senior editor of social media at Chatelaine, is a social media influencer and Snapchat superstar by the name of Cheaty. She joined us for a #HootChat all about Snapchat, why brands should be on it and how they can get started.
3 insights about Snapchat from Chatelaine's Haley Overland
1. Snapchat is about creativity and innovation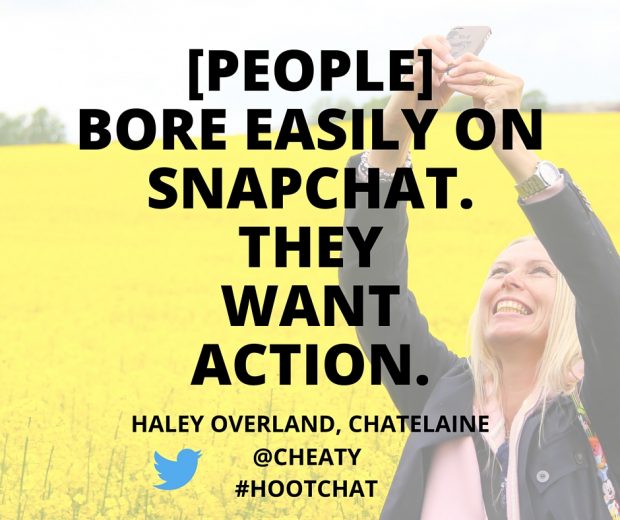 "It's FUN [and] easy to create on-the-spot, raw content," wrote Overland in a series of Tweets. "Using Snap features add personality and… [flair] to your Snaps… Corporate stuff is a no-no. Keep it LIGHT, FUN, lots of action [and] personality! While of course, staying professional, on-brand… [It] helps to have different people on the team Snap so you show a variety of voices [and] experiences… [People] bore easily on Snapchat. They want ACTION."
Snapchat is about so much more than simply sharing an image (selfie or not) or a quick video clip. The app encourages freedom of expression with a dazzling array of features to allow customization of the Snaps you send to your friends or your Story.
These features are, in fact, one of the stickiest aspects of the app. The ever-changing lineup includes: custom geofilters (great for building brand awareness), doodling tools, text, emoji, and more.

Bonus: Download a free guide that reveals the steps to create custom Snapchat geofilters and lenses, plus tips on how to use them to promote your business.
Lenses, in particular, increase the app's stickiness. Snapchat offers 10 free lenses—animated filters that can be applied to selfies—each day and the lineup changes every few days, a feature that keeps users coming back.
Overland explained: "[The] Chatelaine style team takes our Snap friends to fashion shows, parties, events. [People] can watch JUST ENOUGH to get a taste of it… BUT, you can't just take them to events, you have to use Snapchat features: the drawings, emojis, etc. Dress it up!"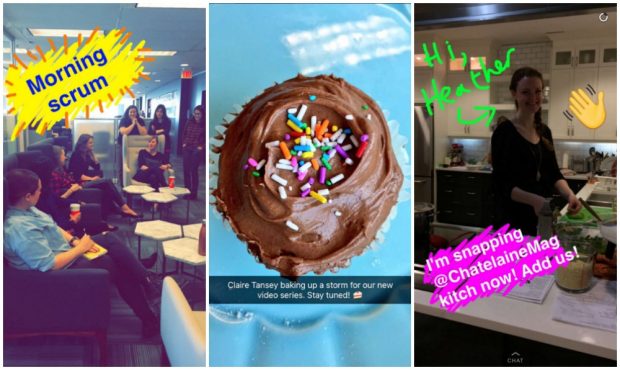 It's crucial that brands get creative with their Snaps in order to keep users watching their Story. Trying to figure out where to start? Follow power users who are rocking Snapchat and pay attention for an unofficial masterclass in Snapping.
Overland recommends following these Snapchatters for inspiration: (If you're on mobile, simply follow the links to add these accounts on Snapchat.)
Once you've figured out how to use Snapchat's regular features, go beyond and innovate new ways to use the platform.
Taco Bell has used Snapchat to run polls, asking followers to screenshot the Snap in the brand's story that represents their vote. Because Snapchat lets users know how many people have taken screenshots of the different Snaps in their Story (the number of screenshots taken appears next to an intersecting arrows symbol on the My Story dropdown) it's easy to track which of the choices won.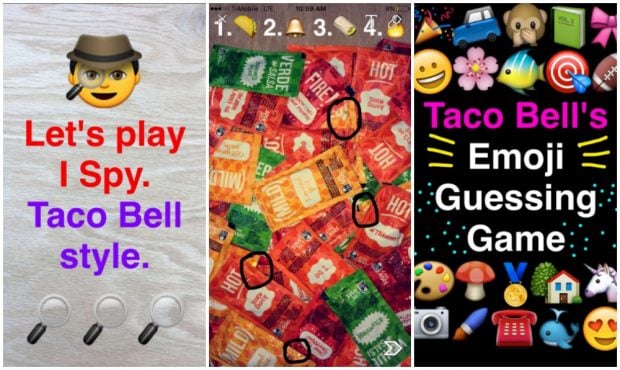 The fast food joint is constantly innovating on Snapchat. In addition to surveying Snapchat followers, they've run I spy and emoji guessing games. On Valentine's Day, they shared cheesey (pun fully intended) taco-themed Valentine's that users could doodle on and share with their friends (they even shared instructions on how to do so, a nice touch for users who might not be as familiar with the platform).
2. Leverage your audience to build your following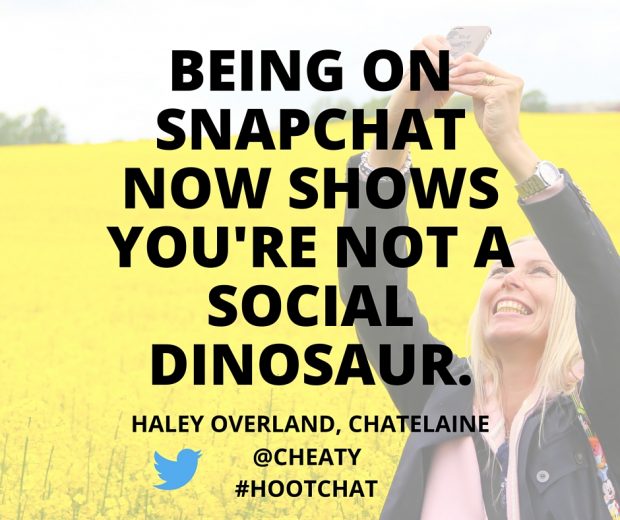 "Start building your Snapchat audience now," wrote Overland in a series of Tweets. "At this point, brands can still be early adopters—key on any social platform… Being on Snapchat NOW shows you're not a social dinosaur… [At] Chatelaine, we use other social media platforms to build our following."
Overland offers a number of suggestions on how to leverage your existing audience on other social media platforms to build your Snapchat following:
Put your Snapchat username in your bio on other social profiles
Make your account's Snapcode—the unique, scannable ghost logo given to each user that functions like a Snapchat-specific QR code—your profile image on other accounts
Share your Snapcode on other channels (like Hootsuite did when we launched our Snapchat account)
Get your unique URL from Snapchat—find it on the "Add Friends" page under "Share Username"—and share it on other platforms
Tweet, post, or share fun Snaps that you've taken on other platforms
Users can also opt to customize their Snapcode—for that personal touch—by adding an photo, logo, or even an animated Snapcode selfie.
Another tactic that can be very effective in building up your audience is to recruit ambassadors to help you spread the word about your brand's Snapchat account.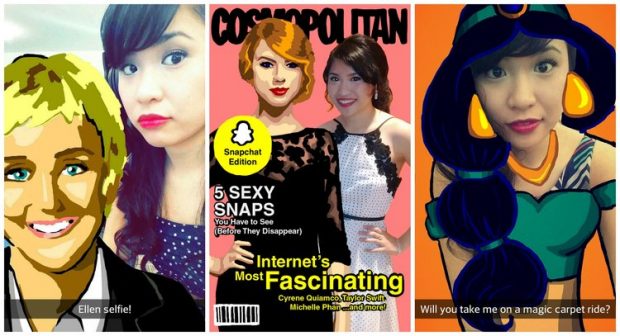 Professional artists are increasingly getting into the Snapchat game, with brands paying big bucks for them to create artful Snaps. Graphic designer Cyrene Quiamco—who goes by CyreneQ—can make $10,000 for a single Snap. She's worked with big brands like MTV, Wal Mart, Jolly Rancher, 20th Century Fox, and more. Shaun McBride—known on Snapchat as Shonduras—has created Snapchat art for Disney, Samsung, Taco Bell, and AMC, among others.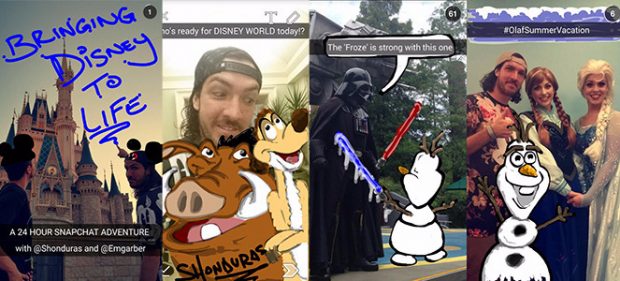 For her part, Overland (who's a social media influencer in her own right), often posts about Chatelaine's Snapchat on her personal account. She'll take a Snap, scribble Chatelaine's Snapchat username, and add it to her Story (thus exposing Chatelaine's account to a whole new group of users).
3. Don't overdo it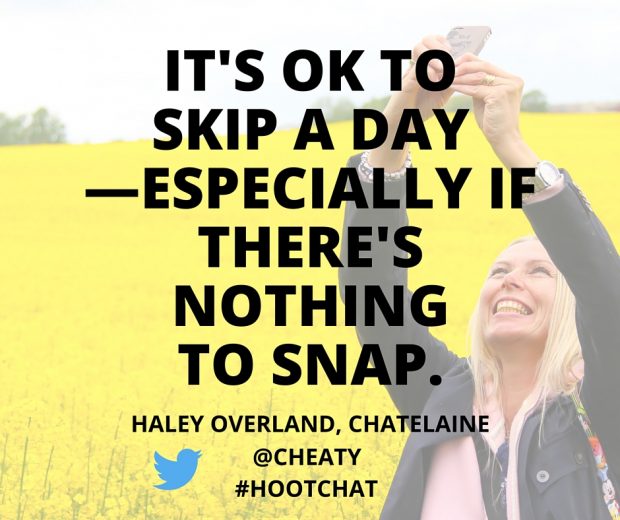 "[It's] still early days for brands, so now, Snap as often as it's convenient," wrote Overland in a series of Tweets. "You don't want performance on other platforms to slip… It's OK to skip a day—especially if there's nothing to Snap! There's no record of when you last posted, so no one's tracking… I don't think you should create video after video after video all day long. Brands should get in there but be moderate… I'd even say less is more. UNLESS an event is trending. You don't want your competitors Snapping an event you're at, etc… There's a FOMO factor. Your friends don't want to miss anything—so show them what they need to see. But not too much… No one will miss you if you skip a day or three! They're likely breezing through a ton of stories. That's Snapchat."
The ephemeral nature of Snapchat means that even public Stories aren't permanent—and that's okay. In fact, it can be somewhat freeing for brands. Unlike a more traditional platform like Twitter or Facebook—which tells visitors to your account when you last posted—unless someone visited while you've got a Story live, they won't know when you lasted posted.
This means no one's tracking you.
Because watching a Story on Snapchat is such an engaging, opt-in experience, it's crucial to make sure you're putting out good content when you do post. Rather than super-Snapping everything all the time—ultimately creating a disjointed and hard-to-watch Story—take the time to think through your Snaps. Plan your Story ahead of time so that it, you know, tells a story. That extra little bit of planning (it doesn't have to be a big event) can add a lot of cohesiveness to your finished Story.
Of course, this doesn't mean you shouldn't be spontaneous—after all, Snapchat is all about being in the moment—but always keep in mind what story you want to tell with your Snaps. And don't overdo it. Choose the moments you share carefully in order to keep your audience interested and engaged. (And remember, just because your content disappears from your Snapchat account after a specified amount of time doesn't mean it can't be saved by you or your followers.)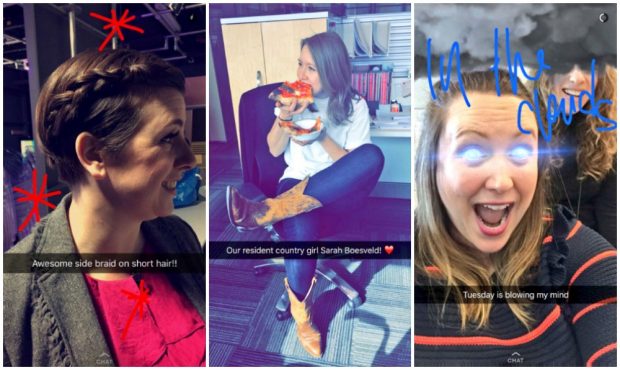 If you aren't on Snapchat already, Overland has some simple, easy-to-follow advice to help you get started: "Get your OWN snapchat account and start experimenting with your story—learn the features." That way when you do start Snapping for your brand, you'll know what you're doing!
Click this link on mobile to go directly to Hootsuite's profile or scan the Snapcode below to add Hootsuite as a Friend on Snapchat.