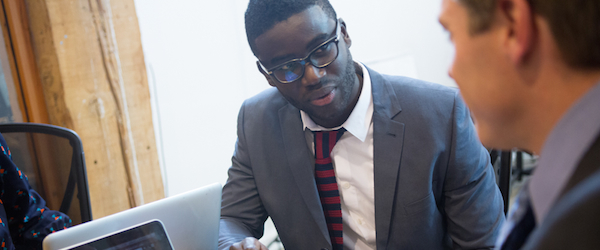 How can my organization leverage social selling? How do I get buy-in from the sales organization to use this strategy? How can I make social selling readily accepted and integrated into my organization's processes? Get answers to these questions and more at our upcoming #HSEntChat on May 7th from 9-10am PT. (More details below.)
As social media continues to evolve and mature, businesses are finding innovative ways to create further impact using this channel. And at the same time, there are some complexities to consider when implementing this strategy.
Here are 8 best practices to implementing a successful social selling strategy:
 Create a strong presence in social channels to build trust (brand and individual contributors)
Encourage team members to participate in "interest groups" or professional communities (E.g., LinkedIn Groups, Twitter, and discussion forums)
Define focused keyword searches and strategy to listen into the conversation
Respond in real-time to build engagement, brand preference, and trust
Be consistent with listening, monitoring, and engaging
Share information and expertise in an approachable and authentic tone
Look for opportunities to increase brand preference and sales opportunities
Route other types of uncovered opportunities to the appropriate team members (E.g., support issues, general questions)
#HSEntChat Twitter Chat
Join us to dive deeper into social selling and let's discuss ways organizations can impact their bottom-lines using this strategy.
When: Wednesday, May 7th from 9-10am PT
Where: over Twitter using hashtag #HSEntChat
Who: expert Darren Suomi, Vice President of Sales at HootSuite
What: Darren will share social selling best practices, examples, and insights. Participants will walk away with ways to create impact for their organizations. And we encourage you to share your views and examples in this interactive #HSEntChat Twitter chat.
In the meantime, here is a recent Social Selling Action Plan blog post that provides best practices to get started. And we look forward to hearing your experiences with social selling and any questions you would like to ask our expert. Lastly, for other best practices, check out these class offerings through HootSuite University. We look forward to your participation!