Mastering the ins and outs of LinkedIn for business isn't easy. It means going beyond the basics and picking up on the newest and most useful tricks to better engage your audience, find prospects, and build relationships with other professionals.
Even if you've been on LinkedIn for awhile, this guide will offer you some helpful tactics to make the most out of your LinkedIn presence.
Bonus: Download a free guide to discover four time-saving tools to help you grow your LinkedIn network faster. Includes one tool that lets you schedule a week's worth of LinkedIn updates in just three minutes.
8 advanced LinkedIn tactics for your business
1. Have LinkedIn send you leads automatically
This feature is a huge time-saver when it comes to recruitment. Instead of combing through the site for hours on end, LinkedIn will forward potential candidates to you automatically.
To do that you have to first create a lead profile by using LinkedIn's search function.
How to do it:
Enter your keyword in the search bar at the top of your page
Once you've entered your keyword in the search bar, select from the dropdown whether you'd like to search for jobs, people, groups, or other categories that appear based on your keyword
Click Search
On the search results page you will see the following tabs at the top of your page: Top, People, Jobs, Groups, and Schools
Select any of the tabs to view search results in that category
On the right of the search bar, you'll find search filters under Filter people by: Connections, Locations, Current companies, Past companies, Industries, Profile language, Nonprofit interests, and Schools
Once you're happy with your selections, click Create search alert and LinkedIn will send you leads based on these preferences.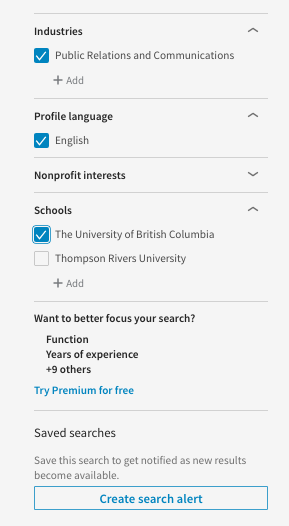 2. Keep your recruitment activity hidden
Stay hidden while you're checking out potential candidates, doing industry research, or conducting a competitive analysis.
Head to your Privacy Settings, scroll down to Select what others see when you've viewed their profile under Profile viewing options.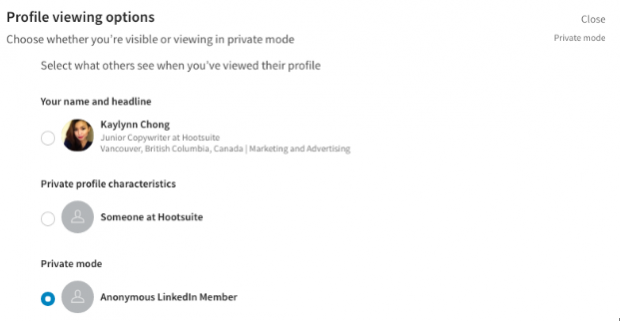 3. Use search operators for hyper-targeted results
Get better targeted results by running a Boolean search—which allows you to limit, widen, or define your search with operators such as AND, OR, NOT, and NEAR.
LinkedIn uses advanced search operators and Boolean logic to make your search as detailed as possible:
Quoted searches—For an exact phrase. For example, "senior software developer."
NOT searches—To exclude a particular term. For example, "social media coordinator NOT manager."
OR searches—To see results that include one or more terms in a list. For example, "sales OR marketing OR social media."
AND searches—To get results that include two or more terms in a list, you can use the uppercase word AND as a separator. For example, "team lead OR manager OR director." Keep in mind, you don't need to use AND. If you search two or more terms, you'll automatically see results that include all of them.
Parenthetical searches—To do a complex search, you can combine terms using parentheses. For example, to find people who have "VP" in their profiles, but you want to exclude "assistant to VP" or SVPs, type VP NOT(assistant OR SVP).
4. Personalize connection requests on mobile
When it comes to reaching out to a prospect, using the default message that comes with a LinkedIn connection request isn't the best option. Even if it's someone you met once—it's nice to remind them when and how, or what made your meeting memorable.
This feature is now available on mobile, so you can send personalized requests on-the-go.
5. Message prospects directly for free
InMail is for messaging LinkedIn users that aren't in your network, which is helpful for reaching out to potential recruits, new leads, or other connections that might be worth having. However, that helpfulness comes at a price—each LinkedIn InMail message costs $10.
The good news is LinkedIn actually lets you send up to 15 free direct messages to a prospect if you're both members of the same LinkedIn Group. That means you can send a message to any of the 467 million registered users on LinkedIn once you've joined the same group as them.
To do this, find the person you want to connect with. This might be a second or third connection, or somebody outside of your network. Scan their profile for the LinkedIn Groups they're part of and join one of them. Under the LinkedIn Group title, click on the number of members. This will open up a Members List.
From there you can find a member and use the messaging icon beside their name to send them a greeting.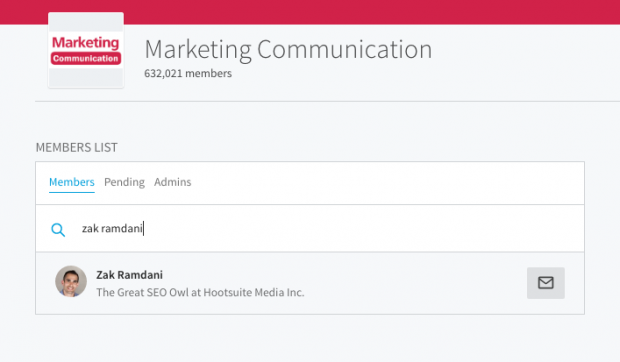 If you want to connect with a prospect without going through a LinkedIn Group or paying the $10 InMail fee, you can sign up for LinkedIn Premium.
6. Build rapport and trust with your target audience by engaging them in LinkedIn Groups
To build trust with your prospects as you develop relationships with them, become part of the community by participating in LinkedIn Group discussions. This is where you engage with other users—that means liking, sharing, and commenting on their content. The key here is to share valuable insights that will help other members in the group.
Only bring your product into the conversation once you've built a rapport with the community. A good way to do this is to ask questions that lead to your product.
For example, if we were hoping to talk about the Hootsuite dashboard, we might ask, "What are your biggest pain points when it comes to social media management?" Depending on the responses, we could explain how our product addresses one of those pain points directly.
7. Find new leads using the 'Who's Viewed Your Posts' feature
When you post on LinkedIn Publisher, you can see who's engaging with your content—whether they liked, commented, or shared your post.
Head to your profile, click on Who's Viewed Your Profile, and you'll find yourself at Who's Viewed Your Posts.
This helps you figure out who's positively interacting with your updates. Comb through these people and check out their profiles. Do some research. Do they align with your business' buyer personas? Do they live in the same area as your consumer base? Do they qualify as a prospect?
If you find someone that looks like a potential lead and you're not already connected, send them a personalized connection request and thank them for acknowledging your post. This post featured in LinkedIn Tips suggests:
[NAME], thanks for sharing my article, [subject or title]. I appreciate your spreading the word on it. Because we have a mutual interest in [subject], I'd like to connect here and explore ways we may be able to work together. I hope you agree.
– [YOUR NAME]
Keep a few templates like the one above handy when it comes to reaching out to these warm prospects.
8. Use your company page as a landing page
If there's anywhere on LinkedIn that's acceptable to talk solely about your business, it's your Company Page.
Publish product updates, new releases, and videos that demo your product. Wrap it up with a clear call-to-action in your LinkedIn summary. This is an opportunity to connect with potential clients and drive traffic back to your website, company blog, or an article that talks more about your brand.
Get ahead of the game and manage your LinkedIn presence with Hootsuite. Use Hootsuite to find and engage prospects, discover your next employee, and measure the impact of your efforts in real-time. Try it today.