One surefire way to save time and money is to use AI customer service in your business. If you're like most business owners, you're always on the lookout for new and innovative ways to better your business. We're here to tell you AI customer service is a quick and easy win.
In this blog post, we'll explore 10 ways an AI customer service chatbot can help your business grow. So whether you're looking to reduce costs, increase efficiency, or simply provide a better customer experience, read on to find out how AI can help.
Bonus: Get a free, easy-to-use Customer Service Report Template that helps you track and calculate your monthly customer service efforts all in one place.
What is AI customer service?
AI customer service is an artificial intelligence system that interacts with customers on behalf of a company. The AI system is programmed to respond to customer queries and requests, and it can simulate a human conversation by using natural language processing. Often, this takes the form of customer support chatbots and customer self-service tools.
That being said, AI technology can also be used for customer service, but in a more adjacent manner. For example, brands can use machine learning to analyze customer data. Then, they can use that data to better serve an audience.
Globally, the AI market is projected to reach over half a trillion USD by 2024, climbing as high as 1.5 trillion by 2030. AI technology continues to grow in popularity. As it does, customer service AI is becoming increasingly common, and more potential use cases are becoming apparent.
10 ways an AI customer service chatbot can improve your business
For many businesses, using AI for customer service is a surefire way to get a leg up on the competition.
With it, companies can save money on customer support costs and improve the efficiency of their customer service operations. And AI customer service can help to improve the satisfaction of customers by providing them with a more personalized experience.
Here are 10 ways your customer service AI chatbot can enhance your business!
1. Provide customer support in multiple languages
When you give your chatbot multilingual capabilities, you're opening up your audience in a big way. Being able to speak to people in their preferred language is a pro move when it comes to customer service. There are four main reasons why you need a multilingual chatbot:
Customer engagement: People are far more likely to engage in their preferred language. It can be intimidating to speak in a language you aren't comfortable with. Give customers the option of communicating in their preferred language and watch them engage.
Sales potential: 72% of shoppers are more likely to buy a product when offered in their preferred language.
Customer loyalty: Would you rather shop in a place that spoke your language or a place where you weren't understood? Case in point.
Competitive edge: Ramping up your digital customer service can give you a leg up on the competition. Offering customers instant service in their preferred language is one easy win.
Source: Heyday
2. Answer repeat FAQs and save your team time
Customer service FAQ chatbots have a ton of benefits. They free your internal team up from responding to repetitive questions, giving them time back for skilled work. With an FAQ chatbot, you can watch your office productivity spike and your internal team satisfaction rise.
Source: Major Tom
3. Gather customer demographic information
Every time your chatbot has a conversation, it's gathering information. Your chatbot's analytics can provide you with valuable insight into your customers. This data will help you understand who your customers are and what they want.
With your chatbot analytics in hand, you have the potential to improve your customer experience strategy.
This data may be able to help you understand where your customers' friction points are. Is there something people are always complaining about or asking for? Find it, and fix it! Are customers always asking about a product improvement? Again, a golden opportunity to give people what they want!
4. Personalized shopping support
Any opportunity to further your customer's down your sales funnel should be seized. Often, when you implement AI for customer support, you're enabling a personalized shopping experience.
AI-powered chatbots use machine learning to better understand customer queries. If a shopper gives the AI chatbot a few prompts, like "I'm looking for blue suede shoes," the chatbot can navigate your catalogs and find the product for them.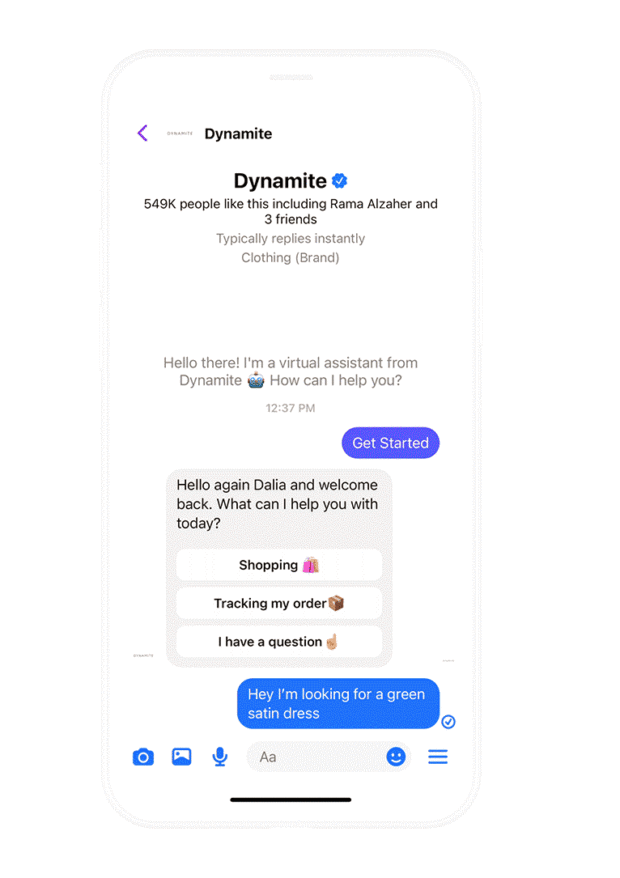 Source: Heyday
AI can observe your shoppers' browsing behavior, then offer similar products it thinks your shopper might like. And if shoppers are having a difficult time either finding or understanding a product, chatbots can provide a solution for them.
5. Convert deals and upsell
AI-enabled bots can track your customer's shopping patterns. Are shoppers often buying two products together? Your chatbot can upsell those product combinations to new customers. Or you can program your chatbot to prompt a popular service offering to customers.
Source: Oaky
You can also program your chatbot to advertise deals for you. This can be particularly useful in the weeks leading up to big ecommerce days like Black Friday or Cyber Monday.
6. Anticipate trends
There is plenty of data out there. With enough time, effort, and brain power, you can predict the future trends of your industry. But who wants to sit around analyzing data? You've got better things to do, like running your business.
AI can do the analytics for you. AI can crawl the massive amount of data available on the internet and create predictions for future trends.
AI technology can give brands the opportunity to be proactive in their product offerings. If you could accurately predict the trends that were going to affect your industry, you would be able to plan far in advance.
7. Book in-store appointments
A front desk concierge is no longer needed when you have AI-powered customer support. You can use this technology to book in-store appointments for your customers, cutting down on your labor costs.
8. Improve customer wait times
With an always-on customer service chatbot, your customers no longer have to wait in line for service. Long wait times will frustrate your customers. Many people would much rather schedule a callback than wait on hold.
9. Improve customer retention
Nothing loses customers faster than a frustrating experience. In today's competitive digital market, customers have tons of choices. If you make things difficult or frustrating for people, they'll just go to your competitor.
An AI customer service chatbot can help to retain your customers by answering their inquiries immediately or helping them find what they need. These chatbots can make the customer journey that much smoother.
10. Provide a consistent user experience
A chatbot is programmed by you and uses machine learning to become more proficient at its job. This means that the end user is only presented with an experience that you've designed. Chatbots don't have bad days or lash out when frustrated.
By using the same chatbot across all of your brand's channels, you can provide a consistent user experience every time, anywhere.
What are the benefits of using AI for customer support?
You can think of AI as one of your star customer support team members. They're always available, never complain, and are hyper-organized. Read on for a full list of benefits you'll get when using AI for customer support!
AI is "on" 24/7
With AI-powered chatbots, you have an always-on "employee" available to your customer base. The always-on nature of chatbots means that your customers reaching out for support are taken care of, no matter what time of the day or night it is. And you don't have to subject a human (or yourself) to take calls in the middle of the night to achieve it.
AI saves your team time so they can focus on bigger tasks
When the menial, repetitive tasks like answering FAQs are taken care of, your human team can focus on complex tasks. Without the necessary evil of responding to common customer queries, your team can look at ways to expand your business.
These complex tasks to grow your business can take many different forms. Perhaps it's an increased focus on maintaining positive customer relations. Your team could spend time coming up with a list of top clients or customers, then reaching out to them to offer to thank them for their loyalty with a discount or incentive.
AI saves money: one chatbot vs. a support team
AI-driven chatbots are incredibly cost-effective. Because they're so adept at automating tasks, one chatbot can take on work normally done by several humans. By spending the money to install a high-quality chatbot (emphasis on quality), you'll save on labor costs in the long run.
High-volume queries are done and dusted
Picture this: Shipping due to supply chain issues has been delayed during the holiday season. You have hundreds of queries about shipping times from frantic customers. Instead of painstakingly replying to each individual request, your AI-powered chatbot responds to each and every person as soon as they reach out.
Your customers feel seen, your response rates are excellent, and the holidays are saved. Chatbots can automate high-volume queries, only forwarding complex questions that need to be taken care of by an actual agent.
AI can improve your customer support process
AI chatbots can help to improve your customer support process. As previously mentioned, they help to reduce wait times and can act as personal shoppers. You can also program them to speak to your customers in a delightful way or give them a friendly avatar.
Source: Heyday
AI gives your team more context into customer inquiries
AI-driven chatbots can keep a history of the customer's interaction with your brand. Then, if they contact you again or need to speak to an agent, your company representatives can use the conversation history to better serve them.
Conversational AI makes your customers feel at ease
One of AI's greatest strengths is its ability to mimic human behaviors. Conversational AI can provide natural, human-like communication to your customers. Often, it uses natural language processing to achieve this.
It might sound odd, but conversational AI can, in some ways, make people feel more at ease than speaking to a human. People are unpredictable, while chatbots aren't.
Every conversation is one place
If you (like most modern businesses) have more than one digital touchpoint, it can be frustrating to switch back and forth between platforms to answer customer queries. When you use a platform that uses AI for customer support, everything will likely be collated in one place. If not, you may want to rethink your AI offering.
One benefit of this approach is that you can take a look at your communication dashboard and get an idea of all the conversations happening at once.
Source: Heyday
AI can create more accessibility
Giving people contact options for your business increases your accessibility. Not everyone can or wants to hop on a phone call and chat with a customer service representative. Give people choices when it comes to being able to contact you, and you'll be able to better serve an underrepresented sect of society.
Bonus: Get a free, easy-to-use Customer Service Report Template that helps you track and calculate your monthly customer service efforts all in one place.
AI for customer support allows consumers a quick and reliable way to communicate with your business. It allows your business to address their needs immediately while giving them the freedom and flexibility to respond when it's most convenient for them.
AI can help coach your customer support team
Some forms of AI technology can detect certain keywords and then respond with prompts. You can program AI to provide your internal team with answers to difficult questions. Dialpad's real-time Assist (RTA) cards, for example, pop up on their agents' screens when callers ask specific questions.
Source: Dialpad
AI can work with object detection
Object detection can identify objects in an image or video, typically using machine learning. When you combine object detection and AI, your customers can potentially provide a photo of a product they like and have your AI program look up products similar to it from your catalog.
Source: Viso
Engage with shoppers on social media and turn customer conversations into sales with Heyday, our dedicated conversational AI chatbot for social commerce retailers. Deliver 5-star customer experiences — at scale.
Turn customer service conversations into sales with Heyday. Improve response times and sell more products. See it in action.
Free Demo