It's App-y Hour at HootSuite ~ News Roundup

Happy New Year – we hope you had a great holiday season filled with lots of happy hooting! Owly had a nice vacation, and is back and ready for a big 2011.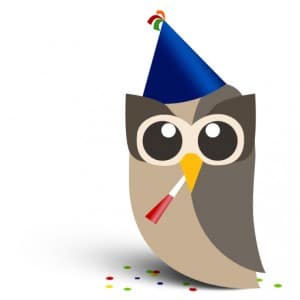 The HootSuite App Directory is coming along nicely, and still on pace for launch early this year. There is a lot of excitement in the development community and we'll have some big announcements to share with you soon.
You may remember the news about the App Directory in December – briefly, we previewed the popular Salesforce Chatter and Lead Scoring Apps, and released Ning as a live preview of what you can expect to see from the App Directory. These announcements certainly garnered some attention, and in case you missed it, here are some highlights of the coverage and feedback.
Chatter about Chatter
The Next Web – SalesForce.com Chatter Coming to HootSuite
Imagine having a team chat built into your regular information tool? At TNW we, of course, have lots of tools to help us keep up with the news. Twitter is just one of them, but we have a back channel as well. We're always looking for new solutions to explore. Maybe SalesHootChatterSuite might be just the ticket.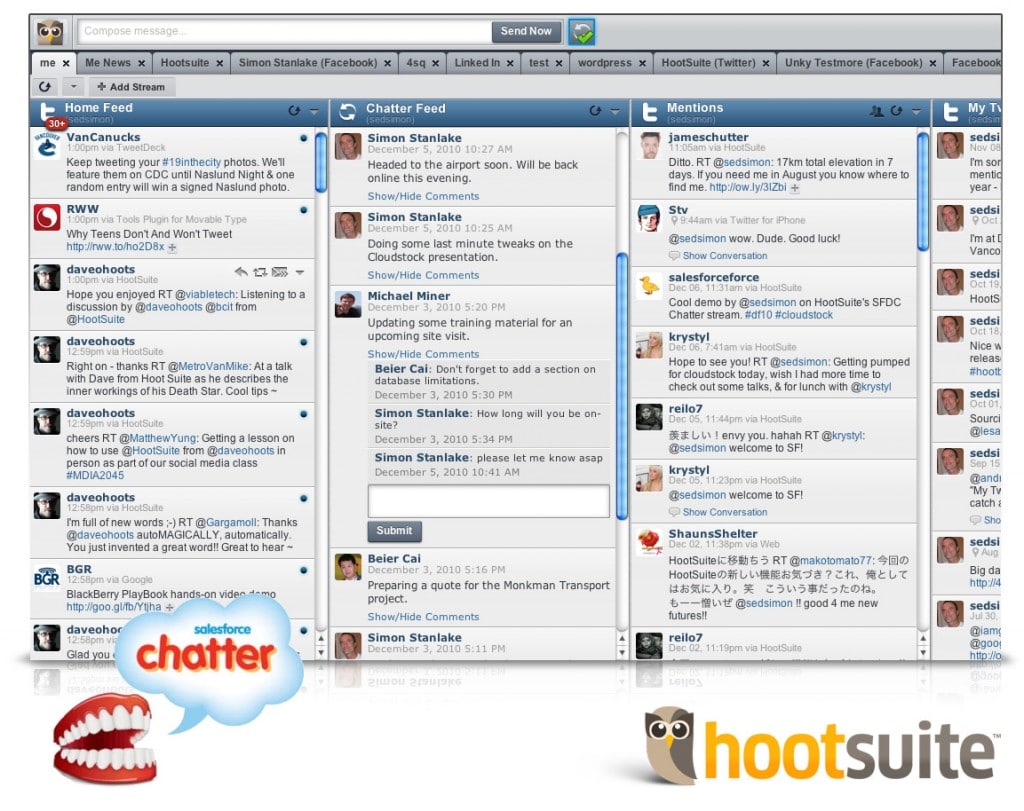 Techvibes – Vancouver's HootSuite Collaborates with Salesforce, Integrates Apps into Dashboard
Today at Dreamforce, HootSuite CEO Ryan Holmes revealed a preview of the upcoming Salesforce integration into HootSuite. This integration will tie into the HootSuite App Directory launch, which is slated for early next year.

This is a big feat, considering how huge Salesforce is. HootSuite has come far in its short life.
Read Write Web – 3 Services That Leverage the New Salesforce REST API
HootSuite is a Twitter client that has focused on building an app platform. In November, the company announced a new API and App Directory. HootSuite now integrates with Salesforce Chatter via the API. That means a user may view a Twitter stream and Chatter in the same interface.

HootSuite is a natural fit with Chatter. Both use the same river of news style. And both have a direct tie in to the fast adoption of social technologies in enterprise and business settings.
Sing-ing Praise for Ning
Social Media Examiner – This Week in Social Media: The News You Need to Know
With this integration, the 1 million HootSuite users can now broadcast to Ning's participants – which number upwards of 70 million users across 80,000 social websites – and connect with them on the topics they are passionate about. Will you find this new feature helpful?
Blogg-ing with Ning
Ning invited us to a special guest blog post on the Ning blog which explains the HootSuite / Ning integration. The post provides five things you can do with HootSuite today to help build and nurture networks and communities.
Broadcast over Multiple Services…
Monitor Member Activity…
Better Manage Multiple Services…
In-Depth Analytics…
Collaborate with Teams…
We were happy to contribute to their blog and share helpful tips about using Ning in the dashboard to build your audience. And we thought this would be a great time to let you know that even more exciting tools are on the way.
More 'Appiness…
The Next Web – Build Apps for HootSuite with App Exchange
Twitter might want to become a service platform, but it looks like HootSuite wants to become the app platform of choice for Twitter clients. HootSuite announced today a new API and App Exchange to allow other providers and developers to build specialty add-on applications for HootSuite…

Real time chat integrated into my Twitter client? Maybe connected to GoogleTalk? That would be cool and it would eliminate an app I need to run. Connect to FriendFeed? Another. Really good alerts and Growl integration?

The more tools that HootSuite can replace with add-ons and still not bog down the app or clutter the interface up. The more people who will use it.

And keep using it.
From the Twitter-sphere
@andybryant: Great development for Social CRM: HootSuite to integrate Salesforce Chatter & Lead Scoring
@cozimek: @salesforce Chatter + @hootsuite = happy businessman.
@nmwallace: Yeah!! Wooohooo! HootSuite blog – Social Media Dashboard » Ning Social Communities Added to HootSuite Dashboard
@kentanjo: Talk about going social! Two powerful tools to engage online public: Ning and HootSuite
Stay Tuned
There's more exciting news to share in the coming weeks regarding the HootSuite App Directory. Make sure to follow @HootSuite_Apps to stay up to date with all the latest.
If you have an idea for an app to add to the HootSuite dashboard, share it with us in the Community Feedback Forum. For early launch consideration, developers can apply for API access.