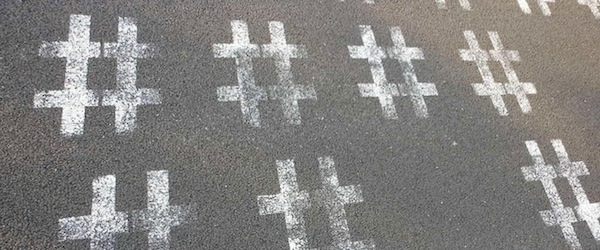 Are You Pro or Anti-Hashtag? Question of the Week
Hashtags: we love them, we hate them, we love to hate them and hate to love them. Because hashtags are such an ingrained part of the tech culture, it's tough to find someone who doesn't know what they mean, or even more-so, doesn't use them. They recently were added to the Oxford dictionary and can be inserted anywhere within a sentence.
Once upon a time they were only found on your phone (remember that pound sign?), but now have a place on most popular social networks, including Twitter, Facebook, Google+, Instagram, Vine and Pinterest. The hashtag is likely the most popular means of categorizing content on social media. It makes your own content discoverable and allows you to find relevant content from other people and businesses.
The hashtag also allows you to connect with and engage other social media users based on a common theme or interest. But when it comes to hashtags, we've found that there tend to be a lot of do's and don'ts. For example, the quantity of hashtags — how many is too many? As well as frustrating other users, the misuse of hashtags can even lead to account suspensions (in really extreme cases).
Since there is so much controversy surrounding the use of hashtags, we decided to ask our Twitter followers if they were Pro or Anti-Hashtag, and why?  We received a ton of great answers, a few of which even surprised us!  Let's take a look and see what our followers thought about the usage of hashtags:
Pro but within reason, some go #hashtagoverboard! "@hootsuite: Are you pro or anti hashtag? Let us know your opinion!" — Kim S (@kimspight) August 23, 2014
@hootsuite pro-#hashtag all the way! — Ray Dennis (@raydennis) August 23, 2014
@hootsuite PRO, as long as it's not dominating the tweets, that's just ridiculous. #hashtag — Carl Zetterberg (@carlzeta) August 23, 2014
@hootsuite Pro, but only if they're relevant and used sparingly. — Girl Friday (@hellogirlfriday) August 23, 2014
@hootsuite pro without overload #hashtag — James Hardcastle (@JwrHardcastle) August 23, 2014
@hootsuite Anti on Twitter mostly. I very rarely use hashtags, even more rarely click and read them. People use way too many tags. — Mervi Eskelinen (@tasselflower) August 23, 2014
Whether our followers were pro or anti-hashtag, all of them were worried about overloading. #nobody #likes #a #status #that #looks #like #this #so #please #just … #dont
Our favorite though?
I'm pro hash browns! RT @hootsuite: Are you pro or anti hashtag? Let us know your opinion! — Slakingfool (@slakingfool) August 23, 2014
Aren't we all @slakingfool, aren't we all.
Do you have an opinion on the use of hashtags? Join the conversation and let us know what you think in the comments below!