Batch Scheduling and Feature Trials ~ HootSuite Release with Something for Everyone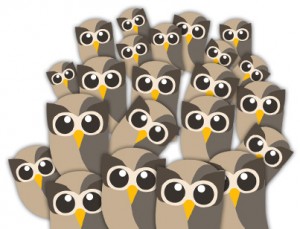 The Owls at HootSuite Headquarters have been working overtime to continue to bring new updates and developments for all HootSuite users.
Today, we've got a bevy of new treats that should make all HootSuite fans very happy. With a hat tip to the Hootfans that vote and post feature suggestions on our feedback channel, we're pleased to provide a new round of features for your HootSuite dashboard.
Upload and Schedule More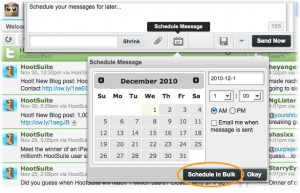 First off is batch scheduling of social updates. This allows you to pre-create a batch of up to 50 updates in a text file or spreadsheet. Include the text, link and delivery times, then upload the plan and let HootSuite process your requests.
This new method of message scheduling is especially powerful for agencies and marketing departments managing complex campaigns. Now you can schedule your key messages and move on to the next step of your plan.
This feature is included in the Pro plan and was a popular topic in the feature request channel.
Fresh new Refresh
Another one of the of the most most requested features is now included in the dashboard. Now, when you are active in a stream, your timeline of messages won't bounce up upon refresh. Instead, you'll stay in place in the stream and see a visual indicator when new Tweets are available. No more losing your place in the stream when messages refresh!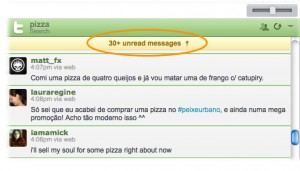 If you are not active in a stream, the messages will refresh as usual. Keep in mind you can also change the refresh rate to suit your preferences – just click the pull down menu at the top left corner of the tabs to select an interval time or set to manual refresh.
Features on Trial
Next up are 7 day trials of each of the Pro features allowing you to test each new Pro tool on an ad hoc basis. These include: Facebook Insights, Google Analytics, Klout filtering, URL parameters, and more – including the new batch upload tool.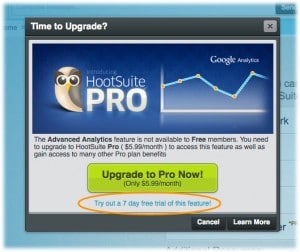 Try testing the new features on a special project to see which ones you enjoy the  most. If you like what you tried, perhaps you'll choose to go Pro to upgrade your social media management toolkit. Not so handy for you? No problem – once you've finished testing, simply move on to the next tool test. To start a trial, just click a feature, follow the prompts and you'll be activated for week of fun.
Help Your Friends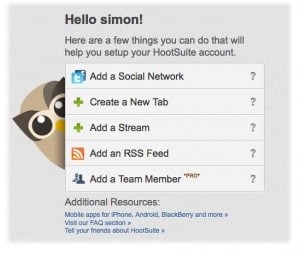 Many of you HootSuite enthusiasts tell your friends and colleagues about HootSuite and we really appreciate you spreading the word. To make it even easier for your friends to come on board, we've added two handy helpers.
First off, new users will see a Quick Start tab to help make set-up a breeze by showing how to add social networks, RSS feeds and team members, plus they'll learn how to create tabs and streams.
In addition, new users will be offered Jump Start emails – a series of 7 simple guides designed to introduce the core features and point to helpful resources including the article-loaded Help Desk and the active Community Support Forum.
Of course experienced users are always welcome to use the resources too — remember to visit the Help Desk for how-to articles, the Community Support Forum to discuss ideas with other HootSuite fans, or suggest new features at our feedback page. Plus follow @hootsuite_help for handy tips and quick answers via Twitter.