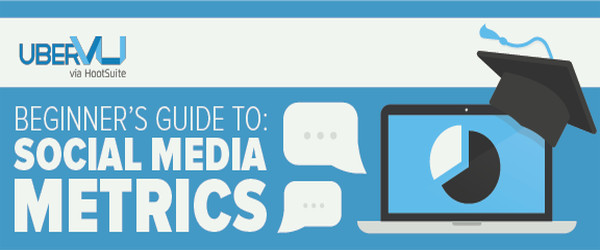 The Beginner's Guide to Social Media Metrics: Measuring Mentions
Social media can be an incredibly important tool for your business. But it can also be overwhelming. You're following what's being said about your industry and brand, your team is trying to produce and share great content, you're interacting with customers, finding prospects and you're trying to make sense of it all. The biggest question you're most likely trying to answer is if your work in social is helping you achieve real business results. To find out, you need to measure your efforts by tracking the right social media metrics.
Not sure where to start? This is the first of seven parts to our Beginner's Guide to Social Media Metrics done by the UberVU via HootSuite Team. In this series, we'll break down the social metrics you should be tracking, describe how to measure them, and most importantly, explain how you can use them so you never miss out on important insights. If you really want to go from beginner to metrics pro, stay tuned for our full white paper.
Today, we'll kick things off with social's building block metric: Mentions.
Social Mentions
The first social metric you need to track is volume of mentions, which is the size of a conversation. Depending on your job role or function, you'll want to track mentions for several different keywords such as your company, brand name, product or service, industry, the competition or a particular market term. This will give you a complete picture of the social conversations that matter most. Mentions are simply the number of times the term or phrase you're tracking was used across social media, helping you understand just how much (or little) attention the subject is receiving in social.
How to Measure Mentions:
Mention volume is a simple (but tasking) counting metric. You can invest in a social media marketing platform that will automatically track the number of mentions for a specific search term for you. Or, you can count tweets, wall posts, etc.
How to Use Mentions:
Establish a Baseline

Track mentions in recurring time periods (daily, weekly, etc) to establish the typical volume.
Record benchmarks so you can accurately measure growth over time.
Take Action
Find the right windows to engage. Are there certain days or times when mentions increase?

Marketing should rearrange its content schedule to capture the attention of an active audience.
Customer service and sales should be online and ready to engage with clients or prospects.

React to spikes in mentions.

PR should investigate a spike in brand mentions as it could signal a positive brand story they should amplify or a negative one they'll need to get ahead of to prevent a potential crisis.
A product team needs to understand the cause for a surge in market terms or features and evaluate how or if they need to react.
Marketing should prepare competitive positioning when top competitors see a surge in volume.

Use mentions to track if campaigns, product launches or other initiatives are gaining traction. Did mentions increase after launch? Are they remaining stagnant? Monitor mentions closely and consider making tweaks if you're not seeing a reaction.
There you have it. Mentions: step one to measuring social media. For our next Beginner's Guide post, we'll break down sentiment.
Track mentions and spikes in volume with uberVU via HootSuite.