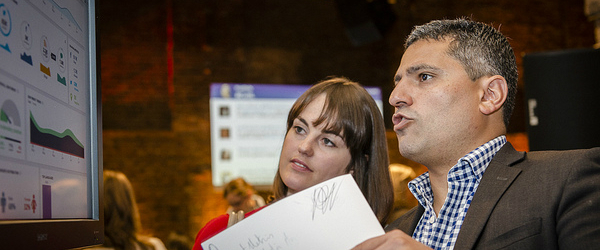 Boost Sales and Grow Client Relationships with Social Data
A major challenge to sales and client services teams everywhere is the rise of the hyper-informed consumer. Consumers now have access to a vast amount of information online, enabling them to do their own research before making purchases. From picking the perfect running shoe to choosing the right cloud service, and everything in between, people are turning to social networks to leverage their peers' advice and reviews.
Forrester reports that 70% of the buying process in a complex sale is already complete before prospects are willing to engage with a live salesperson. And this isn't limited to B2C companies— two-thirds to 90% of the buying cycle is completed before a B2B buyer ever speaks with a sales rep. This is why it's so important for your sales team to understand the role social media plays in the purchase process. And the value of social data doesn't end after a sale closes. Once these well-researched consumers are customers, your client services teams needs to understand their challenges, why they chose your product or service and be prepared to guide them on the best ways to hit their goals.
Social listening and analytics can be powerful tools for your sales and client services teams to stay ahead of the hyper-informed consumer. By bringing you closer to your customers (and prospects) than ever before, social data can help you understand their wants and needs, aid important tactical decisions and find social selling opportunities.
Not sure where to start? Join us for How Hootsuite Uses Social Analytics to Win New Business, a webinar featuring experts from our very own sales and client services teams.
Social Data Made Simple: How Hootsuite Uses Social Analytics to Win New Business
DATE: Wednesday, April 29, 2015
TIME: 11:00 AM PT / 2:00 PM ET / 19:00 BST
Learn how you can use social analytics to gain a competitive edge, close more deals and retain existing customers. Plus, we'll provide real examples and practical use cases, leaving you with an action plan for improving your own results.