3 Ways Hotels (and Other Businesses) Should be Using Social Media

This post is part of a special series of contributed posts by Joel Windels, Lead Community Manager at Brandwatch—one of the world's leading tools for monitoring and analysing social media. Joel will be investigating and uncovering the various ways that social media meets business, and providing you with insight and advice on how to make social work for your industry.
3 Social Media Marketing Strategies for Hotels
Social media is tearing up traditional notions behind marketing and sales across all industries. Nowhere has this been more dramatic than in the hospitality and service sectors.
Online review sites like Yelp, Trip Advisor, and Google's aggregations have given rise to peer-to-peer conversations and assessments of hotels, restaurants and other services on a scale never seen before. This explosion of public expression has left many establishments scrambling to regain control of their products and image. The fact is, they have little choice but to engage by keeping up with the online trends.
And there are many examples of innovative businesses that have effectively started embracing business trends like social media. One such name is LateRooms, Britain's leading online accommodation specialist. LateRooms is a unique service that lets hotels around the world sell their empty rooms at reduced rates—meaning huge savings for consumers.
It's an enticing opportunity for deal-seekers, and the website receives an average of 230,000 unique visitors daily. LateRooms currently offers special rates on over 50,000 properties across the globe, and hosts over 1.5 million reviews on its website.
Here are three ways that LateRooms is using social media to benefit their business:
1. Take customer service to the next level, by listening to online conversations, then being proactive.

Customer service is an integral factor for success in the hospitality industry, so LateRooms uses tools like Brandwatch to listen carefully to online conversations mentioning their brand. Then, they actively reach out and respond to people online. Whether it's a user complaining on a specialist forum or a group of people on a popular social network like Twitter exchanging information on the latest offers, LateRooms tries to address them through personalized and helpful messages.
For example, recently the social media team at LateRooms saw that there was a disparaging forum thread in which a previous customer was strongly advising anyone against buying anything from them. They immediately then found the customer's details in the system and the customer service team contacted him directly. The issue was resolved and the customer was so pleased with how it was dealt with that he removed all previous criticism from the forum, and the thread was eventually deleted.
Instead of missing and ignoring the post, the team at LateRooms was able to pick this up early on and respond in a way that satisfied the customer, ultimately turning the incident around into something positive.
LateRooms uses tools like like Brandwatch and HootSuite to diligently listen to and monitor mentions of their brand and products—to be proactive in their customer support.
2. Offer clients value and engagement, and see your sales grow. Become a thought-leader in your industry by using social media.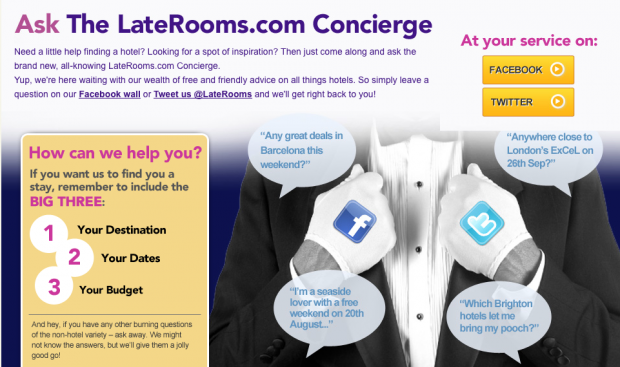 Taking full advantage of social media, LateRooms recently launched their 'Concierge Service'. This unique consumer-centric platform helps to establish the company as a thought-leader and advisory expert in their market.
The Concierge Service is a fun online go-to Q&A service that lets people publicly ask the LateRoom team about their services and products through networks like Twitter and Facebook. Then LateRooms personally responds to these queries with useful, relevant input. They also jump into discussions happening on these popular social networks and comment.
By chatting with customers in such a direct and personal way, and doing it all on a public forum, LateRooms' Concierge Service has become a valuable resource for people online, who are looking for advice on planning trips.
The results can be amazing: Of all the inquiries LateRooms Concierge Service deals with, a stunning 30 percent go on to become sales. With that statistic, it's not hard to prove solid ROI on their social media efforts.
3. Use social media for targeted marketing and building new business relationships.
Another effective way LateRooms is embracing social media is through targeted marketing. How? Well recently while they were analyzing online conversations around their brand, the team noticed an unusual spike in chatter in a particular community called Blonde Poker.
Looking closely at the site and traffic statistics, they recognised it as a high-profile site and decided it was a great opportunity to partner with the site for display advertising and other marketing initiatives. They contacted Blonde Poker and have since swiftly built a relationship that delivers relevant and targeted traffic to LateRooms.com
LateRooms is using online listening and social media to find potential allies and partners that will benefit their brand. Don't miss out on opportunities to identify, and reach out to others who could become valuable allies or partners. Social media has opened up a whole realm of possibility for open-minded and collaborative brands.