Are you curious to find out how bad it would really be to buy TikTok comments? We get it.
Crafting the perfect TikTok takes time, creativity, and a willingness to risk public humiliation. So when your efforts are met with radio silence? It cuts deep.
You're not asking for much! A clapping hand emoji here, a 'u dropped ur crown' there; a sign, any sign, that someone out there is watching and feeling something. It's not just vanity: the number of comments on your TikTok video is a positive metric to share with your boss or potential brand partners, and prove to your parents that this is a real job, thank you.
Which leads us to this article, AND this video, about buying TikTok comments and followers:
Bonus: Get a free TikTok Growth Checklist from famous TikTok creator Tiffy Chen that shows you how to gain 1.6 million followers with only 3 studio lights and iMovie.
Why do people want to buy TikTok comments?
Besides personal validation, there's the rumor that videos with more comments are favored by the TikTok algorithm. A robust comment section could be just the boost you need to achieve TikTok stardom.
It's no wonder people are tempted to throw money at this problem. Google "buy TikTok comments" and you'll find a whole cottage industry dedicated to providing faux validation at the click of the button. Spending a few bucks on one of these websites can score you hundreds of comments, and with 2 billion TikTok users out there to compete with, a shortcut to success like this seems pretty darn appealing.
But, as basically every fairy tale and episode of Deal or No Deal has taught us, instant gratification usually has a catch. The likelihood that you can buy lasting TikTok success seems prettttty slim.
But you know what we say here at Hootsuite Experiment HQ about assuming: "Put the security of your credit card at risk and find out first hand!" That's right: I'm going black hat and splurging on TikTok comments so you don't have to!
Are there any benefits to buying TikTok comments? Or am I risking my TikTok reputation and throwing away $200 I could've spent on specialty Twizzler flavors?
Hold onto your butts, here we go!
How to buy TikTok comments
Buying TikTok comments turned out to be as easy as any other online shopping experience (for instance, purchasing a personal home body-sauna).
Just google "buy TikTok comments," pick the least sketchy-looking website, and select the quantity of comments. Share the URL of your video and punch in your credit card number, and then kick back and wait for the dynamic conversation to begin.
In exchange for your hard-earned cash, you'll be inundated with comments on the video of your choice. This usually happens within just a few minutes, though some of the more savvy sites promise to dole out the commentary at a slower, more natural pace to avoid arousing suspicion.
That being said, I'm not sure that there's really any speed of delivery that would make these highly engaged commenters look authentic. I bought TikTok comments for an experiment; I found that these comments came from incredibly suspect accounts and had almost no relevance to the video. Many weren't in english. Plenty were nonsensical. Most were random emojis. It was, to put it gently, a mixed bag. (To put it non-gently: a mixed bag of garbage.)
Where to buy TikTok comments
When I went shopping for TikTok comments, there were dozens of vendors to choose from, all of which seemed pretty similar in scope.
TokRush. Instafollowers. Pay Social Media. Each offers the opportunity to buy comments for a specific video, with discounts offered for larger volumes of comments.
For this particular experiment, I decided to purchase comments from Trollishly, Pay Social Media, and TokRush to start, a choice largely based on which site seemed the least likely to rob me. This was my strategy when I experimented with buying TikTok followers, too, and it served me fairly well. My credit score is still intact and TikTok didn't shut down my account! Win win!
How much does it cost to buy TikTok comments?
Depending on whether you're buying random comments or want to provide your own custom comments, the price varies. The volume of comments you buy also impacts the price.
On average, for 100 comments, you're looking at somewhere between $0.06 and $0.13 USD a piece. You may not be able to buy happiness, but for pennies on the dollar, you can at least buy a comment with a happy face emoji.
Feel like splashing out on something a little more personal? You can get 100 custom TikTok comments for around $0.12 and $0.39 USD each.
| Website | 10 comments | 100 comments |
| --- | --- | --- |
| InstaFollowers | $1.04 | $6.21 |
| TokRush | $2.49 | $16.49 |
| Media Mister | $2.00 | $13.00 |
| TokCaptain | n/a | $2.99 |
| Website | 10 comments | 100 comments |
| --- | --- | --- |
| Pay Social Media | $4.99 | $29.99 |
| Media Mister | $2.00 | $12.00 |
| Qube Views | $2.99 | $19.99 |
| EQR Tools | n/a | $39.99 |
For this experiment, I decided to buy some custom comments and some random ones from a handful of different vendors. Would the custom comments I wrote myself make a difference to the algorithm… or fill my heart with more joy when the notification pinged? Or would the cheap-and-cheerful random ones do the trick?
I first tried to buy 1000 comments from TokCaptain but after putting in my credit card number I was redirected back to the front page. Despite the lack of confirmation, I'll continue to refresh my video, just in case. I'll also be refreshing my credit card statement to see if anyone's gone on a shopping spree in Lithuania with my Mastercard.
In the meantime: I went to Trollishly and tried again to buy 1,000 random comments.
This time, I at least got an order confirmation that I'd be charged $9.67, and comments started racking up right away. I had 96 on the video (and a weird, unwarranted rush of pride?) within a minute of payment, and over a thousand within the hour.
They were all emojis, and they were all from weird Scandinavian bots. Not exactly a scintillating conversation in action… but maybe in their country, that's how you connect!
In search of potentially a higher quality comment, I treated myself to 200 more comments, this time from Tok Rush. Sure, it was a little pricier at $28.77, but I had high hopes. TokRush promised to drip-feed the comments onto a new breakdancing video I posted because "it needs to look natural due to Tiktok algorithms."
This felt professional and legal! I was on the edge of my seat to see just what kind of fascinating discourse they would deliver.
As it turns out: sentences with words. Not ones that had anything to do with my video, and not from legitimate accounts, but sentences with words nonetheless!
To test out the "custom" comment option, I then purchased 50 "custom" comments for $17.99 from Pay Social Media. This seemed a little steep considering I had to provide the comments myself, but I plugged in a list (cribbed from this Hootsuite blog post with TikTok comment suggestions, so handy!) and hit "pay."
Pay Social Media promised my comments would be posted within 2 to 4 days, but I was hoping they would at least look somewhat legit and be worth the wait.
That hope was short lived: I soon received an email telling me my order was canceled because new clients were required to pay with crypto. You know, like normal, legitimate businesses do.
Okay, time for plan B: Instadean! Unfortunately, after trying to purchase custom comments here, I was just booted back to the home page with no confirmation of payment.
Before Mastercard could put a block on me for all these poor choices that for sure are going to lead to credit card fraud, I decided to take one last stab at custom comments with EQR Tools.
After sharing the URL to my video and text to use for all 50 of my comments, I was pleased to see notifications come pouring in… to let me know that random trash comments were flooding my video, with my thoughtfully crafted originals nowhere to be found. Thanks, I guess?
I think it's time to write myself a comment: one that says "GIVE UP."
For those who have lost track (or interest), note that I only successfully purchased comments from 3 out of the 6 pages I've tried. Cool customer service, Dark Web, can't wait to write you a Yelp review.
I'm exhausted… and starting to suspect that it probably would be easier to just authentically engage my followers.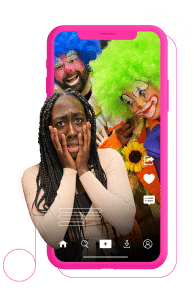 Get better at TikTok — with Hootsuite.
Access exclusive, weekly social media bootcamps hosted by TikTok experts as soon as you sign up, with insider tips on how to:
Grow your followers
Get more engagement
Get on the For You Page
And more!
Try it for free
Does buying TikTok comments work?
The short answer: No. If you want to create an engaging, successful TikTok account, buying TikTok comments is not the answer.
Buying TikTok comments may create some impressive looking metrics in the short term (for anyone who isn't looking too closely!), but won't benefit you in the long-term at all.
I think these screenshots of the bots going ham in my comments section gives you a good sense of the results of this little experiment. These images may as well be titled "you get what you pay for.jpg."
What about the theory that an active comments section will help get you onto the For You Page? The analytics paint a pretty tragic picture: not one of these videos got a single FYP view.
Sure, it doesn't feel bad to have 20 or so Russian robots tell me how beautiful I am, but I'm not sure that was worth $75.
The bottom line? The comments you're buying for TikTok aren't from potential customers or fans, so they won't deliver you any real value — just empty vanity numbers. And TikTok's algorithm is too smart to fall for fake engagement: paid comments won't help you get onto the For You Page.
Whether your goal is to build engagement, cultivate leads, or drive traffic to your website, paid-for comments aren't going to help. It's like buying a bunch of cardboard cut-outs of celebrities to fill out a party: the photo opps are fun for a few minutes, but a 2D prop version of Keanu Reeves is no substitute for a real friend. (He certainly didn't speak up when I asked for a ride to the airport!)
3 reasons NOT to buy TikTok comments
Buying TikTok comments is a bad idea for a variety of reasons.
1. Fake TikTok comments look like fake TikTok comments
I was trying to think of an example of who might be fooled by these TikTok comments and the only thing I can think of is: a dog.
Expecting people to believe paid-for TikTok comments are real is like buying a green dollar-store wig on sale after Halloween and expecting passersby to think it's your real hair. And if you're not convincing anyone that these are real fans of your work, so what's the point?
2. They'll ruin your engagement rate
Let's entertain the possibility for a second that you live in a bizarro world where someone actually believed these were real comments: they're only going to be impressed for a second before they notice that your follower count doesn't match.
That discrepancy between followers and comments is going to look pretty suspicious — and unimpressive. If people are so thrilled to comment on your posts, why aren't they following you? Not to victim blame but: was it something you said?
That gap is also going to raise a red flag to the TikTok algorithm that your account probably isn't worth sharing on the For You Feed… which means less of a chance to get those real comments you wanted all along. Tragique!
3. You'll miss out on genuine engagement
Quality TikTok commenters will engage with the content you're making, ideally providing you some insight as a brand manager. They'll spark conversation among fans and followers. They'll give you a glimpse into authentic public sentiment so you can keep creating content people actually want to see and share.
Don't scare off real users by filling your content feed with cheap imitations.
What to do instead of buying TikTok comments
If you want to fill your TikTok comment section with lively discussion, there's a better way to do that than by throwing your credit card into the dark web. The catch? It's gonna take some work.
Organic, authentic engagement on TikTok grows out of creating quality content, posting at the right times, and studying your TikTok analytics regularly to understand what's clicking and what's not.
It might take longer than a few minutes to rack up a nice collection of comments with this method, it's true. But patience will be rewarded with a slew of mostly incomprehensible emojis from sardonic Gen Z posters who actually love what you do.
Ready to start building the chatty audience of your dreams? Here's our complete guide to building engagement on TikTok the right way.
Grow your TikTok presence alongside your other social channels using Hootsuite. From a single dashboard, you can schedule and publish posts for the best times, engage your audience, and measure performance. Try it free today.
Want more TikTok views?
Schedule posts for the best times, view performance stats, and comment on videos in Hootsuite.
Try it free for 30 days