Looking for chatbot examples for your business? Business use cases range from automating your customer service to helping customers further along the sales funnel. We've got you covered with the top chatbots 2022 has to offer.
We've compiled a list of the best chatbot examples, categorized by use case. You'll see the three best chatbot examples in customer service, sales, marketing, and conversational AI. Take a look below and get inspired on how to use this technology to your advantage.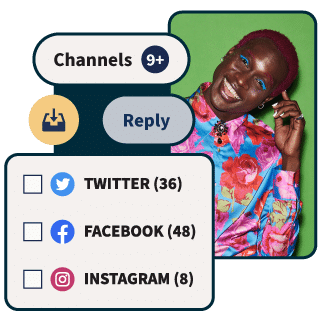 Reduce response time (and your workload)
Manage all your messages stress-free with easy routing, saved replies, and friendly chatbots. Try Hootsuite's Inbox today.
Book a Demo
The 12 best chatbot examples of 2022
Are you thinking about adding chatbots to your business but not sure how you'll use them? Then you're in the right place. Below, we've highlighted 12 chatbot examples and how they can help with business needs.
If you're wondering why you should incorporate chatbots into your business head here.
No matter what your needs are, there's bound to be a chatbot that can help. Need help managing customer service? There's a chatbot for that. Looking for a way to increase sales? You guessed it. There's a chatbot for that, too.
In fact, there are chatbot platforms to help with just about every business need imaginable. And the best part is that they're available 24/7, so your digital strategy is always on. So whether you're looking for a way to streamline your operations or simply want a little extra help, we've compiled a list of the best chatbots 2022 has to offer.
This isn't your typical best-of list, either. You can see exactly how these bots can assist with your customer service, sales, and marketing.
Read up on chatbot examples categorized by real-life use case below.
Bonus: Learn how to sell more products on social media with our free Social Commerce 101 guide. Delight your customers and improve conversion rates.
Customer service chatbot examples
Chatbots are the secret weapon of successful customer service use cases.
By giving customers the option to talk to a chatbot instead of a human, businesses can:
Reduce their hiring costs and let employees deal with larger, more complex problems.
Free your team up to complete meaningful, fulfilling tasks. This can help to increase employee happiness and productivity at work.
But, chatbots have the added benefit of making your customers feel heard immediately. Improving your response rates helps to sell more products and ensure happy customers. It is one surefire way to elevate your customer experience.
Customer service chatbots can handle a large volume of requests without getting overwhelmed. This makes them ideal for answering FAQs at any time of the day or night. And you can incorporate chatbots to help with customer service even on social media.
Plus, they're often a one-time cost commitment. You don't have to pay an employee a salary to take care of something a machine will do for you.
Here are three of the best customer service chatbot examples we've come across in 2022.
1. Slush's customer service automation
Slush used JennyBot, a customer service chatbot, for a 20,000 person event in Helsinki. JennyBot was available on Slush's website and mobile app. It:
automated of 67% of customer service chats,
answered frequently asked questions
freed up event staff from repetitive tasks
Slush ended up with 55% more conversations than the year prior.
Source: GetJenny
2. Bestseller's need for customer service in bulk
Bestseller is the best retail chatbot example for customer service in bulk.
Under Bestseller's corporate umbrella falls fashion brands like Jack & Jones, Vera Moda, and ONLY. As a result, the company counts 17,000 employees globally, with stores in over 40 countries. On top of a large number of stores, Bestseller has a broad customer base spread across brands. They experience a massive volume of customer inquiries across websites and social channels.
This varied, rampant communication called for an automated solution that would allow for customer requests to be resolved 24/7. Bestseller turned to Heyday to use conversational AI to handle their influx of customer requests. They built a multilingual custom solution that could respond in English or French across Bestseller's Canada e-commerce website and the company's Facebook Messenger channel.
Bestseller's custom messenger chatbot solution freed their team up for other, more human-centric tasks. And it served to give their audience what they wanted: timely answers to FAQs.
3. HLC's UX-centered site upgrades
HLC is a leading bicycle parts distributor. They wanted to create a frictionless experience for their site visitors. One that glides like a well-oiled bicycle. A huge part of that was to improve their customer support system.
HLC had 1,000 customers logging in daily, and their entire catalog was available online. They needed to automate FAQs to better serve their audience. This had the added benefit of giving their internal team some much-needed relief. They chose Acquire Live Chat to act as an FAQ chatbot on their site.
HLC's results were:
close to a 100% live chat response rate
they found it easier to onboard new hires
they gained better operational visibility into business and product issues
Source: Acquire Case Study
Sales chatbot examples
Sales teams and chatbots go together like PB and J.
Chatbots can take care of administrative tasks like:
appointment booking
following up
qualifying leads
They can guide folks down the sales funnel with product suggestions or service recommendations. Then, sales teams can come in with a personal, human touch to seal the deal.
Chatbots also enable customers to text directly to nearby stores from Google Maps. This makes it easy for customers to find and contact your business, which can lead to more sales opportunities.
Omni channel chat is another great sales use case for chatbots. Chatbots can connect with customers through multiple channels, such as Facebook Messenger, SMS, and live chat. This provides a more convenient and efficient way for customers to contact your business.
Let's take a look at three of the top sales chatbots for 2022.
4. Lemonade's friendly guide through the sales funnel
Lemonade's Maya brings personality to this insurance chatbot example. She speaks to users with a warm voice from a smiling avatar, which is in line with Lemonade's brand. Even her name, Maya, has a friendly, feminine vibe to it.
Maya guides users in filling out the forms necessary to obtain an insurance policy quote and upsells them as she does. This website chatbot example shows how to effectively and easily lead users down the sales funnel.
Source: Lemonade
5. The Dufresne Group's innovative online sales tactic
The furniture industry came to an interesting crossroads due to the pandemic. On the one hand, people were forced to work from home, which led to a spike in furniture sales. On the other, in the furniture industry, an in-person experience is a deciding factor in the sales process. The furniture industry had an interesting puzzle to solve.
The Dufresne Group, a premier Canadian home furnishing retailer, didn't want to miss out on the sales opportunity. But, they needed to somehow bring the in-person experience into peoples' homes, remotely.
The solution started in a roundabout manner. Previously, Norman Alegria, Director of Guest Care at the Dufresne Group, shifted in-person repair assessments to a video chat model (called Acquire Video Chat) in order to save time and money. Then, once the pandemic hit, Alegria realized they could take this technology further.
Alegria expanded the Acquire license to be company-wide. They launched a live chat and chatbots on the website's home landing page. Almost immediately, the lead generation kicked off as they had 100 chats of all new sales leads.
The bots capture contact information from leads. Then the sales team can follow up with live chat and video product walkthroughs. The results speak for themselves; they clocked 1,000 sales conversations in the first two weeks.
Source: Acquire White Paper
6. Decathlon UK nurturing sales opportunities
Decathlon UK saw a surge in customer requests following the COVID-19 disruption. People turned to them to order at-home sporting goods as a result of gyms and fitness centers closing.
Decathlon UK ramped up their use of Heyday, expanding into tools to increase the services they offered via Facebook Messenger. They implemented a feature allowing "customer care agents to curate personalized shopping carts for customers and share with them via DM, giving a personal touch to the e-commerce experience."
The personalized shopping cart feature, alongside their automated product suggestions and customer care services, helped to nurture sales.
Source: Decathlon UK on Messenger
Marketing chatbot examples
Chatbots are quickly becoming popular as a marketing tool. It's no wonder why: chatbots offer a unique way to interact with customers that can be both personal and convenient.
For example, chatbots can be used to:
promote special offers or experiences
answer questions about products or services
provide customer support
Best of all, chatbots are available 24/7. This means they can interact with customers during the buying, and crucially, the discovery process.
During the buying and discovery process, your customers want to feel connected to your brand. It's crucial that customers are emotionally engaged with your brand. When they are, they're more likely to recommend you to their friends, buy your products, and are less likely to be price-averse.
Chatbots can play a role in that connection by providing a great customer experience. This is especially when you choose one with good marketing capabilities.
Here are three of the top (and most fun!) marketing chatbot examples.
7. Domino's promotional PR stunt
Domino's launched a dating bot to help UK Tinder users find their perfect match. Users could swipe right on "Dom Juan," and the love-struck bot would send over cheesy chat-up lines that are guaranteed winners. Tell me you wouldn't love it if someone messaged you, "I pepper-only have eyes for you" and "you've stolen a pizza my heart."
Looking for someone who wants a pizza you this #ValentinesDay? Speak to me, Dom Juan, Domino's chat-up bot on @Tinder – get swiping & I'll feed you the cheesiest, most doughmantic chat-up lines I know. #OfficialFoodOf Tasty Chat-Up Lines pic.twitter.com/tzNC30JN9U

— Domino's Pizza UK (@Dominos_UK) February 14, 2018
Dom Juan was successful, too. News outlets across the world picked up on the PR stunt, spreading awareness and solidifying Domino's brand personality as the off-beat joker it is. VCCP London was in charge of the stunt and reported: "a 35x return on advertising spend and an increase of 10% from the previous year's sales."
Domino's was no stranger to the chatbot game. They've long promoted ordering online through their website but introduced online ordering to social media platforms through a wildly successful social bot.
8. Mountain Dew's promotional engagement campaign
Mountain Dew took their marketing strategy to the next level through chatbots. The self-proclaimed "unofficial fuel of gamers" connected with its customer base through advocacy and engagement.
The energy drink brand teamed up with Twitch, the world's leading live streaming platform, and Origin PC for their "Rig Up" campaign. DEWBot was introduced to fans during the eight-week-long series via Twitch.
During the series, the Mountain Dew Twitch Studio streamed videos of top gaming hosts and professionals playing games. DEWbot pushed out polls so that viewers could weigh in on what components make a good rig for them, like an input device or graphics card (GPU). It also hosted live updates from the show, with winners crowned in real-time.
Dewbot ended up winning a Shorty Award for their engagement rate. With results like a 550% increase in in-stream conversation, it's no surprise they came out on top.
Source: Shorty Awards
9. ATTITUDE's warmth in the discovery phase
Marketing is about more than just PR stunts; often, it's your day-to-day customer interactions that can build your brand equity. ATTITUDE shows us a chatbot assistant example that works to improve the company's overall digital marketing presence.
During the pandemic, ATTITUDE's eCommerce site saw a spike in traffic and conversions. They consequently saw a rise in customer service requests. Not wanting to rely on impersonal email communication, ATTITUDE met with Heyday to create an "engaging and enjoyable conversational experience for web and Facebook page visitors." The solution was a custom-built bot.
In the first month of operation, ATTITUDE noted that 98% of eCommerce customers reported their AI experience as "excellent." This positive sentiment spills over into customers' attitudes about ATTITUDE. The bot has a warm, welcoming tone, and its use of emojis is a friendly, conversational touch. The success of the chatbot fed into the company's overall digital marketing success.
Source: ATTITUDE
Conversational AI chatbot examples
Not all chatbots are created equal.
Chatbots that use scripted language follow a predetermined flow of conversation rules. They can't deviate, so variations of speech can confuse them.
Other chatbots, however, use natural language processing to produce AI that supports conversational commerce. These chatbots can converse with humans like humans. Their machine-learning skills mean their constantly evolving the way they communicate to better connect with people.
Fun fact, did you know that chatbot is actually short for chatterbot? It makes sense that those chatterbots that can better chat with human beings are top-tier when it comes to this technology. As human beings, we rank being understood pretty high. There's nothing more frustrating than getting consistent error codes with chatbots, so choosing a chatbot that will understand your audience is crucial.
Here are three impressive conversational AI chatbot examples.
10. Babylon Health
Babylon Health's symptom checker is a truly impressive use of how an AI chatbot can further healthcare. Doctors, engineers, and scientists developed the AI. It uses machine learning and natural language processing to communicate organically.
The chatbot interprets the symptoms you enter. Then, identifies related risk factors, potential causes, and possible next steps.
This has the potential to save healthcare workers and patients tons of time, either spent waiting or diagnosing. But, what we're most excited about is how this can stop us from self-diagnosing on WebMD. 'Cause, that's a deep dark hole we've all fallen down.
Source: Babylon
11. DeSerres' conversational AI chatbot use
Like many, DeSerres experienced a spike in eCommerce sales due to stay-home orders during the pandemic. This spike resulted in a comparable spike in customer service requests. To handle the volume, DeSerres opted for a customer service chatbot using conversational AI.
Within weeks of introducing Heyday, thousands of customer inquiries were automated on the DeSerres website, Facebook Messenger, Google Business Messages, and email channels. Communication was not only automated and centralized but DeSerres' brand voice was guaranteed to be consistent and cohesive across all channels, thanks to the AI's natural language processing.
Roxane Saulnier, Marketing Director for DeSerres, mentioned that DeSerres had some reservations at first, but those were soon put to rest. "At first, we had concerns that the experience with a chatbot would be a bit 'robotic' for our customers," she said. "But what set our minds at ease was all the tests we did with Heyday. We really worked on the user experience together, and after trying the product ourselves, we were sure it would be a great fit for us."
With Heyday, the proof is in the results. The chatbot handled over 108,000 conversations. It saw a 90% automation rate for engaged conversations from November 2021 to March 2022.
Source: Heyday
12. L'Oréal's HR workload reduction strategy
L'Oréal was receiving a million plus job applications annually. That's a huge volume of candidates for an HR team to qualify. L'Oréal's chief digital officer Niilesh Bhoite employed Mya, an AI chatbot with natural language processing skills.
The results showed Mya engaging with 92% of candidates in an efficient manner. Bhoite reported a "near 100% satisfaction rate" and claimed they had "received great feedback from our applicants. Many commented on how easy and personal the experience felt."
Mya engaged candidates naturally, asking necessary qualifying questions like "Are you available at the internship start date and throughout the entire internship period?" Using a chatbot to qualify applicants results in a bias-free screening process.
Source: Brandinside.asia
Manage all your messages stress-free with easy routing, saved replies, and friendly chatbots. Try Hootsuite's Inbox today.
Save time on social messaging with automated responses, smarter workflows, and friendly chatbots — all in the Hootsuite Inbox.
Free Demo