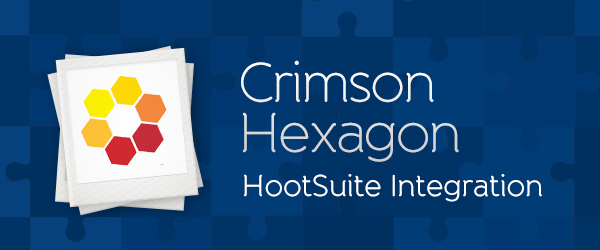 Crimson Hexagon Partners with HootSuite to Provide Social Insight and Engagement for Enterprises
HootSuite has partnered with Crimson Hexagon, a leading provider of social intelligence, on a brand new integration which provides HootSuite Enterprise customers with social insights to make more informed decisions.
The social business intelligence offered by Crimson Hexagon's ForSight™ platform can now stream social media posts, blogs, news, and more directly into HootSuite. This enables customers, including marketers and customer service professionals, to gain actionable insights to drive enterprise engagement when working with social media. The ForSight™ by Crimson Hexagon integration with HootSuite also offers uniquely customizable monitoring of any brand, competitor set, or topic across owned and earned media and potential negative mentions in blogs, forums or news articles, lending context and improved flexibility to social media analysis and engagement.
To learn more about how Crimson Hexagon's partnership with HootSuite will enable new custom analysis and smarter engagement capabilities on social media, register for the webinar, Social Insight to Power Smart Engagement for the Enterprise, on June 12 at 12 p.m. EST with Kevin Zellmer, the Global Director of Business Development at HootSuite and Elizabeth Breese, Senior Content and Digital Marketing Strategist, Crimson Hexagon.
"Our partners trust us to know the tools and trends that provide them competitive advantages and efficiencies," says Nate Ludens, social analyst at Digital Royalty. "By bringing Crimson Hexagon features into HootSuite, barriers are being broken down for unprecedented scalability of trained, trusted data. This is exciting for our partners in retail and sports verticals, but also in instances of crisis communications for our non-profit partners, where precious seconds can potentially save lives."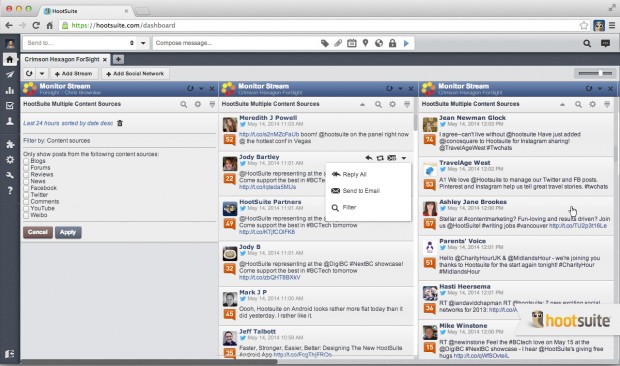 Customer benefits and key features of the Crimson Hexagon-HootSuite app integration include the ability to:
Access to a world-class social media data library of over 450 billion posts for real-time and historical analysis of social data
Engage with customers and prospects in-real time through HootSuite, add Crimson Hexagon data streams to gain insights on your customers, prospects and competitors
Apply custom filters and analytics to your data streams, including sentiment, opinion category, gender, geography, and influence score
Dynamically filter streams within HootSuite to view posts by keyword, handles, hashtags, date range and content sources providing the most in-depth intelligence on brand sentiment and customer opinion
And more!
"We wanted to create an application that is truly differentiated for our formal debut in the engagement space," said Crimson Hexagon's CEO, Stephanie Newby. "HootSuite's comprehensive social relationship platform, combined with Crimson Hexagon's advanced text and audience analytics, creates a new digital nerve center to create actionable marketing insights from social media."
"With this new integration, Crimson Hexagon customers are able to plug their analytics directly into HootSuite streams for real-time engagement with customers and turn social data into immediate engagement," said Ryan Holmes, CEO at HootSuite. "HootSuite's custom filters and keyword streams empower organizations to easily identify key insights in analytics for multiple business uses whether it be in social selling, customer service or marketing."
Learn More About the HootSuite-Crimson Hexagon Integration
Using both HootSuite Enterprise and Crimson Hexagon? Install the Crimson Hexagon integration from the HootSuite App Directory today.
Using HootSuite Enterprise, but not Crimson Hexagon? Contact your Account Manager for more details.
Using neither HootSuite Enterprise nor Crimson Hexagon? Register for the webinar today!