[Update] Google Plus Redesigns Again: Plus Ones Become Visible to Friends
We always try to update our followers on any Google Plus redesign or update news. This post was updated on July 11th, 2013. You can find our previous updates below.
It has almost been two months since the major Google Plus redesign, though overhaul might be a better term to describe it. As people have grown accustomed to the new photo-focused layout and features, Google is apparently getting ready to unveil a new update focused on +1s.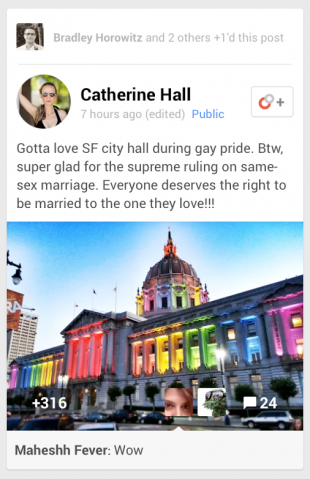 Product manager Shimrit Ben-Yair announced in a Google Plus post that the social network was immediately rolling out an update that will highlight posts that were +1'd by people in your circles. The same, of course, applies to posts you +1 which may be visible to your friends.
"Many of the best photos, articles and videos we find online are the ones recommended by friends. So we're making it easier to discover these recommendations in your Google+ stream," Ben-Yair wrote.
Of course, not every piece of content in your stream will be something a friend has +1'd. Google will essentially be selecting the content it believes is of interest to you from what your friends have recommended.
Though this is not on the same scale as the Google Plus redesign, it does have significant implications for users. Power users and brands may now have increased reach and exposure as a result of the +1's their content receives. Every time someone +1's your content, there is a chance that Google will place that content in the stream of other people that have them in circles. It can all grow exponentially from there.
Brands should also actively be +1'ing content that is favourable to them, whether it is their own content that users have shared or positive user-generate content. The more content you +1, the greater the chance that someone that follows you sees the update in their own stream.
Those who don't want their +1's to be shared can still restrict who sees them by adjusting the settings.
[clear]
Previous updates:
Redesign of Google+ Focuses in on Photos
Google+ is making some changes, with your eyes in mind.
Perhaps to help cement its place as the go-to place for photographers and photo lovers, Google has announced an image-focused redesign of Google+.
Your Google+ stream will soon have a multi-column layout, much like Pinterest, with the number of columns to depend on the device you're using and the size of your screen. Each stream will put photos front and center while allowing you to increase the size of images. In addition, new photo filtering functionalities can be enabled to empower Google's intelligence to actually highlight your best photos, ignore duplicates and poor quality shots (very valuable if you bulk upload), and fix any basic esthetic or technical issues in the pictures.

In an effort to make the network a bit more intuitive, Google will also be adding related hashtags to your stream. This means that Google+ will add related hashtags to the content you produce and share, allowing you to more easily hunt down similar information that interests you .
Did you know that Google+ Pages are integrated into HootSuite? If you haven't already, connect your brand's Google+ Company Page to your HootSuite account. If you're on the fence about it, read our 4 reasons why your brand should be on Google+, and our list of best practices for the network.
190 million people are active in the Google+ stream. Are you one of them? What do you think of the redesign?