HootSuite Announces Google+ Pages Integration in the Dashboard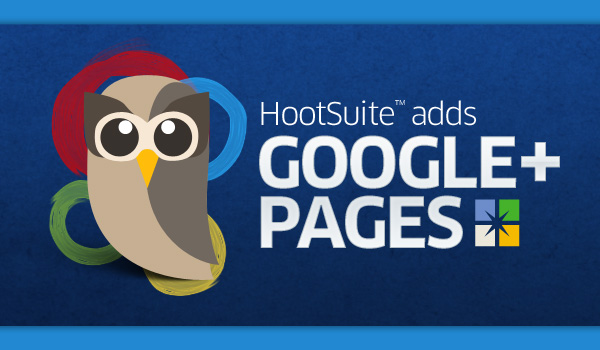 July 19/2012 UPDATE: This is old news! Check out the latest development with Google+ Pages here.
New Google+ Pages functionality is now in the dashboard and available for HootSuite Enterprise clients. HootSuite is excited to be selected as an official launch partner for the Google+ Pages trial and to add this functionality to the advanced social media management tool-set.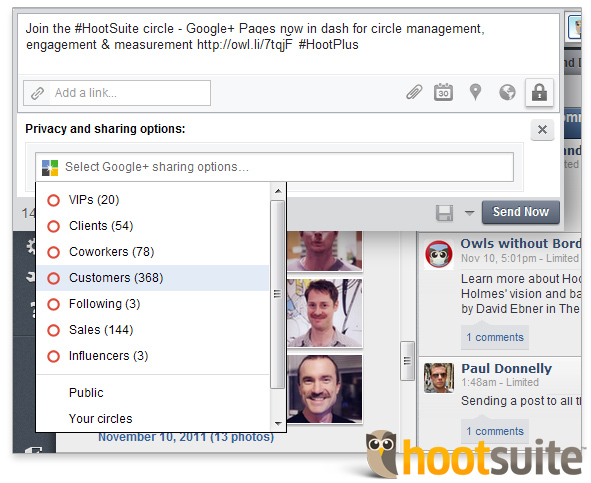 While this release is limited to HootSuite Enterprise clients, we invite all HootSuite users to apply for access to Google+ Pages integration in the HootSuite dashboard.

Targeted Publishing to Circles
Marketing managers and socially strategic organizations will especially enjoy using Google+ Pages within the HootSuite dashboard. By publishing targeted messaging to audience segments in circles, brands have a powerful new way to engage with stakeholders.
New HootSuite Google+ Pages management tools allow you to:
Manage circles in-dash with add/remove and edit functionality
Post public updates or to select circles
Search public posts and updates within your circles
Pop-up user profiles and company pages
See recent user activity without leaving the dashboard
See comments on posts and save to a stream
View users who +1, share and comment on posts
Measure results with five Google+ analytic modules in-dash
Manage, Measure and More
Google+ Pages are an important way for marketers and businesses using HootSuite to collaboratively and securely publish messages, manage circles and measure success with Google+ Analytics built into the dash, including reports about number of posts per day, +1s per day, reshares and more.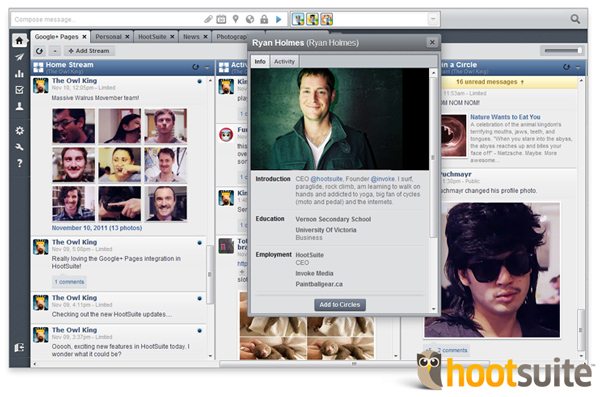 Over 40 million people have signed up for Google+ so far, and since October, they've shared over 3.4 billion photos. Google+ Pages are for anyone who wants to build lasting relationships with customers and are designed to be a centerpiece for brands, businesses and celebrities who want to build a presence on Google+.
Ever Expanding Dashboard
HootSuite continues to exapnd the dashboard's functionality as a robust and comprehensive tool for social savvy businesses. The dash now includes key social networks – Facebook, Twitter, LinkedIn as well as new Google+ Pages.
There's more ahead for the over 2.6 million HootSuite users worldwide. Keep in the know by following @HootSuite on Twitter to find out about further integrations and developments like Google+ Pages.