Snapchat was launched in 2011 and now has over 100 million daily active users, reaching 41 percent of all 18 to 34 year olds in the U.S. Although Snapchat is wildly popular, many new users still struggle with how to best take advantage of the app. In this guide, we'll go through some of the tools available to help you craft the perfect Snapchat Story. If you're brand new to Snapchat, I recommend reading Snapchat for Beginners before getting started.

Bonus: Download a free guide that reveals the steps to create custom Snapchat geofilters and lenses, plus tips on how to use them to promote your business.
What is a Snapchat Story?
Snapchat allows you to take and upload photos and video in real time, send them to friends directly (a Snap), or add a collection of Snaps to your Story.
A Snap is a direct message to one or multiple people. Snaps can be video or photos taken and shared in real time or uploaded from your Memories. These Snaps are only viewable by the people you choose to send them to, and disappear immediately after viewing. Learn more about how to create and send a Snap.
A Story is a grouping of photos and/or videos—Snaps—that you share publicly with your Friends (you can also set your Story to be viewable by everyone, if you choose). Stories are live for a maximum of 24 hours and your followers can rewatch a Story as many times as they wish within the 24 hours after it was published.
How to create a Snapchat Story
Creating a Snapchat Story is easy!
Take a Snap.
Tap the icon of a box containing a plus sign on the bottom of the screen to add your Snap to your Story (and if it is your first time creating a Story tap 'Add' to confirm you want to post to your Story). You can also tap the arrow icon and select 'My Story' to add a Snap to your Story!
The Snap will be added to your Story.
12 tips to take your Snapchat Story to the next level
Now that you know how to post to Snapchat, it's time to elevate your Story so that your followers keep coming back for more.
1. Find WiFi
First thing's first, before you start worrying about being a Snapchat wizard, take my words of wisdom. Unless you have unlimited data, Snapchat is the KING of data sucking. Speaking honestly (and embarrassingly), my last phone bill was $500. I had a summer of researching Pokemon Go and new Snapchat filters "for work," both of which quickly made my bill explode. Learn from my mistakes, try to avoid using your data when you're Snappin'. I like to use this helpful phrase as a reminder, "If the WiFi is lackin' you shouldn't be Snappin."
2. Plan ahead and choose a theme
What is your Story about? You need to know this going in to ensure you stay on one subject so that your Story is easy to follow. What are you trying to showcase to your followers? Make sure every Snap you add to your Story is inline with this theme.
Pro tip: Decide what your next Story will be. You can use your current Story to promote what's coming up next to your followers.
3. Remember, a Story is a story
Using Snapchat is not like posting photos on Instagram. It's important to remember that you're building a Story, not standalone images or videos. Like any great story, it usually has a beginning, a middle, and an end. Typically I'll introduce my Story with a title page, then build out the middle with the good stuff, and finish off with a great ending and sign off to say goodbye.
Tim Hortons does a great job of this. They often share multiple Stories in a single day, but each has a clear beginning, middle, and end. The content in the middle is directly related to their title page and they always make sure to close the Story off with a goodbye, letting their viewers know the Story is done, and what to expect next.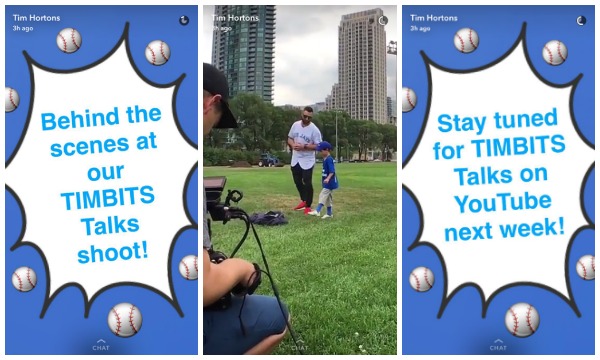 4. Geofilters and lenses
If you aren't yet taking advantage of geofilters or lenses you should start, but use these sparingly. Rule of thumb for me, use one filter and one lens per Story. Use more and you may run the risk of annoying your followers.

Bonus: Download a free guide that reveals the steps to create custom Snapchat geofilters and lenses, plus tips on how to use them to promote your business.
5. Add artistic flair
Shonduras is a Snapchat influencer who also creates incredible artwork on his Snaps. In return, he now has millions of followers and he's working with major brands, like Disney. How can you implement this into your Stories?

Remember that you aren't limited to just the colors provided to you. Find out how to access ALL THE COLORS.
Get creative! You could turn your Story into a comic book strip, you could have a funny Story about a made up character that you draw into all your Snaps, etc. The possibilities are endless.
6. Have fun with emojis
Snapchat lets you "pin" emojis to moving objects in your videos, giving you so many possibilities for creative content. Use your imagination!
We've got some pawtastic ???? news! Just press & hold to pin a sticker right meow ????https://t.co/GPohkpppaW pic.twitter.com/URAzRdtv7v

— Snapchat Support (@snapchatsupport) April 19, 2016
7. Use music
Snapchat allows the music on your phone to play when the app is open. Turn on your favorite song from your music app of choice, start recording your Snap and you'll instantly have a soundtrack, directly on your Snap. Think of using music as you would in a movie, to add drama, excitement, or sadness.
For more fun tips like this, check out our guide Snapchat Hacks: 21 Tricks and Features You Probably Didn't Know About.
8. Keep it short
When adding to your Story, you want to not only think about how many Snaps you're adding (the total length), but also how long the Snaps are. When creating a Snap, you have control over how long or how short that video or photo is visible for.
I don't think there is a magic number or perfect length, but you want to be conscious of it. I try to keep individual Snaps to under three seconds and videos to under five seconds.
As for how many Snaps in total, you want to think about your Story as a whole. Keep things under about a minute or MAYBE two minutes if you're giving a great tutorial. If your Story is longer, I recommend breaking it into "chapters" with title pages to introduce new subject matter.
Before you Snap, ask yourself:
Does this Snap add to the Story?
Have I posted too many posts so far? Am I already over a minute?
Is my Story too short? Should I add more detail to make it feel complete and fill in the gaps?
9. Add variety
Keeping people entertained is a must for the perfect Story. If each of the Snaps within your Story look and feel the same, people will start to get bored. Try mixing things up! Use a combination of photos, video, interviews, new angles, drawings, music, etc. This ensures your audience stays engaged.
10. Use Memories
Snapchat recently launched Memories which allow you to upload images from your camera roll. Use memories sparingly and only if they really add to your Story. The point of Snapchat is to be in the moment and on the fly.
Pro tip:  A great way to use memories is to properly order the Snaps within your Story. Sometimes a great opportunity for a photo comes up, but it's not quite the right time to add it to your Story. Take the Snap, save it, and upload it later!
11. Takeovers
For a brand account, having influencers or individuals with unique knowledge or perspective can be really interesting to your viewers. Giving another person the reins and allowing them to manage your Snapchat Story for a day can be scary, but it shows personality and gives your followers something new to look forward to. You can keep these "takeovers" internal, or you can bring in online influencers, celebrities, or personalities.
If you're a big hotel chain for example, you can highlight different departments regularly with Stories such as "a day in the life of your head housekeeper."
Businesses can also take advantage of celebrities or influencers. Starbucks recently did a takeover with Arielle Vandenberg (TheArielle) and Matt Cutshall (ItBoyMatt) who talked about new flavors and shared a behind-the-scenes look at how to make drinks with Starbucks staff.
Making cold brew ain't as easy as it looks. Follow @Starbucks on Snapchat to see what's going down! #Sponsored pic.twitter.com/wG1eqwD6DU

— Matt Cutshall (@Mattcutshall) August 19, 2016
Working with people who have a large following brings instant attention to your brand. The key is finding the right individuals who have a following that's inline with your target market.
12. Save your Story
When all's said and done, remember to save your story! Since Snapchat Stories only last for 24 hours, you want to have a record of the work you did. You can save your Story to your device's camera roll, your Memories, or both. Use your saved Stories to see what works and what doesn't to inform future Stories. By saving the content you'll also be able to share your full "story" to other platforms like Twitter, which will get more eyes on your page for future Snaps.
Is your Snapchat Story so good you don't want it to disappear? NP! Learn how to save it here https://t.co/ko5gHglJbY pic.twitter.com/LOpPgitR39

— Snapchat Support (@snapchatsupport) February 10, 2016
The best way to learn more about Snapchat is to dive right in and try it out, follow other businesses and individuals and pay attention to what you like or dislike. And, of course remember, "If the WiFi is lackin' you shouldn't be Snappin'" Happy Snapping!
Hootsuite's on Snapchat! Click this link on mobile to go directly to Hootsuite's profile or scan the Snapcode below to add Hootsuite as a Friend on Snapchat.