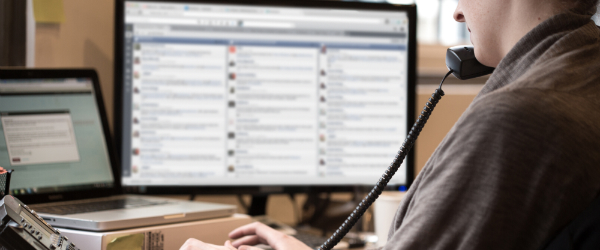 Hootsuite Tip: Save Searches, Hashtags, and More in your Hootsuite Dashboard #Hoottip
When your customers talk about your business online, you want to be an active participant in those conversations. Keeping track of conversations related to your business will give you valuable insights into what your customers think, while allowing you to engage, answer questions, and build relationships.
With the ability to do a Quick Search in Hootsuite, you can quickly and easily search for and filter social messages for topics, trends, and hashtags and geographical locations and save the results as continuously updating streams within Hootsuite.
Take our #Hoottip hashtag as an example. If we want to monitor how many times this hashtag is shared or mentioned on social media, we can create a "#Hoottip" search stream and save it in our Hootsuite dashboard.
Bonus: To learn more about hashtags, check our blog post on the do's and don'ts of how to use hashtags.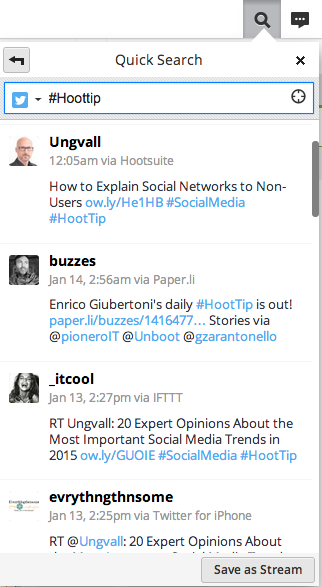 Similarly, assigning a specific hashtag to your campaign will allow you to monitor every mention of your initiative. Or, if you would simply like to monitor mentions of your business, try creating a search stream of your company name.
"The biggest problem we faced was the ability to capture every single Tweet discussing our brand. Hootsuite allows us to set up lists and streams to ensure a speedy response on Twitter." – Youri Hollier, Social Media Manager, DAVIDsTEA
Perform a Quick Search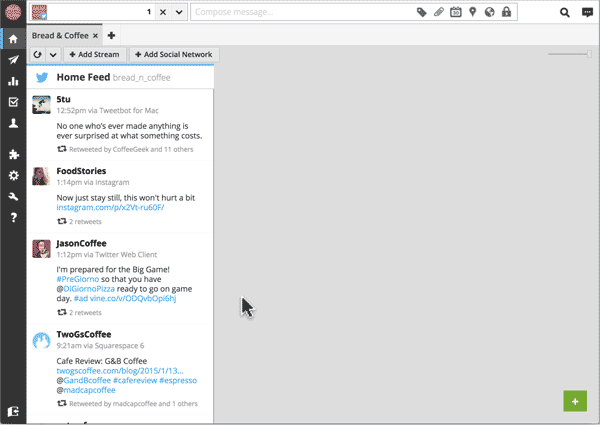 To perform a Quick Search, select the magnifying glass icon in the upper-right corner of your Hootsuite dashboard.
From the drop-down menu within the Quick Search column's search bar, choose to either Search Twitter or Search Facebook.
Next, enter what you would like to search for in the search bar and press "ENTER" on your keyboard.
The Quick Search column will now be filled with Tweets or Facebook posts containing the topic or discussion word you searched.
Save a Quick Search
To save your Quick Search as a stream in your Hootsuite dashboard, select "Save as Stream." From within the "Select a network" pop-up, save the stream to your chosen social profile tab.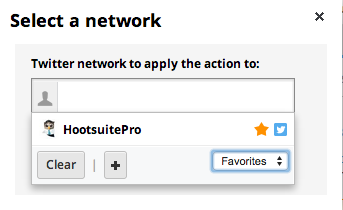 Bonus: Check out this Hootsuite Tip to learn how to perform a Twitter search alongside your Google search using Hootlet, Hootsuite's free Chrome extension.
Bonus! Search for Twitter Users
Quickly search for specific Twitter users by username. Start by selecting the magnifying glass icon in the upper-right corner of your Hootsuite dashboard.
From the drop-down menu within the search bar, choose "Find Twitter Users." Enter the username associated with the profile you would like to search and hit "Enter" on your keyboard.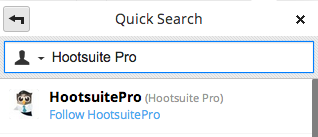 Note: Twitter User searches are not available to be saved as streams within the Hootsuite dashboard.
To learn more about monitoring social media, download our Customer and Competitive Intelligence guide now.
Keep an eye out for a new Hootsuite Tips – they're full of product strategy so that you, your friends and your followers will be social media experts in no time.