Almost 80 percent of 18- to 24-year-olds are now on Snapchat. Most log on daily, which makes mastering the platform a must for many marketers. Hosting a Snapchat takeover is a great place to start.
A Snapchat account takeover is when a social media influencer creates a Story on a brand's account. Brands arrange these promotions in advance and (usually) pay the influencer. They're an effective way to build a Snapchat following, promote products, and more.
In this post, we'll share everything you need to know about Snapchat takeovers, including:
How takeovers help businesses and influencers
How to host one in 8 simple steps
Examples of brands that are doing it right
What are you waiting for? Let's "snap" to it!
Bonus: Download a free guide that reveals the steps to create custom Snapchat geofilters and lenses, plus tips on how to use them to promote your business.
Why run a Snapchat takeover?
Takeovers are getting lots of traction right now. From Vogue to Nickelodeon, more and more brands are investing in this trend.
Here are just a few ways Snapchat takeovers benefit both businesses and influencers:
Gain followers
Growing an audience is one of the main benefits of a Snapchat takeover.
When an influencer "takes over" a brand's account, they don't just create a story. They also promote the takeover to all their followers. That can mean thousands of fresh eyes on your brand's account.
This benefit goes both ways. A Snapchat takeover also lets the influencer build their audience.
Ideally, both the influencer and the brand will end the day with more followers.
Diversify your audience
Snapchat account takeovers don't just affect how many followers you have. They also influence what kind of users you're reaching.
Are you launching a new product or service? Branching into women's wear? Find an influencer whose audience matches your target demographic. The right influencer will help you tap into a market you wouldn't have access to otherwise.
Again, this benefit applies to influencers too. Snapchat takeovers are win-win for everyone.
Show your brand's personal side
Great Snapchat takeovers are raw, unpolished, and personal. They feel authentic, which helps build trust in your brand.
Take MedSchoolPosts's One day in the life series, for example. Each takeover offers a behind-the-scenes look at a medical professional's career.
"Insider" stories like these help fans feel more connected to your brand. Plus, they offer valuable knowledge that followers can't find elsewhere.
Build connections
You never know who you'll meet during a Snapchat takeover.
You might discover a market you hadn't considered before, for example. Or connect with an influencer who'd be perfect for your next promotion. Even swapping contact info with professionals in your industry can be useful.
Takeovers can be a powerful networking opportunity for influencers and businesses alike.
Promote news, products, or events
Snapchat takeovers are a great strategy for launching something new. They're a simple way to drum up buzz around products, services, or events.
Choose an influencer who's appropriate for whatever you're promoting. Ask them to highlight the launch in their story. Offer a special follower discount to gain extra traction.
You can even use takeovers for publicity campaigns.
Gucci did this really well a couple of years ago. Singer Florence Welch had agreed to become its Brand Ambassador. The brand got model Alexa Chung to break the news in a Snapchat Takeover—with awesome results:
Make money
For some influencers, Snapchat takeovers help pay the bills.
Average rates start at $500 a story, according to Snapchat influencer Cyrene Quiamco. Influencer rates vary. Some may forgo cash altogether and accept an in-kind payment instead. It all depends on the size of their following and the nature of the takeover.
Whatever you settle on, remember that fair payment is key to successful influencer marketing. Make sure the final rate works for both you and the influencer.
How to run a Snapchat takeover in 9 steps
So what does it take to nail a Snapchat takeover? Success can look quite different from brand to brand. But there are some basics that every marketer should know.
If you're new to the Snapchat, check out our beginner's guide before diving in. Otherwise, read on. These eight simple steps have got you covered.
Step 1: Set "SMART" goals
Great social media campaigns start with great goals. Get clear on what you want to achieve before you start planning your Snapchat takeover.
The best social media goals follow the "SMART" framework:
Specific: Clear, precise goals are easier to achieve.
Measurable: Identify metrics so that you can track your success.
Attainable: Make sure you aren't setting yourself up for impossible feats.
Relevant: Tie your goals to your larger business objectives.
Timely: Set deadlines to keep your team on track.
Say you want to run a Snapchat takeover to promote an upcoming event. First, decide exactly how many seats you want to fill: 50? 100? 500? Then, create a unique discount code to see how many tickets the campaign sells.
Toploft Clothing took advantage of this strategy in a past campaign. They used a discount code to promote their takeover and track its success.
We have an exciting snapchat takeover! Follow along and get a special discount code today! <toploftclothing> pic.twitter.com/OSlnGH727x

— toploft clothing (@toploftclothing) March 20, 2017
Step 2: Choose the perfect influencer
Leave yourself at least a few weeks to select an influencer for your takeover. Finding the right person can take lots of time and careful sleuthing.
Here are some best practices for choosing a great influencer:
Seek out influencers who align with your brand's values. Consider their tone and aesthetic. Choose someone your audience can relate to.
Scope out their followers. Assess whether their audience demographics make sense for your brand. Have the influencer provide detailed demographic information, if possible. (Snapchat Insights can help with this).
Watch out for vanity metrics, like their Snapchat Score. This metric can give you a sense of their influence. But other factors, like view time, are often more important.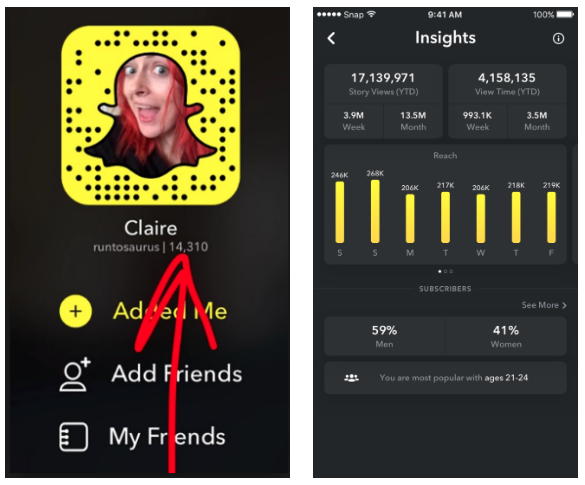 Once you've identified a few candidates, spend some time on their accounts. Watch their stories and see who interacts with them. Ask yourself the following questions as you go:
How does the influencer relate to their followers?
How engaged are their fans?
How does the influencer communicate? Make sure their style and voice align with your own.
If you're still unsure how to start, hiring an influencer marketing agency is an option too.
Remember, an influencer doesn't have to be famous to be engaging. Schools like Nova Southeastern University often ask students to host their Snapchat takeovers. These personal stories are fresh and relatable. They're a great way to recruit new students—and a lot cheaper than celebrity takeovers!
Step 3: Set the time and date
Timing is just as important on Snapchat as it is on other platforms.
Our general best practices for when to post on social can get you started. But Snapchat marketing is also unique in several ways. For example, users spend about 30 minutes a day on the platform. They tend to visit in short bursts—about 20 times every day. Keep this in mind when planning your campaign.
The ideal timing for your Snapchat takeover will depend on the following factors:
What time of day is the influencer's engagement highest? Weekdays or weekends? Mornings or evenings?
How long is their average view time? This will affect the ideal length of the takeover.
Where does their audience live? Use the appropriate time zone when you plan.
Can you time your takeover with an upcoming event? Parties, product launches, and holidays can all help generate buzz.
Use your host's Snapchat Insights to access the information you need. Always confirm the timing works for them before finalizing the schedule.
Step 4: Coordinate with the influencer
Create a marketing campaign plan with a clear timeline. Give yourself at least a week (ideally two) to promote the Snapchat takeover.
Make sure you and the influencer are both on the same page. Provide them with key copy points to reference during their story. Set clear expectations for when and how often they should promote the takeover.
Organization is extra important when promoting specific events. Give the host any relevant details well in advance. Time, location, and website links are all essential.
Step 5: Promote the takeover
Cross-promoting your Snapchat takeover is a must. Share the news across all social platforms, optimizing your message for each channel.
Make sure your influencer does the same. A great takeover host will tell their audience to:
Tune in at the agreed date and time
Follow your brand on Snapchat
Check out any partner brands you're collaborating with.
Step 6: Give the influencer creative control
Once these logistics are in place, let go of the reigns!
Authenticity is key to any effective Snapchat takeover. Avoid scripted copy. Let the influencer share their story with the personal flare their fans know and love.
Step 7: Enjoy the takeover
On the day of the Snapchat takeover, give the influencer access to your brand's channel.
Then, tune in and track the campaign. Does the influencer's story align with your brand? Does it include all the copy points you agreed upon?
Note any engagement you notice during the takeover. Jot down key points that worked well (or didn't work at all).
Remember, Snapchat erases stories within 24 hours. Take lots of screenshots and download the story ASAP so you can reference it later.
Step 8: Document your successes
You've put in all the hard work. Now it's time to reap the benefits!
Repurpose your content so that others can access it. Post a video of the Snapchat takeover on your blog, website, or YouTube channel.
Repurposing your story is about more than free content. It's also a great way to migrate fans from your other channels to your Snapchat account. Plus, Google sees videos as "high quality" content. That means they can help improve on-page SEO.
SoccerAM does this really well. The brand posts all its top Snapchat Takeovers on YouTube, with awesome results. This video has more than 150,000 views!
Step 9: Analyze and reflect
When everything's finished, it's time to take stock. What did you learn? What would you do differently next time?
Create a social media report to document the campaign. Incorporate any highlights, screenshots, and tips for future. Use Snapchat Insights to report on relevant Key Performance Indicators (KPIs). Even if you nailed the takeover, there's always room to do better.
Congrats! Your first Snapchat takeover is behind you. Relax, enjoy, and celebrate your success.
Examples of successful Snapchat takeovers
Need some inspiration before tackling your first takeover? Check out these 5 brands who are doing it right.
1. Irene Kim's Seoul Fashion Week Snapchat Takeover for Vogue
In this takeover, fashion model Irene Kim takes fans behind the scenes at Seoul Fashion week.
What makes this takeover so great is Irene's loveable personality. Vogue lets her tell the story in her own way. Irene's cute filters and emojis add an awesome personal touch.
2. "Simba" from The Lion King (Jelani Remy)'s Snapchat Takeover for the Tony Awards
Getting a Disney character to star in a takeover won't work for every brand. But for the Tony Awards, nothing could be a better fit.
Broadway celebrity Jelani Remi's story has all the elements of a great takeover. It's hosted by an influencer the Tony Awards' audience will love. It's personal and engaging, but includes clear shoutouts for the brand.
Jelani even shares a heartfelt plug at the end of the takeover. He tells his fans how he used to dream of winning a Tony Award as a kid. This touching moment makes the story feel more authentic.
3. Wellback and the OX's Snapchat Takeover for Arsenal F.C.
Snapchat takeovers are huge in the soccer industry. Arsenal Football Club is just one of many brands taking advantage of the platform.
Soccer players Danny Welbeck and Alex Oxlade-Chamberlain host this awesome behind-the-scenes story. They're raw and personal, giving fans an insider look at life on the team. They also include multiple CTAs: one in the middle, then one to seal the deal at the end.
4. Make It Pop Snapchat Takeover for Nickelodeon
This upbeat takeover features the entire cast of Make It Pop.
Although the story is branded, Nickelodeon offers the hosts lots of creative control. Each cast member chimes in with their own unique voice. The result is fun and personal—a perfect fit for Nickelodeon's young audience.
5. MumsInTech Snapchat Takeover for DiversityInTech
Makers Academy started a project called #DiversityinTech a few years ago. The goal? To create a more inclusive technology industry.
The brand used Snapchat to highlight diverse professionals in the tech sphere. This takeover featured a day in the life with the staff of Mums in Technology.
The takeover is great for several reasons. The brand cross-promoted the campaign in advance on Twitter and Medium. The story itself is warm and relatable, and seeing real moms at work is inspiring. The adorable babies don't hurt either!